Known for their roles in The Flash and Legends of Tomorrow, Ciara Renee and Teddy Sears appeared together on a panel at Phoenix Comicon on Saturday, May 27, 2017.
After I (Violet) got out of the Dick Van Dyke panel and found Josh (who had found a nice little corner to sit and doze in while he waited for me, considering our late night on Friday night), it was around 1:00pm. We had an hour to go grab lunch and come back for the Legends of Tomorrow/The Flash panel, which started at 2:00pm.
Getting out of the convention center was slow going. It was right in the middle of the day on Saturday, the busiest day, so it was very crowded. As we approached the escalators to go down, we were able to look down below at the food court and there was a sea of people walking shoulder to shoulder. We quickly decided that the food court was not an option and instead ventured outside. There were food trucks and a "Most Icely Cantina" but the lines were long.
Although it would mean having to go through bag check again, we ventured outside of the Phoenix Comicon boundaries just around the corner to Majerle's Sports Grill, where we had eaten at last year, and remembered there hadn't been any wait. Once again, we were taken to a table very quickly (after waiting just a couple minutes). We were able to eat reasonably priced food and made it back to the convention center by 1:50pm, at which there was thankfully no line for the bag check. Then we made it up to West 301A with a few minutes to spare before the panel began at 2:00pm.
Ciara Renee is most recently known for her role as Kendra Saunders, aka Hawkgirl, on Legends of Tomorrow and The Flash, while Teddy Sears is known for his role as Jay Garrick aka [spoiler alert] Hunter Zolomon aka Zoom on The Flash. I'll let Josh take over from here and give you a recap of the panel.
Teddy Sears and Ciara Renee were pretty excited to see how full the room was for them, figuring it would only have about "12 people."
The moderator, who oversees the panel, brought up how Ciara has a degree in Theater, and is known for being a Broadway star, and even worked on the pretty well known play Hamilton before it went public. Ciara was then asked which CW actor would be best for karaoke, and Ciara says Franz [Drameh, who plays Jax on Legends of Tomorrow] would be the best option. Teddy thought it could be Carlos Valdez (who plays Cisco). Apparently, The Flash would win as a collective show, as they have a lot of cast members with theater background there, and they often sing and dance on set. Teddy recalled that you couldn't stop The Flash cast members from singing in between takes.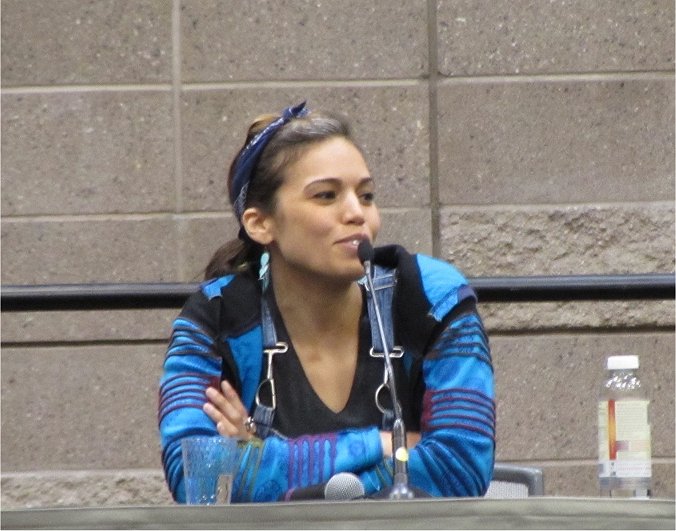 The panel then went right into the questions from the audience. The first questioner asked what character Teddy auditioned for — Jay Garrick or Hunter Zolomon. Teddy said that he auditioned for a "secret" character, and he worked with two "dummy scenes" written for the audition, so that no story bits would be leaked. Teddy said that the audition went pretty well, but apparently the crew wasn't sure that he could do the bad side. He wasn't able to get back in to audition again, but he did a movie called Curve, and that character was similar to Hunter Zolomon, so that was sent to the writers of The Flash, and he wound up getting the part. After he got the part, he was told about the whole story bit, and he says he had a great time with the show.
The next questioner asked Teddy and Ciara their dream character to play. Ciara said she would like to play Ella from Ella Enchanted, because she thought the book was better than the movie, and would like to see it made again. Teddy, on the other hand, said he doesn't have a dream role he has had in mind, and that he would rather just work, and see what comes up, essentially.
Up next, the panelists were asked what has made the two actors "geek out the most." Ciara said that meeting the original voice actor for Poison Ivy from the animated Batman series meant a lot to Ciara, as well as seeing all of the costumes and people at the cons. Teddy, meanwhile, talked about seeing Dick Van Dyke, and a few other people from various pop culture references. Teddy also talked about geeking out about Flashpoint when it came up in the show.
A kid then came up and asked what the two like to do aside from acting. Ciara's answer is simple, "Eat." She talked about eating at nice restaurants. She also said she likes boxing. Teddy agreed with food, but also said he likes to hang out with his cats. He also said he likes ice hockey, and that his favorite team is the Washington Capitals.
Moving on, Ciara gets another question, asking if Hawkgirl is off doing heroic things, or settled down with Hawkman. Ciara said that she thinks Hawkgirl would try to settle down with Hawkman, but would want to get out and do her own thing.
Another kid came up and asked if the two of them liked playing their characters on the CW shows. Both seemed to agree that playing the hero/villain was a lot of fun. Ciara said playing the different iterations of Hawkgirl was fun too.
Ciara was then asked if she had to study her character before coming on the show, and Ciara said that she was sent the omnibus for her character, and read through it. She said that she has a new appreciation for her character and comics after that.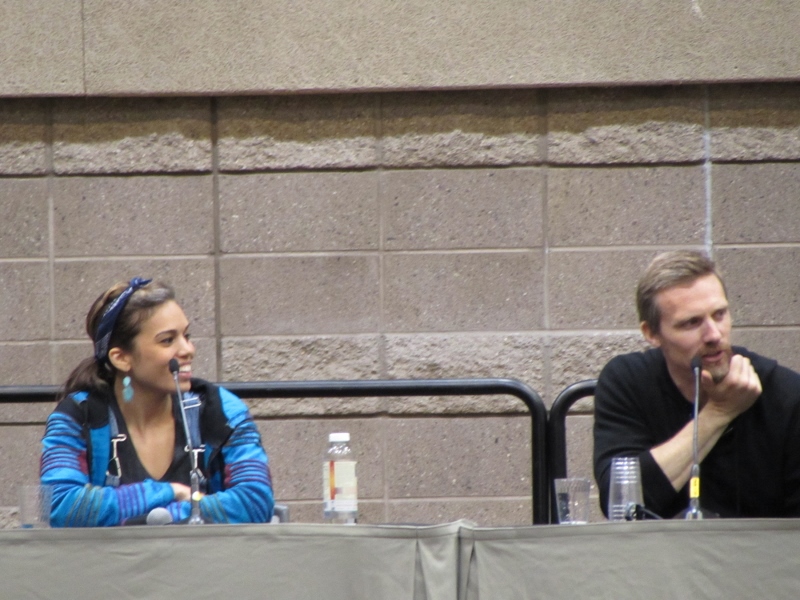 The next question gets deep with The Flash, asking what Teddy thinks the source of the Speedster's power is, and if he thinks the Speed Force is it. Teddy thinks tapping into this power of the Speed Force seems to be special to him.
Another question asked how they like being a superhero, and how they feel about people watching them "kick butt" on TV. Ciara talked about how she didn't really think about it must, but she remembers seeing it on TV, and remembers thinking it was "kind of crazy." Teddy agreed, saying it is really different when you see yourself with all of the CGI in place.
The next question gets deep again about The Flash, asking what next Speedster would be a good villain for the show, and Teddy admitted he wasn't really sure. Teddy asked the questioner what he thought, and he named a few people as well. Teddy said to throw some ideas out because the writers pay attention to the fans.
Up next, the two were asked how they relate to their characters. Ciara admitted that she is stubborn like Hawkgirl. She also said she really likes helping people and felt Hawkgirl would too, with the opportunity. Teddy, meanwhile, said that he relates more to Jay Garrick, and that he relates to him because he felt like a big brother to Barry, before he went evil. The questioner follows up with another question–if they like pretzels. They do. Ciara is gluten intolerant though.
Ciara and Teddy were then asked what Marvel character they would like to play. This draws some mild "boo's" from the crowd, but the two answer the question. Ciara said she would like to be an X-Man, like Rogue. Teddy, meanwhile, said he didn't really know, but that Doc Ock would be a good character to play.
Another question for Ciara was next, and she was asked if Hawkgirl should date Cisco again. Ciara answered that she thinks their relationship was "wonderful for the time," but thought Ciara should be more by herself, as it would be more productive for both of the characters.
The two were then asked about the hardest episode to film. Ciara's answer was the first episode, where Hawkman died. It was one of the first things she had to film for the show, and she had a hard time crying on command. She admitted there were some "tricks" to help her out though. Teddy answered that his was when he killed Barry.
Ciara was then asked if Hawkgirl would have her named changed to Hawkwoman, and Ciara replied that it made sense for when she is young, but seemed unsure otherwise. She went on to say that Hawkgirl could be powerful with either name really.
Ciara and Teddy were then asked about the difficulties for acting. Ciara mentioned acting for several years, 8+. She recommended for new actors that it is very difficult to get into the business, and that skill will set people a part. She also said that she started in New York, and did 100 auditions before she got a role. She suggested being able to take rejection. Teddy echoed her thoughts, and recommended having more than just acting going on in your life. Teddy also said that there id more than one way into the business, and people have to find their route sometimes.
Ciara was then asked about bloopers for the show, and she said there weren't a lot, but there were some "dance parties" on the set of Legends of Tomorrow.
Next, Teddy was asked how fast he can run, and he admitted he is getting older, but can do pretty well.
Up next, the two were asked if they have hurt anyone in their filming, and Ciara confessed that she punched a double in the face. Apparently, it can't be seen because she was having a horrible take, but the guy was okay apparently, and told her to keep going. Teddy, on the other hand, did not have any examples from The Flash. However, he said on 24: Legacy, he did accidentally choke a guy out though.
The two were then asked how they react to seeing themselves on TV. Ciara said she likes to learn from her mistakes on camera, but is very critical of herself. Teddy said he hasn't really watched much because he would get into his own head too much. Teddy said he would rather "do it rather than see it", meaning act rather than watch the episode.
For Ciara, she was then asked about her transition from theater to TV. Ciara replied that the acting is the same, but she has to change some technical aspects. She also said that it is weird not having instant gratification of an audience with television.
The panel wrapped up with one last question, asking what was their worst/most memorable stunt they did for the show. Ciara said she had a lot of fun swinging a mace in one episode, where she gets to break a table. Meanwhile, Teddy talked about how the Flash helmet he was wearing was not working well, until the crew figured out a way to hold the helmet on with a piece of fishing line for a chin-strap.
After the panel ended, we headed right next door to West 301BCD for Bonnie Wright's panel, which was scheduled to begin at 3:00pm.
Stay tuned for our recap and photos of the next panel on our Phoenix Comicon 2017 agenda, Bonnie Wright, aka Ginny Weasley from the Harry Potter films!
Check out more of our photos of Ciara Renee and Teddy Sears below: