Sunday morning, the last day of Phoenix Comicon 2016, started again for us in West 301BCD, with Timothy Omudnson. He has been on a wide variety of TV shows, and is probably best known for his roles on Psych and most recently Galavant. His panel was at 10:30am on Sunday, but he was running a little late. He provides a good excuse though–There was a rabid mongoose in his hotel room, that he can't quite remember how got there. Hmm…I think perhaps Timothy might be nursing a hangover? Either way, the crowd was excited to see him, and he seemed energetic and ready to answer a bunch of audience questions!
The questions are pretty split for Timothy–about half and half regarding Psych and Galavant. He of course gets asked what show he enjoyed doing musical episodes for more, and he says without a doubt it was Galavant. Omundson also discusses the training it took for him to learn to sing on Galavant, and discusses the process for him to get the part. He says that he had sung in high school some, and his musical episode in Psych rekindled is love of singing. When he was auditioning for Galavant, he says it took him 5 months to get the part, as a famous British actor was actually potentially taking the part, but eventually it went to him. Timothy described that as perfect timing though–as he went to the singing coach from Psych for help, who upon hearing Timothy sing remarked that he had a great "instrument" but no technique. The 5 months apparently gave Timothy time to get trained for the part. Funny enough, a second part to this question was how a deaf singer can get into singing, and Timothy begins to answer the question seriously, as the person who asked the question is actually deaf. He brings up how there is actually a stage group of deaf singers, and encourages the questioner to just sing if that is what she wants to do. After his thoughtful explanation, the questioner reveals she was mostly kidding about that.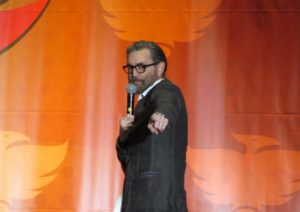 As for more about Psych, Timothy is complimented on his way of portraying emotion through Lassiter's eyes, while keeping the stern front. Timothy says it is partially due to the writers on the show, as they wrote for the actors. He also discusses how most of the writers on the show were pretty long term, with it from beginning to end, which is pretty unusual in the TV industry. As a side note, Omundson is also asked how he is able to keep such a straight face when working with James Roday, and Omundson admits frankly that he didn't, and he again praises the crew, saying that the editors got really good at cutting around him cracking up. He even says that in certain episodes you can identify the start of him cracking up just before the camera cuts away. But, giving himself credit, he says he has the hardest part on the show, as his character was the most serious, so he had to try to keep it together the most.
Apparently there is a thing about a pineapple appearing in almost every episode of Psych. This came about by James Roday introducing it on the show, and it just stuck with the show from there. Timothy is also asked about his favorite episode of Psych, to which he responds Here's Lassie, which is a spoof on The Shining. Ironically, Omundnson is not a horror movie fan. As for Timothy's favorite cast he has worked with, Psych wins out there. Timothy says that everyone on set really got along with each other, and the set got a reputation of treating guest stars really well, so they would love to come on. He also says working with the Supernatural boys was fun too (he played Cain in a few episodes).
A big topic regarding Galavant is Tad Cooper. Apparently he is a lizard/dragon from the show. One questioner asks how it was acting off of Tad Cooper, and Omundson "furiously" says that Tad never gave him anything to act off of. So much so that while there was a real Tad Cooper, there were also times when Timothy was acting off of a rubber lizard. Apparently the animal rights people that worked on the show had pretty strict rules for using animals, so on scenes filmed in Morocco, the show could not use a real lizard. When asked where he thought Tad was now, Timothy says that Tad is probably sitting on a warm water bottle eating–critics (meaning to say crickets)…? A slip of the tongue by Timothy, who has a little fun with it given Galavant's cancellation, but then says that the show was critically well received!
Timothy is then asked about there being a Season 3 of Galavant, and Timothy says since it is a "public forum" he doesn't want to say what he really thinks about the people running things for the show. But he says he doesn't know about Season 3 and says Galavant was the best thing he has ever been involved in on TV. Timothy talks about how he went through the stages of death, but is moving into acceptance. But he pushes the online petition, and is hopeful something like Netflix or Hulu can pick the show up. As far as where Season 3 would go, Timothy says he has discussed this a lot with his co-stars, but thinks the story of Madalena could go somewhere in Season 3.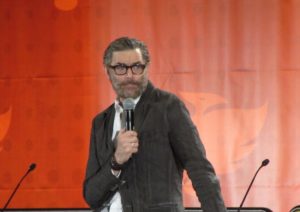 Timothy also talks about how he learned about the show being cancelled–he was about to get on a 12 hour flight and the producer called him and told him, so he could stew for 12 hours on a plane. Then at the convention in Germany he was going to, he had to answer about 80% questions about Galavant. Timothy is thinking that Galavant could be something like Firefly, and it will be revered as people find it on streaming services.
One questioner says it's his birthday and Timothy gives the man a birthday song, getting the rest of the hall into singing too. As for the birthday boy's question, he asks Timothy what character of his he would want to hang out with, and Timothy answers saying he wants to hang out with the "one true king" Richard, as King Richard from the first season would be too scary.
Timothy gets a few other off the wall questions too, like how he grows such a luxurious beard. He reveals his secret as simply just growing it. Makes sense. Additionally he says he prefers a little wax in it, but doesn't use oils as he plays with his beard a lot and doesn't want oily hands.
Timothy is also asked about his role on the The Luck of the Irish, and is asked if he actually did the dancing in the movie. He says a little, but says that he was only given one lesson to basically get him through his parts in the movie, and he had a dancing double. Timothy is gracious enough to show us his dance moves, which was essentially the end of the dancing and bowing to the crowd.
Timothy Omundson is a pretty funny guy, and it makes me a little sad that Galavant was cancelled so soon. He was probably the funniest part of the show, and I think he will be especially missed.
Up next was our final panel of Phoenix Comicon 2016, which was Alex Kingston, AKA River Song from Doctor Who. Stay tuned for our recap and photos of that panel!
Click here if you've missed any of our coverage of Phoenix Comicon 2016!
Check out more photos from Timothy Omundson's panel below: