After Neve McIntosh and Dan Starkey's panel at Phoenix Comicon 2016, we saw Sean Astin in Room 301BCD. His panel was at 4:30pm on Friday, June 3. For those unfamiliar with the name Sean Astin, he has been in quite a number of roles. He is best known for playing Mikey in The Goonies, Rudy in the movie Rudy, Samwise Gamgee in Lord of the Rings, and of course the timeless character of Doug in 50 First Dates.
Sean Astin comes out to the crowd, and he receives a pretty big response. More so than I thought. I wasn't sure if it was because of Goonies or Lord of the Rings though. I figured it couldn't be Rudy–its not like we were at Sports-Con. But he starts the panel discussing the Run 3rd charity, which he gotten involved with, which has people running for what they want to. Sean Astin is known for being an avid runner, and provides some insight as to why he runs-aside for his own health and his family's benefit.
This panel was basically a question and answer panel though, much like the rest. By the end of the panel, I determined that most people probably knew him from Lord of the Rings, but there certainly were fans of Goonies present too.
A shocking moment for the panel actually happened right away. A question shot at Sean Astin asks if he read the books prior to being in Lord of the Rings. Astin admits he hadn't, which draws ire from the crowd. He redeems himself though, saying that he read them cover to cover 3 times while filming. I guess that makes up for it some.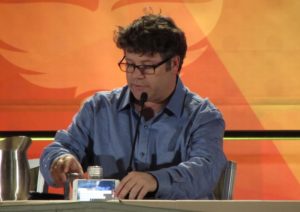 Staying with Lord of the Rings, Sean is asked if Samwise is the "voice of reason" for Frodo, and Sean Astin replies that he doesn't really think so. He thought that Frodo's logical mind was still intact, but he was just being poisoned. Sean reasoned that Samwise was more a symbol of home-ness, and that he figured if the roles were reversed for Frodo and Sam, Sam would be as overcome by the ring as Frodo was. I think that is probably true, and it sure would be interesting to see that play out–wouldn't it? Speaking of this though, another questioner asks Sean how he would have handled the ring, and again Sean says probably the same as Frodo. He provides some behind-the-scenes knowledge, discussing the story behind the scene when Frodo loses the ring, and Sam is forced to fight the giant spider, Shelob, and Sam has to return the ring to Frodo upon finding him in the tower. Apparently there was a big debate over whether Sam should resist giving the ring back to Frodo or if Sam was able to release the ring easily. Sean discusses how they did a lot of takes of various ways it could be interpreted, and the end result was a big ambiguous. Of course, Astin thinks Sam had no trouble giving it back.
Sean Astin gets a lot more Lord of the Rings questions at the panel. He is asked about his favorite moment on set, and it turns out he didn't think the moment he talks about was funny at the time, but it is to him now. He admits to being embarrassed when during the scene when Gollum is trying to pull Sam and Frodo from the Black Gate, Andy Serkis accidentally pulled on Sam's cloak, which was attached to his wig, so everything came off Sean Astin. He said he was mainly embarrassed because of how many people witnessed the scene. Speaking of Andy Serkis, Sean is asked how silly Serkis looked when filming scenes as Gollum, and Sean admits he looked silly. But he also compliments Andy Serkis on what he has created for himself in the motion capture business.
Sean Astin also talks about a scene where he was knocked out by a 80 pound object –that had to be scary. There are few other interesting gems in the panel. Astin's favorite part of filming was actually bringing is daughter, then 2 at the time, to the set, along with the fun helicopter rides to set. Sean also talks about how sometimes when filming movies, they lose their magic when watching them, but says that a good score can bring him right into a movie, and he can ignore all the "film-making" aspects that his family often gives him a hard time for critiquing, as he is always pointing those things out when watching a movie. He also talks about how his mindset can affect his mood when watching a movie–which makes complete sense. Who wants to watch a romantic comedy if they just broke up with their girlfriend? Or a horror movie after being kidnapped? These are extreme examples, but I can completely understand where he is coming from.
As a transition to Goonies-talk, Sean Astin gets a pretty funny Goonies–Lord of the Rings cross over question. Astin is asked if the characters of the Goonies were the characters of The Lord of the Rings, what would happen? The question baffles Astin, and he admits he has never been asked this question in his life. He gets to thinking about it, trying to assign Goonies characters to Lord of the Rings characters, but struggles. He does acknowledge though–he thinks they would succeed in destroying the ring! The reason? At least they would have a map!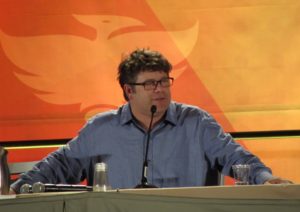 Sean Astin is also asked about Goonies 2, and if it will happen. Sean Astin seems certain it will happen for one reason–money. Astin believes there are enough people out there that want a Goonies 2 that it is a movie that will be made. Interestingly, Astin and Corey Feldman apparently have worked on a script together for the sequel.
Rudy surprisingly came up a lot more than I thought it would. Astin is asked how it was filling the shoes as Rudy, making the movie. Sean discusses how "in awe" everyone must have been with Rudy, as Notre Dame signed off on the movie being made. Sean also talks about trying to separate himself from the movie and the reality of what happened, as of course, the movie is "cinematized" for dramatic effect. But Sean also talks about how talking to the real Rudy, while not providing direct benefits to him portraying the character, seemed to help in in a non-tangential way portray the character in certain scenes. Another interesting note regarding Rudy, when asked what character Sean feels he relates to the most, he says it is Rudy. He says other characters he relates to in some ways too, but Samwise was "a better person" than him.
Sean is also asked the toughest part of filming Rudy, and Sean admits it was the drills for the film. There was a stunt double that was filming much of his parts, and he thought those scenes didn't look right, so he would step in to film those scenes. He talks about how hard it was to take hits, or try to drive though the other "players" and it was very tiring for him.
Sean answers a smorgasbord of other questions as well. He talks about filming a movie called Range 15, which is a zombie film that stars actual war vets, that Kickstarted a movie because they wanted to film a zombie movie how one would actually play out. Sean Astin also honors all of the vets in attendance to the panel which turns out to be quite a lot. Astin also talks about working with these vets, and how, for making their first movie, they seemed to know what they are doing. Astin talks about how they have had to really work with scheduling actors for brief shoots, and it is a difficult job, but it seems to be going pretty smoothly. Sean also talks about a personal experience filming the movie–he had just finished the Ironman Triathlon the day before he was supposed to shoot, and was relieved he had a sitting part as a helicopter pilot, as he had a lot of blisters on his feet.
Meerkat Manor also surprisingly comes up. This was a nature show that followed meerkats, and Sean Astin provided the narration. He was asked if he was emotionally invested in them, and he says he was but he tried to keep a measure of objectivity, as he wasn't sure how much of the story being told in the show as true or not. He provides the example of Flower, the matriarch of one of the meerkat groups, dying, and wondered how the show was able to get such a good shot of the dramatic scene…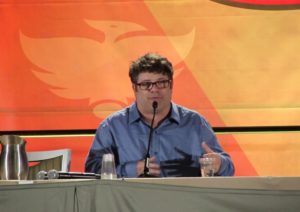 Sean is also asked about the most fun sets he has been on. He said a lot of small ones were fun, like Kimberly, a movie I never heard of, but he said that he had a lot of fun hanging out with the cast at restaurants. He also says Lord of the Rings was fun, but a very tough shoot. Sean also discusses voicing Raphael in the Ninja Turtles cartoon. He was not a big fan of the show or comics growing up (for shame!) but he did get into the comics later when he got this part of voice overs, and he appreciated the characters more. Sean also talks about making movies as a kid, where he would be the stuntman as a kid, with his Super 8 camera, performing awesome bicycle stunts.
At the end of the panel, Sean does a quick lightning around, bouncing back and forth between the mics, which was funny. Here is a quick peek at what this was like:
"What are your favorite kind of potatoes?"
"Baked."
"What was your favorite scene in filming Lord of the Rings?"
"Kissing Rosie Cotton."
"What's your favorite part of acting?"
"The money."
"How do you feel about the other cast members of Lord of the Rings?"
"I hate them." (kidding)
After this "lightning round," the panel then ended, the audience applauded, and Samwise Gamgee, I mean Sean Astin, exited the stage. Another interesting panel though, as Lord of the Rings is one of my favorite movie trilogies, so I was interested in hearing about his adventures filming that. From his discussion, it sounds like he had fun doing it, but it was a very tough filming process. While I am not the biggest Goonies or Rudy fan, I enjoyed hearing his insight and discussion about those movies, as well as everything else he talked about. Sean Astin is a pretty interesting fellow! And of course does great charity work with his running.
Up next after Sean Astin is the Karate Kid panel, featuring Ralph Macchio, William Zabka, and Martin Kove, which was the final panel of the night for us! Click here for our recap and photos of that panel.
Check out more pictures from Sean Astin's panel below: