Following Billie Piper's panel at Phoenix Comicon 2016 on Saturday, June 4 was Oded Fehr, probably best known for his roles as Ardeth Bay in The Mummy movies and Carlos Olivera in the Resident Evil movies. His panel, scheduled for 1:30pm-2:30pm, also took place in West 301BCD, the same room as Billie Piper's panel.
Eve Myles, who played Gwen Cooper in Torchwood, the Doctor Who spinoff series, had a panel in the smaller room next door that took place at the same time, so we had to make a choice between her panel and Oded Fehr's panel. In the end, we decided to attend Oded Fehr's panel since we had never seen him before, while we had seen Eve Myles on a couple of panels at Gallifrey One (the annual Doctor Who convention) last year. Plus, it was more convenient to stay in the same room, especially considering that Caity Lotz's panel would be taking place in the same room after Oded Fehr's panel, and we weren't sure how full the room would get.
If you take a look at Oded Fehr's IMDb page, you'll see that he has been in a great number of movies and TV shows. Other than The Mummy and Resident Evil, he was asked the most about his role as Mossad agent Eyal Lavine on the TV series Covert Affairs. He commented that after appearing on Covert Affairs, he was all of a sudden playing Mossad characters everywhere. When asked if he was afraid of being typecast, Fehr said that it wasn't necessarily a bad thing, and that if he gets to play more characters like on Covert Affairs, "all the better." Another audience member later asked if he thought Fehr's character would have gotten together with Piper Perabo's character. Fehr recalled commenting to Piper one time something along the lines of, "Thank God they never got together, then I'd be dead by now." She wasn't sure what he meant by that, so he explained to her that her that the love interest doesn't last, and they'd have to kill him off somehow, to which she responded, "So I'm a Black Widow?" Fehr talked about his experience being a guest star on Covert Affairs, telling us that he was the first guest star coming in after the show got picked up, and celebrating with everyone about the show being picked up. He had to remind everyone that he was leaving in 8 days, and told them, "You are never going to have a better guest actor." Later he got called back, and they all told him that he was right — he was the best guest star they'd ever had. However, that only lasted until Richard Coyle started working there. Later, after Coyle's character was killed off, when bringing up the "best guest star" they tried to make him feel better by saying "Well, the other one's dead."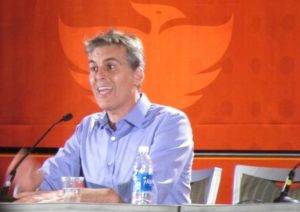 It seemed like most of the audience members asking questions knew him as Ardeth Bay from The Mummy and The Mummy Returns, so many of the questions were about those movies. One of his favorite lines in the Mummy movies was "My first bus ride." Another favorite was, "You have unleashed the creature that we have feared." He gave us a little behind-the-scenes info about that latter line, recalling when he was rehearsing before the scene, he said the line a certain way. His friend asked him if he was going to do it like that when they film the scene, to which Fehr responded, "No, I was waiting on you to suggest how I should do it." His friend told him to do it calm and dead serious, and to just let the anger be inside, so that's how Fehr did the line. The Director liked it so much that he knew right then and there that it would be a teaser moment that would go on the trailer.
Fehr confirmed that it was his natural hair in The Mummy. He explained that when he went into drama school, he was clean shaven, but when he came out, he had long hair like a "thespian." Afterwards, it was a "step towards freedom" to cut it off. However, he was "literally accosted" by a lady one day who was very upset with him for cutting his hair!
The most intense stunt that he did on the Mummy movies was in The Mummy Returns, which had a fight that took place in the desert on horseback. Fehr trained for the scene for many months in Los Angeles and Toronto, and commented that it was "wonderful to get to a place where you feel so comfortable on a horse that it feels like part of yourself." However, he only felt that way up until when he slid off the horse's back and fell on his butt! He recalled how embarrassing it was, since they had 2,000 people on set, including lots of extras.
When asked how Steven Sommers (the director of the Mummy movies) approached him to be in the movie, Fehr said he had walked into the audition and didn't know who Sommers was, it was just another audition. A few weeks later, he happened to bump into the casting director who told him that they loved him and it went well. He recalled that it was about 4 months before they started shooting, and a year before it came out. After that, he moved to the US, and got cast in Deuce Bigalow within a couple of weeks.
Speaking of Deuce Bigalow, he was also asked about his experience working on the set of that movie. Fehr recalled that Rob Schneider was funny all the time. As silly as the movie is, Fehr said that "it has heart." However, he went on to say that he's "not one for starving myself," which he had to do in order to get the six-pack that he had in the movie, but which he doesn't have anymore. He jokingly admitted that this was unfortunate for his wife, whom he met while shooting Deuce Bigalow, because it "all went downhill from there."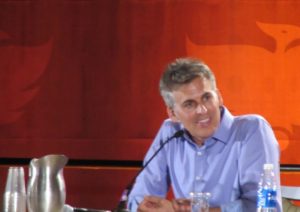 Fehr also got a good number of questions about working on the Resident Evil movies, and he joked about the fact that he can't remember the names or numbers of the Resident Evil movies that he's in. Fehr remembered that when they first started out making the movies, Mila Jovovich seemed like a young woman, and that she is very different from the day that he met her and who she is today. He enjoyed being able to be there and see her experiences develop, including her relationship with Resident Evil Writer/Director Paul W.S. Anderson, to whom Jovovich is now married and they have two children together.  Fehr recalled that he and Jovovich had a good chemistry in that they were both "about the work" and making the movies better.
Fehr's favorite Resident Evil movie to shoot was the one that takes place in Nevada (Resident Evil: Extinction), though he revealed that it was actually shot in Mexicali. He confessed that he enjoys working in the heat rather than the cold (like in Toronto).
His scariest stunt he's ever done was jumping out of a helicopter in Resident Evil: Apocalypse. He explained to us how the stunt worked: there are cables wrapped around a huge wheel, they pull you up to the top, then they release it, and you drop, then it starts slowing as you approach the ground. He had to do this about 20 times. He told us that the brain doesn't like looking at cement coming at you with nothing to hold on to. He had asked for them to just drop him one time to see what it feels like — "It didn't feel good." He then had to pull out guns while he was dropping. "I can tell you I had to throw away those pants!" he joked.
Fehr was also asked about a few other properties that he had starred in. He talked about some funny off-set moments with Michael Ealy in the TV series Sleeper Cell, saying that they needed comedy to break the tension of the subject matter, as it was harsh. Speaking of Sleeper Cell, after he did the pilot, and was waiting to see if it got picked up, he got a call about being in Charmed, in which he played Zankou.  He said it was a nice experience, and was the closest to a 9-5 job he's ever had. At the time, he didn't know that the writers named the character after a fast food place called Zankou Chicken! So he went to the restaurant, thinking that they might recognize him, but he was disappointed that he's never gotten special treatment when he went there.
He also spoke a bit about filming the movie Inescapable, which was filmed in South Africa and addressed Apartheid, which Fehr didn't know much about. However, he enjoyed learning about it, and appreciates that they are working toward peace.
Additionally, Fehr talked about UC: Undercover, which in Fehr's opinion was cancelled because "it was a little before its time." There were always big explosions and other elaborate action effects that were not as common back then, so they were always running behind. He recalled that it was a very difficult production, and very expensive.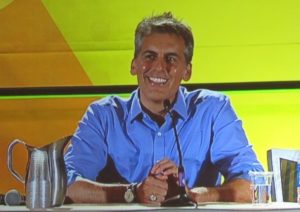 One audience member asked about his role as a bad guy on an episode of Medium, which was a doctor who murdered people who were dying. Fehr commented that "playing bad guys is so great" and that "a good bad guy is someone who believes he is a good guy and is doing the right thing."
When Fehr was asked about working in voiceover, he told us about how he was classically trained in England at a school that concentrated on voice and accents, and therefore he has a much broader range with his voice. Interestingly, one of his teachers had him sit on a stool and read him children's stories as an exercise. Fehr then told us that he recently did a movie where he voices Dr. Freeze – but he wasn't sure if it was about to come out or has already come out.
As for advice for actors to get noticed in the industry, Fehr commented on how the industry is so diverse. He advised aspiring actors to make their own little movies, and to write. Fehr revealed that he has his own writing partner, with whom he wrote a script about a Mossad agent, but it didn't end up going anywhere. However, "the experience of writing was wonderful." He further advised, "try as many avenues as you can."
Regarding working on film versus TV, Fehr commented that the industry has changed a lot. When he first started, movies were where all the best writers and the most money were. But now the quality of TV has improved, and "each episode is like a movie." He said that the two have become very similar, though the TV pace moves much faster, but he kind of likes that.
Fehr would love to do theater again one day, as it is a completely different technique from acting on screen. However, it's hard for working actors because it's such a long commitment that you have to make very far in advance.
For the final question, an audience member asked about the character that Fehr played on Marvel's Most Wanted pilot, which unfortunately did not get picked up. However, Fehr wasn't really able to say much about it. What he did tell us was that the character "had a lot of depth" and "would have been a lot of fun."
Although Oded Fehr is not someone I would have planned or expected to see at a comic convention, I'm glad that I got the opportunity to do so. He seems very nice, and serious about his acting, though he has a sense of humor. Even though I wasn't familiar with many of the properties that he talked about (I only know him from The Mummy, Resident Evil, and Deuce Bigalow), I still enjoyed listening to his insight about the acting world.
Up next was our final panel of our Saturday at Phoenix Comicon 2016, Caity Lotz, who is known for her roles as Sara Lance on Arrow and Legends of Tomorrow! Click here for our recap and photos of that panel.
Check out more photos from Oded Fehr's panel below: