Following David Ramsey's panel at Phoenix Comicon 2016 on Friday, June 3, was a panel featuring Neve McIntosh and Dan Starkey, who play the characters Madame Vastra and Strax on Doctor Who, and make up 2/3 of the Paternoster Gang. David Ramsey's panel finished up around 2:30pm, and we decided to stay in our spot rather than try to move up to a closer spot for the 3pm panel. In case you were not aware, Phoenix Comicon does not clear the room between panels, though they do have a 30 minute break in between each panel that takes place in the "Spotlight" rooms.
The one hour panel immediately opened up to audience questions. The first question was a joke question to Dan Starkey: How do you like your potatoes? If you're unfamiliar with the show, this is funny because Starkey's character, Strax, is of the Sontaran race, which looks quite like a potato! Starkey answered by saying that you can do anything with a potato – boil, mash, etc.
Many of the questions were about the actors' "favorites." Neve's favorite Doctor is Tom Baker, since she grew up watching him. Starkey's favorite Doctor is also Tom Baker, and he pointed out that he has worked with almost all of the Doctors through Big Finish audio productions. (For those unaware, Big Finish produces audio plays based on Doctor Who, among other properties.) Speaking of Big Finish, Starkey said there were new episodes coming out soon, though they will be released out of order. Neve McIntosh said that she recently recorded a Big Finish episode that will feature John Hurt, and Starkey pointed out that he would be in the episode as well!
As I mentioned before, Starkey's character, Strax, looks like a potato. What I didn't mention was that McIntosh's character, Madame Vastra, is a Silurian, which is a race of lizard-like humanoids. Additionally, both characters reside in Victorian London.  So both of them have to deal with elaborate costumes and makeup. McIntosh explained that it was very complicated for her to get into costume, as there are three different pieces that make up her lizard head, and it takes three and half hours to put on the head, then they put layers and layers of clothes on her. Starkey talked about his "rubber trousers" which he has to be hoisted into by two prosthetic ladies. He commented that it takes an "element of willpower" to get through the day. McIntosh also talked about the difference between playing a human, as she did on the BBC TV series Single Father, versus her character on Doctor Who, saying that when she plays a human, she has to be more subtle, but on Doctor Who, she can "ham it up" as much as she wants and "have a bit of fun."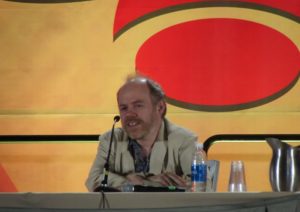 Going back to "favorites," Neve's favorite Doctor Who character is Davros, while Starkey's favorite is Meglos, from the Tom Baker-era, who is a cactus that can change shape. As for favorite Doctor Who villain, McIntosh's is the Daleks, and Starkey agreed, though he also likes the Master. One of Starkey's favorite scenes was when Strax goes through a pub window, while one of McIntosh's favorites was in A Good Man Goes to War and there's a TARDIS there, but when they yell "Action!" it disappeared. McIntosh's favorite Madame Vastra line is, "Good evening. I'm a lizard woman from the dawn of time, and this is my wife," while Starkey's favorite Strax line is, "Sir! Emergency! I think I've been run over by a cab!" They were also asked their favorite food, and we learned that both Starkey and McIntosh are vegetarians. McIntosh said that she generally likes chocolate, while Starkey prefers curry and Italian.
An audience member brought up to McIntosh the fact that lesbian characters are being killed off in American TV shows, to which McIntosh replied that she didn't realize that was going on, and would "fight tooth and nail and tongue" for that not to happen to her character (who is married to a female human). Another audience member asked McIntosh if she knew that she'd be with Jenny before going on the show, and she said yes, but she had no idea who was going to play her. Coincidentally, when she did find out that Catrin Stewart would be playing Jenny, she had just done a play with her a few weeks before, in which Stewart had played her adoptive daughter.
When asked what inspired them to become part of Doctor Who, Starkey said that he was a massive fan of the show, and had started watching it when he was about 3 years old. He went to drama school when he was in his late 20s, which was right when the new series was announced. Doctor Who turned out to be his first TV job. McIntosh said that her mother had watched the very first episode of Doctor Who, and therefore she and her brother grew up watching the show, so this was a "dream come true job." Starkey revealed that he had actually played a few other Sontarans before playing Strax. When he first read the script with Strax, he liked how truthful Strax was, and there was something "very endearing" about him, and as a character, Strax leapt off the page at him. As for McIntosh, she liked that playing her character gave her the opportunity to be a "goodie." It didn't really hit Starkey how big Doctor Who was until one year when he was attending Chicago TARDIS (an annual Doctor Who convention) and he went out to shop – and he saw sonic screwdrivers being sold at the checkout stand. He knew Doctor Who was a big deal in the UK, but he didn't realize that it was that big in the US.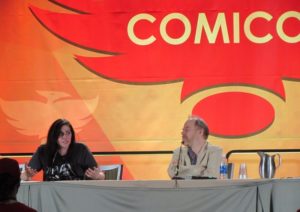 Another audience member asked about a spinoff show featuring Madame Vastra, Jenny, and Strax. McIntosh said that at one point it looked likely that there might be one, but then it went in a different direction. Starkey commented that Steven Moffat is "very protective" of the characters. McIntosh opined that they should just have their own movie franchise. She also said that she would have loved for the Paternoster Gang to be in an episode with Daleks. As for developments with their characters that they would like to see, Starkey would like for Strax to run into some other Sontarans who would question why he was hanging around with Vastra and Jenny, to which he would try to pretend that he wasn't. McIntosh said she would want to see how Jenny and Vastra met. She also joked that she would like to see Strax go through puberty.  McIntosh went on to say that they're all fairly close, and try to stay in touch when working on different projects. However, Starkey said that it's hard to get all three of them at a convention at the same time.
Will we see the Paternoster Gang in Season 10 of Doctor Who, which begins shooting next month? They have no idea if they'll be in it at this point in time. McIntosh said that it's often last minute when they find out, and they'll get a call asking "Can you make it down next week?"
One audience member asked what their characters' reactions would be if they met Missy. McIntosh said that it would be "quite a fight" between Vastra and Missy that "could get really nasty." Meanwhile, Starkey thinks Strax would ask, "Is it a man one or a woman one?" Later, someone else asked how they would react to meeting Captain Jack Harkness, Starkey said it would be quite the same as meeting Missy, as he would ask, "Is it a man one or a woman one?"
McIntosh was wearing a Star Wars shirt, so her answer was obvious when an audience member asked if the panelists had any fandoms other than Doctor Who. McIntosh even said that her mother had tried to get her to cut her hair so that she wouldn't wear it in buns! Her favorite Star Wars character? Darth Vader. After A New Hope came out, she was so sure that Darth Vader would return in the next movie that she wore a "Vader lives" badge. Later, when asked if there was anything she had been in that would beat Doctor Who, she said that Star Wars is the only thing that could ever beat it.  Meanwhile, Starkey said that he's a fan of Buffy and Firefly.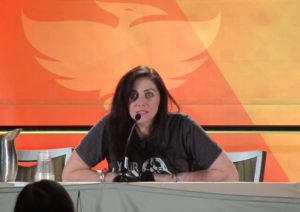 Of course, there were the usual audience questions about any funny or embarrassing stories from the set of the show. McIntosh mentioned that Starkey had come up with alternative Christmas songs during the filming of the Christmas special. Starkey then gave us a couple of examples, one which was "When the red red robin comes bob bob bobbin' along" to which Starkey commented in his Strax voice about using it for target practice! Another example was in reply to "Rudolph the red-nose reindeer had a very shiny nose" to which "Strax" commented, "It proved to be a tactical disadvantage which enabled me to punch him in the dark!" Starkey also mentioned that in the A Good Man Goes to War episode, they were filming a battle scene, and his rubber trousers were so tight that they tore right in front of his crotch. He had to make an emergency pit stop for the tear to be glued up, and he ended up with a stain on his neck because the glue sprayed through. McIntosh said that she often forgets that she has a big head on, and she has on walks into doorways with it. She also shared a story about one time when her sword, which was sticking out behind her, smacked into Matt Smith's face and chipped his tooth! She defended herself, saying, "He bumped into my sword!"
Even though we had just recently seen Neve McIntosh at Gallifrey One in February, it was nice to see her again! This was actually the first time we have seen Dan Starkey, so it was pretty cool to see him in person for the first time. McIntosh seemed kind and genuine, with a bit of spunk, and Starkey seemed very nice as well. It was fun to see them interact with each other, especially out of costume and with no makeup on. I also enjoyed how Starkey would often revert into his Strax voice and demeanor when answering questions! I hope one day I get to attend a panel with all three members of the Paternoster Gang!
Following Neve McIntosh and Dan Starkey's panel was Sean Astin, which we stayed in the room for, and again opted to remain in our spots. The room ended up being packed! Click here for our recap and photos from the Sean Astin panel.
Check out more Neve McIntosh and Dan Starkey photos below: