Following Sean Astin's panel at Phoenix Comicon was the Karate Kid panel. This panel took place on Friday, June 3 at 6:00pm in Room 301BCD, and featured the Karate Kid himself, Ralph Macchio, as well as William "Billy" Zabka (who played Johnny Lawrence, the Cobra Kai that Daniel LaRusso faced off against) and Martin Kove (who played the evil Cobra Kai sensei, John Kreese). Like the other Spotlight panels at Phoenix Comicon, the Karate Kid panel consisted of audience Q&A.
First and foremost, the panelists talked about working with Pat Morita, who played Mr. Miyagi, and who passed away in 2005. Ralph Macchio talked about when he first met Morita, which was at an early reading of the script, just after they had auditioned together. Macchio recalled that Morita had all the jokes and all the beats. We learned that Macchio called Morita "The Human Yoda." Macchio spoke fondly of Morita, saying that you knew he was the right actor in the right role, and that Morita gave a "very magical, soulful performance," and that this was evident from Day 1. He commented that the reason Mr. Miyagi is such a memorable character all these years later was due to the work that he put into it. "We all miss him," Macchio expressed. He also recalled that the Karate Kid producer, Jerry Weintraub, didn't want "Arnold from Happy Days" in the role of Mr. Miyagi, and Macchio admitted that they all felt that way when they heard Morita was being considered for that role. But then they all changed their minds when Morita walked into the room and "became Miyagi." An audience question came up later as to whether Miyagi meant more to Daniel than a teacher, and Macchio talked about how Miyagi was a father figure to Daniel, representing the father that he didn't have. Macchio went on to say that his favorite line in the movie is when Daniel tells Miyagi, "You're the best friend I ever had."
Martin Kove also spoke about his experience working with Morita, describing the final screen test he had with Morita, which was the "open season" scene. At this point, it was the fourth time Kove had to do this scene, and he was frustrated that he'd had to do it so many times. Morita told Kove to "just go at it like you hate my guts and want to rip my lungs out." Then Morita laughed, and so Kove laughed as well. This also happened to be the first time that he met Morita.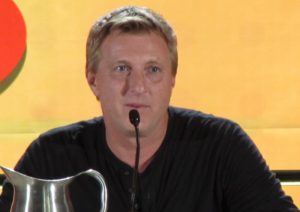 William "Billy" Zabka commented that Morita would be "thrilled to be here." It was a treat for him to work with Morita, as Zabka had grown up watching him on Happy Days. Zabka recalled that Morita called him "BZ," while they all called Morita "Uncle Pat." When they were filming the skeleton fight scene, which they filmed for a week, Morita noticed that Zabka was only giving half the intensity at the rehearsal. So Morita pulled Zabka aside and told him to give 110% during rehearsal so that when the cameras are rolling it's like "bread and butter."
As always, there was the audience question about any funny stories from the set. Macchio talked about how they were trying to figure out how to film catching a fly with chopsticks. Remember, there was no CGI back in 1984! So what they did was attach flies to fishing line — but the flies kept dying. He pointed out that if you look closely while watching the chopsticks scene, where there are a couple of different cuts, you'll see that the fly is in different places in the chopsticks in each cut!
The three also discussed the martial arts training that they had leading up to the film. Macchio said that he had karate training for 5 weeks before filming Karate Kid, then trained throughout filming the movie, which was about another 10 weeks. As far as Macchio is concerned, "Daniel LaRusso had no business winning anything!" but he added that Daniel "represents a piece in all of us" in that anyone who saw the movie felt like "that could be me."
Zabka said he had the same amount of training as Macchio. He also told us that he was a wrestler in high school, so he was limber. However, he had a back injury. But it turned out that training in martial arts strengthened his core and actually healed his back! Zabka added that their training was basically a "crash course" and that they skipped all the testing in the belts, but that he went home sore every day.
Kove said that he trained separately from Macchio and Zabka, and that he had very little action – "it was just attitude." His separate training was to "create the mystique of each one never really seeing the others fight." Kove also praised the stunt coordinator, Pat Johnson, saying that he owes his attitude to Johnson and his training.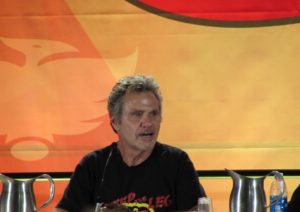 One audience member asked if Daniel should have been disqualified because of the full force of the crane kick. Macchio commented this has come up before, and that he wished the writer was here to answer that. However, Macchio replied, "I just did my job" and that the script said, "Jumps on one leg, kicks with the other," so he did it. Kove commented that John Kreese never thought Daniel LaRusso beat his student, and that he has carried the vendetta all this time. To this day, he has a different vision of the entire evening. He then reverted into his Sensei Kreese character and addressed Zabka, "Is that correct, Mr. Lawrence?" to which Zabka, in character as Johnny, replied, "Yes, Sensei."
As for their favorite scenes to film in Karate Kid, Zabka said that it was when he showed up on the beach on a motorcycle, because not only was it his first movie, it was also his birthday. Zabka also enjoyed the tournament scene, saying that it was like "choreographing a dance." Regarding the tournament, Macchio chimed in, "For me, that was awesome – I got to win!" But for him, his favorite scene was when Miyagi saved him. Macchio gave us a little behind-the-scenes info, saying that this scene, which was 7 pages long, was all done in one shot, and had no editing, which is unusual. Macchio also likes the scene when Daniel realizes that all of his chores added up to his skills.
The Karate Kid was not the only subject that audience members had questions about. One audience member asked Macchio about My Cousin Vinny, and what it was like working with Joe Pesci. Macchio replied with a Joe Pesci impression, then went on to talk about how wonderful Pesci was. Macchio also shared a funny story about how during filming Pesci would keep putting his Oscar (which he had recently won for Best Supporting Actor in Goodfellas) in each scene! He then told us that getting his own part on that movie didn't come easily, as the studio wasn't interested in him for the role, because they wanted whoever was "hot" at that time. Macchio had to work to get the part, but then he got it once he auditioned. He went on to say that it was a great ensemble to be part of.
Zabka was also asked what it was like working with Neil Patrick Harris on How I Met Your Mother. Zabka spoke very highly of Harris, saying that he was "awesome" and that he's "one of the most talented people on the planet." Macchio acknowledged that Zabka appeared on the show much more than he did, but for the one episode Macchio appeared on, he said that it was a "very well-oiled machine" and they were all very friendly and excited to have them on their show.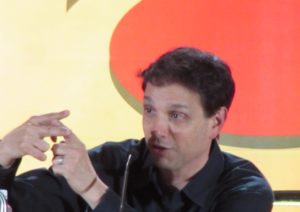 The panelists were asked if they would ever consider being part of a reunion-type project, similar to those that stars from other nostalgic properties, like Saved by the Bell, have been part of. Macchio answered that it would come down to the writing, and that there is a careful balance that comes down to the material.
Finishing up the panel, Macchio spoke about how he's gotten countless letters about being an inspiration, and that at comic conventions people come up to him and tell him how the movie changed their lives and thank him. His instinct is to tell them he was just an actor who got the part, but instead he feels like he has a responsibility and was privileged to have been in a film that can move people in that way.
Although the panel was scheduled for an hour, it only lasted about 30 minutes. There wasn't an explanation of why it was cut short, just at the end the moderator said that they had run out of time, as if it had always been scheduled to only last 30 minutes. The only thing I can think of is that the panelists wanted to have time to sign autographs at their tables after the panel, since the Exhibit Hall, and presumably the Hall of Heroes (where the celebrities have their booths), was scheduled to close at 7:00pm. So it was a little disappointing that the panel was much shorter than expected.
In any case, for the half hour that we did get to see of this reunion panel, it was really fun and nostalgic to see these actors come together. I remember liking the movie as a kid, but I hadn't seen it in a very long time, so we re-watched it a few days before Phoenix Comicon. I'm glad that we did, because it brought back so many fond memories, and I felt like I was able to enjoy and relate to this panel that much more, with the movie fresh in my mind. The panelists all seemed like they had a deep respect for Pat Morita. It was also fun to see Martin Kove employ his evil Sensei character and for Billy Zabka to reply in character, as if no time had passed at all (instead of 32 years). The three seemed to have a great appreciation for Karate Kid, and how much it means to the fans, and they kept commenting how in awe they were that so many things from the movie are to this day still prevalent or debated within pop culture. I'm glad we got the opportunity to see this panel.
The Karate Kid panel concluded our Friday at Phoenix Comicon. We went out to get a bite to eat, then headed back to the hotel to rest up for Saturday at Phoenix Comicon! Stay tuned for recaps and photos of the panels we attended on Saturday, including Billie Piper, Oded Fehr, and Caity Lotz!
Check out more photos from the Karate Kid panel and the end of our Friday at Phoenix Comicon below: