Phoenix Comicon 2016 took place at the Phoenix Convention Center Thursday, June 2 through Sunday, June 5. This was our third year attending Phoenix Comicon. We're going to break this up into separate articles chronicling the trip there and providing you with recaps and pictures of the Exhibit Hall, the surrounding area, and all the panels we attended. Follow along as we recount our experience!
Getting to Phoenix Comicon 2016
In past years, we have opted to make the 5-6 hour drive to Phoenix, rather than fly. However, a few weeks before the con, Josh had to drive his car to Las Vegas, about a 4 hour drive, for a business trip. During that trip, the car wasn't doing so well with the hills and the heat. Knowing that there are hills to contend with on the drive to Phoenix, and also knowing that temperatures are always above 100 when we go, we figured it wouldn't be such a good idea to drive his car there. We considered flying, and then we would book a hotel along the light rail train line, since the downtown hotels were long since sold out. In the end, we decided to save a little money by renting a car and booking a hotel that not only cost less ($65/night), but also provided a free hot breakfast.
So on Thursday afternoon, we picked up our rental car and left our home in Fullerton, CA, a little after 2:00pm. This was a pretty good time to leave, as we avoided traffic. On the drive, we listened to an audiobook, and arrived in the area around 7:00pm, at which time we stopped off and ate at Cracker Barrel, then headed over to a nearby Wal-Mart to stock up on supplies (water and snacks). It was a little after 8pm by the time we arrived at our hotel, the Residence Inn over by the airport. It was a nice suite, with a full kitchen and separate bedroom. We relaxed for a bit and got a good night's sleep before our 3-day con weekend.
Parking
It was about a 15 minute drive from our hotel to the convention center. Well, I should say from our hotel to the parking garage. We parked in the same place where we have parked since the first year we attended, which was the Jefferson Street parking garage. It's about a block away from the convention center. Actually, it's right across the street from the South Hall of the convention center, but Phoenix Comicon doesn't use that hall, they only use the North Hall and the West Hall, which you have to walk past the South Hall to get to. They were charging $10 to park if you just drove up and paid to park, but if you look under the Parking info tab on Phoenix Comicon's website ahead of time, you'll find a discount code to buy prepaid parking to park there. So we had already bought parking passes to park Friday, Saturday, and Sunday for $7.50/day. Not bad, considering we had seen signs for $20 parking while driving in.
Registration
We arrived around 9:30am and headed to registration to pick up our badges. Registration was in the North Hall. We were directed to walk around the outside of the North Hall to the far end (facing Monroe Street) before entering the Registration area. This was different from last year, when we were able to enter through the front doors (facing 3rd Street). But I suppose they wanted to cut down on congestion at the front door area. It wasn't really a big deal for us, as it was still early, so traffic was flowing smoothly, and we were able to walk right in. Later in the day, Registration would become a problem for attendees, but more on that later. Anyway, so there was no line for Media badge pickup, and we were able to just walk right up, get our badges, and walk out. The Pre-Paid badge lines looked pretty short as well.
Exhibit Hall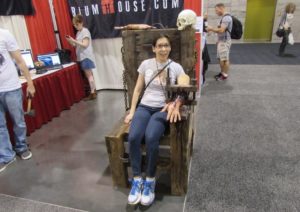 The Exhibit Hall was scheduled to open at 10:00am, so by the time we made it down there, we still had about 15-20 minutes to wait before the doors would open. There was already a large crowd of people waiting to get in. We walked to a less crowded area, over by Exhibit 1, which was the end of the Exhibit Hall. So when the doors opened, we started at the very beginning and walked up and down the aisles until we reached the end. It took a little over an hour to walk the entire floor, at which point it wasn't very crowded – not yet, at least. There were vendors selling all kinds of nerdy things, though it seemed like "mystery boxes" were the big thing this year, as numerous booths had some sort of "grab bag" type option. Blumhouse Productions, which produces horror movies, had a booth, at which you could sit in their "torture chair" – which I did, because why not?
Hall of Heroes
After our stroll around the Exhibit Hall, we headed over to the Hall of Heroes, which was up on the 3rd floor. One portion of the room featured a really cool LEGO display that featured various nerdy properties. There was so much going on in the display that there was even a "scavenger hunt" list of items to look for! The Hall of Heroes also featured various backdrops that you could take a picture in front of, like different scenes from Star Wars, for example. There was also a TARDIS for all the Doctor Who fans, which you could "go inside" and see the TARDIS console and even some Daleks! But the other main function of the room was to serve as the location for autographs and photo ops with your favorite celebrities. Although you could purchase a professional photo op, many celebrities offered an option to take a picture at their autograph table with them, which was often less expensive than the professional photo op. It seemed like the longest lines (at that point in time) were for Sean Astin, James Marsters, David Ramsey, and Nolan North. Sadly, the Karate Kid guests, Ralph Macchio, William Zabka, and Martin Kove, seemed quite lonely at their booths, surprisingly. I would have expected them to have more of a crowd.
Lunch
When we finished walking around the Hall of Heroes, it was about noon. We went over to figure out where the Escape Room area was, since we were interested in doing one of those, as we have done a couple in Los Angeles and enjoyed them. We found where it was, but figured that we should probably get some lunch, being that our first panel we planned on attending, David Ramsey, was at 1:30pm, and we wanted to make sure we had enough time to get some food. The Food Court in the convention center was very crowded. Every option had very long lines, and there was nowhere to sit. So we opted to venture outside of the convention center to find a place to eat lunch. As we walked outside, we noticed a long line of people waiting to get in. We quickly noticed that it didn't look like anyone in that line had a badge, so it must be the line for Registration. This was odd, as we hadn't seen the line this long before. At this point, the line was wrapping around on Washington Street, though we didn't notice how far back it went.
We continued a block down Washington Street in the other direction, toward 2nd Street, and noticed that the office building across the street had a sign for $60 parking! What?! That's like, LA level pricing for parking. Glad we only paid $7.50… Anyway, so we ended up eating at a sports grill on 2nd Street. No wait, and we got a nice booth to sit at. We finished up around 1pm and headed back. The Registration line had only gotten worse. It snaked around to across the street on 3rd Street, to the side of the street that West Hall was on, and curved around in random ways that I'm not even sure of where it went. It was difficult just to get past the line to get to the doors and go into West Hall. Later on, come to find out that Phoenix Comicon had had some network issues, which weren't resolved until around 4pm, resulting in the long lines outside in the record-setting 113 degree heat. Convention Director Matt Solberg apologized for the fiasco on Facebook later that night. Click here to read his full explanation and apology.
Once we got past the mass of people waiting on the Registration line, we were able to make it in for David Ramsey's panel in plenty of time before it started at 1:30pm. Click here for our recap and photos of that panel!
Check out our photos of the Exhibit Hall and Hall of Heroes below!