The first panel we saw at Phoenix Comicon 2016 was David Ramsey, who plays John Diggle on the CW show Arrow. His panel was at 1:30pm in Room 301BCD on Friday, June 3, and was the first of four we would be seeing in this room that day. (Click here to go to our previous Phoenix Comicon 2016 article which discusses getting there, the Exhibit Hall, and more.) He came out really energetic for the crowd, and the crowd also seemed very happy to see him. The first thing David talked about was how hot it is in Phoenix. I definitely have to agree with that. It was like 110°F today, geez. The heat seemed to be a running theme for future panelists as well.
After his discussion of Phoenix's weather (which can be summed up in him calling it "Crazy, crazy, crazy"), Ramsey promises spoilers for Season 5–and reveals that everybody dies! But of course he is kidding, and gets more serious saying he doesn't know much, but he will be getting a new mask and says (and I quote): "No more Mag-Negro," referring to how his mask looks similar to Magneto's helmet, I guess. I hadn't heard of this phrase myself, but he says he has seen it online. Then for his own entertainment purposes he asks the sign language interpreter to sign, "Mag-Negro".
Most of Ramsey's questions revolved around Arrow, of course. Starting from the beginning, Ramsey discusses how he got the part of Diggle on Arrow. Ramsey discusses that he was a part of a show called Blue Bloods, and Greg Berlanti saw him in that show, and that's where it all started. Ramsey talks about how he learned that there was not a lot for him to do in the pilot for Arrow, and not much even for the first season, and then he marvels about how it has turned into what it is now, considering he is a fan favorite for many fans of the show.
David Ramsey is also asked about working with his co-stars quite a bit on Arrow and Blue Bloods. When asked about Stephen Amell, the crowd "oooo's" over the mention of the name, but Ramsey continues, saying that if he, Amell and Barrowman are in a room together, then no work gets done. Ramsey also remarks that the "mayhem" on set all starts with Barrowman, and accuses him of being childish. Ramsey talks about how they harass each other on set all the time. But Ramsey says that it is a lot of fun working with Amell, calling him his "brother." Ramsey also discusses how he and Amell always sing the song "Ebony and Ivory" together on set. As for working with Tom Selleck, which comes up in another question, Ramsey says he likes working with him, and remarks how Selleck is still "Magnum P.I." (Magnum P.I. is an old cop show Selleck was in).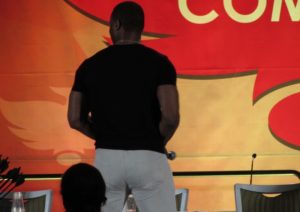 David Ramsey is apparently known for his co-cast impressions, and is asked to do a few by a questioner. He then offers to show Stephen Amell's "butt acting," which comes from Season 4, when Hawkman and Hawkgirl were in an episode. He sets up the scene, and talks about Amell delivering some lines, and when his lines end he clenches his rear end repeatedly. Ramsey then portrays this for the camera for the audience, and talks about how he and Willa (Thea) cracked up about it when they first noticed it. The camera gets a nice close up for the ladies, of Ramsey's butt, clenching and unclenching.
He also talks about working with Paul Blackthorne, who plays Captain Lance on Arrow. Paul Blackthorne is a method actor, according Ramsey, and he talks about how Paul Blackthorne has to mutter to himself angrily before a scene to get himself into the moment, and describes how he and Amell have to stop themselves from cracking up when they see Paul "warming up." Ramsey talks about the last scene of the season, where Blackthorne delivers lines about Laurel to Oliver and Diggle, and Ramsey describes how he and Amell were trying to not crack up as they looked back and forth at each other. Speaking of Amell though, Ramsey is also asked if he thinks people like Stephen more than himself on the show. This elicits "boos" from the crowd, but he does talk about how well the cast gets along like family, and how they mourn the loss of cast members, like when Caity Lotz and Katie Cassidy left.
David Ramsey is also asked about various aspects of the show. He is asked about Barry's actions in the season finale of The Flash and how it will affect the universe. Ramsey remarks that this event is very similar to the Flashpoint comic book line (I was impressed, David Ramsey seems to know comic books, more on that later!). Ramsey seems to think that this event will lead to the 4 show crossover (this is the Supergirl, Arrow, The Flash, and Legends of Tomorrow crossover event), and everything will be answered there. Ramsey also has a few other ideas about what might happen with the crossover. He has hopes of Oliver Queen's dad being the Arrow in the "Flashpoint" timeline (which Ramsey also knows would mimic Batman's story in Flashpoint comic storyline when Bruce's father is actually Batman). This could actually happen, given that we know that Oliver Queen's dad was the Arrow in Earth-2.
Ramsey is also asked what he thought Laurel told Oliver as she died. He says he doesn't really know, but he thinks maybe something to the effect possibly "help me go" or "help me die." Diggle then says that something in the upcoming "Flashpoint" crossover might answer this, but he is not sure. Ramsey is also asked about what weapon he would like to have for his character, and he says he would like something that would pay homage to Black Canary.
David also talks about his thoughts on Arrow as a whole in various aspects, as it comes up in the questions. For example, he answers questions about his character transitioning from Season 1 to 4, and how he has had a great time going forward with the character. As for where he would like to see his character head next, he mentions learning more about Diggle's parents, remarking there is a lot of story left for Diggle. He also remarks how Diggle, he thinks, is the most stable character on the show and is just a "regular guy" being a superhero. Ramsey is also asked about his favorite episode, which apparently is the episode in Season 2 when Team Arrow and the Mirakuru soldiers charge at each other, He thinks it feels similar to Braveheart. He also mentions the final moments of Season 2 on the beach, as it is a pretty touching moment.
David Ramsey has some pretty specific thoughts on the direction Arrow should go. He talks about enjoying this season, along with the magic and nuke storyline, but he thinks that the story's strong points are when the show is grounded in reality, and wants to get back to Diggle, Oliver and Thea fighting on the ground while Felicity does her hacker role. Ramsey mentions a couple times through the panel how he likes the grounded-ness of Arrow.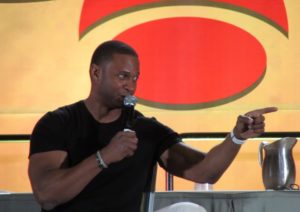 Another topic that comes up is what characters Ramsey would like to see on Arrow. He answers with Bruce Wayne, but not necessarily Batman. He does say that it would be fun to see a fight between Batman and Arrow though. He admits that producers have said that Metropolis and/or Gotham will never been in the DC TV shows, but considers things might change down the road. He also talks about how he hopes that there might be a John Diggle Stewart perhaps on Earth-3. As another quick aside, Ramsey lets us in on another fun fact. When Diggle remarried Lyla, the script had in it "John Stewart Diggle" right up until the day that scene was shot, and it was changed to "John S. Diggle". This was a fun fact I had no idea about previously.
Ramsey talks about other things that have changed in the TV universe because of the movie universe, like Harley Quinn was referenced in an episode of Arrow but never showed up. He also talks about Deadshot being removed from the TV universe so that the character could be in the movie universe (he is being played by Will Smith in Suicide Squad).
His personal life comes up in the panel as well. He discusses how his son handles his dad being a superhero on TV. David reveals that his son doesn't like him taking pictures with fans on "his" time. He also says that his son tells fans "no pictures" when they are out and about. He tells a story about a time he was at Disneyland, and that there was no one around, and he says his son goes off the rails yelling, "No pictures, no pictures, no pictures!" Ramsey thought this was pretty funny, as it looked pretty silly having his kid scream at essentially no one. As a quick aside though–when has David Ramsey been to Disneyland when there is no one around? That place is never empty!
He also talks about doing stunts, and remarks how people usually get hurt doing mundane stunts, like Amell hurting his back while swinging a sledge hammer as part of a workout scene. He talks about his own personal injury where he pulled a groin muscle in the fight scene between himself and China White. But he does mention that when he goes over to the The Flash set, he discovered it is not "Diggle-proofed" yet. Apparently a thing for Diggle to do is lean on things, and on The Flash, Ramsey has broken several things simply by leaning on them.
He also talks about working on both Blue Bloods and Arrow at the same time, and how it can be tiring, but he is appreciative of the shot to be in both shows. He even talks about how he would not mind being remembered for a specific character he has played, feeling it would be an honor to be remembered that way.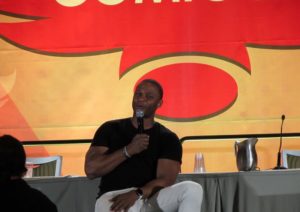 I mentioned David Ramsey's comic book knowledge earlier, and he seems to have a wealth of it. When asked his favorite comic book character, Ramsey comes back with Moon Knight. I don't know much about this character, but he is fairly obscure. He also mentions Jean Grey and the X-Men due to their outcast nature that he can relate to. He also was impressed with Ben Affleck's portrayal of Batman in Batman v Superman, so he has become a Batman fan in recent years. Based on his favorite characters in comics, you can kind of infer that Ramsey grew up a Marvel fan, which he is asked about. Ramsey grew up on Marvel comics, so he didn't get into DC until later in life.
Ramsey also talks about the Marvel and DC Movie Universes. Ramsey discusses how he really enjoyed Civil War but thinks it should have been called Captain America and Iron Man. He then defends DC, saying that Marvel has had its share of bombs at the box office. David Ramsey also talks about not quite understanding why the TV and movie universes can't crossover, but he is looking forward to what is coming for DC's movie universe–particularly Aquaman with Jason Mamoa. He also says that the DC Universe probably needs a little more time to get going, and also had hoped that Batman v Superman would be all his "hopes and dreams," but seems excited to see what the future holds. David also says that the story of Batman v Superman might not have been told in a "riveting" way. He also says that the DC TV universe is untouchable.
I really enjoyed David Ramsey's panel, and was surprised how much of a comic book guy he was. He is a lot a lot funnier than I would have thought. I have always liked the character of Diggle on the show, and sometimes seeing the actor in person can ruin your perception of the character as they are so different. While Ramsey seems quite different than his character on Arrow, I didn't find the panel diminishing my feelings of his character.
Up next was the panel featuring a couple Doctor Who characters–Strax and Madame Vastra, played by Dan Starkey and Neve McIntosh respectively. Click here for our recap of that panel!
Check out more photos from David Ramsey's panel below: