Following Oded Fehr's panel, the final panel we attended in West 301BCD on Saturday, June 4 at Phoenix Comicon 2016 was Caity Lotz. Caity Lotz is best known for her role as Sara Lance/The Canary on CW's Arrow and then moved over to Legends of Tomorrow playing the same character there, as a time traveling superhero known as the White Canary. Her panel started at 3pm.
As expected, Caity Lotz mostly was asked about her role on Arrow and Legends of Tomorrow. One questioner, for example, asked Caity what Sara would have said to Laurel before she died, and Caity thinks that Sara would say, "I'm sorry I wasn't there." Another questioner also asks, given Laurel's death, if Caity would come back to Arrow as a season regular to take the role of Canary again, and Caity says that she likes working on Legends of Tomorrow but would like to guest star on Arrow. Caity is also asked if she would portray Black Canary on Legends of Tomorrow, but she thought that would be doubtful. But Caity does talk about how her character in Arrow was actually just called "Canary", but she is often told that Sara was actually "Black Canary 1.0", which Caity takes as a compliment, as she assisted in setting up that character.
We learn that Caity is not quite caught up on the shows in her TV Universe though, as she is asked about what she thought about Barry's actions in The Flash season finale, and she had no idea what had happened. She admitted she needs to catch up, but thinks that messing with the timeline can cause problems, and hopes that the Legends will have to come in and clean up the mess Barry made. Sounds like a good idea, right?
Other questions Caity is asked by audience members include asking what Caity thought when her character, Sara died, and Caity says she was sad, because she did not know about the Legends of Tomorrow spin-off yet. She also talks about seeing some of the stuff in the writer's room for Season 2, and says that it looks pretty exciting in there.
Like at David Ramsey's panel the day before, Caity is also asked what her favorite scene in Arrow was, and she has a similar answer to David, which is the scene in Season 2 when the Mirakuru soldiers and Team Arrow charge at each other. Referring to Rip in Legends, Caity is also asked if there was a romantic interest there. Caity thinks that Rip was too preoccupied with his daughter and wife being missing. On that same romance note, she is also asked if the kiss between her and Snart meant anything, and Caity thinks so, but thinks it meant more to the effect that they can never have any more than that, given what happens to Snart in the show.
A few other questions that come up for Caity regarding Arrow include Caity being asked what character would be Sara's best friend on the show, to which Caity thinks it would be Felicity. On Legends of Tomorrow she says it would probably have been Snart. Caity is also asked who Oliver would end up with, and Caity seems unsure if that person wouldn't be Felicity. Another common question that comes up asks Caity about the toughest stunt scenes, but Caity admits that the stunt-doubles do all of the hard work. As for Caity's favorite villain of Arrow, Caity responds saying she thought Deathstroke was the best, and enjoyed watching Manu Bennett portray him.
When talking about working with the cast, Caity gets into a pretty funny story about working with John Barrowman at a con. Apparently, at said con, nerf guns were handed out to the cast, and they were having fun shooting each other. Caity had shot at Barrowman, and he said that he was hit in the eye, and was seemingly in a lot of pain, so much so that he went backstage, and cried, but then being John Barrowman, he popped back up, and embarrassed Caity, who had been freaking out thinking she had blinded Borrowman. Oh, the endless antics of John Barrowman! While on the topic of cons, Caity is asked what the most "unexpected thing" that has happened to her at a con, and she says that she gets a lot of marriage proposals. She also finds it weird in general that people actually care what she has to say, and is marveled how her character can affect people so much emotionally.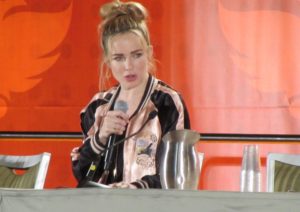 Speaking of unexpected though, one questioner certainly has surprised Caity, because the woman has a tattoo of Caity Lotz's name on her arm. Caity is impressed and decides to take a look at the tattoo in person.
As for her working in the industry in general, she is asked about her portraying a lesbian character and what she thought about the recent large number of lesbian/bisexual characters being killed off recently. Caity responds thoughtfully, saying that she doesn't think it is intentionally being done, but it is a problem, and doesn't seem fair. She jokes that she hopes this doesn't mean she will be killed off next! Caity is also asked about her thoughts on the X-Men:Apocalypse poster which displays Mystique being strangled by Apocalypse, and doesn't think that billboard portrayed the right message. She thinks women are becoming more equal in the entertainment industry, as there are a lot more writers and directors that are women, but there is a ways to go, she reflects.
Continuing with the lesbian/bisexual theme, Caity is also asked her own sexuality, but Caity opts to "plead the fifth", not providing an answer for the crowd.
Caity is also asked about her previous career to acting, which involves both dancing and singing. Caity reveals that she does not consider herself a good singer, calling it "between fair and bad." She says how she migrated to dancing, and was a back up dancer for Avril Lavigne, but eventually grew bored of doing that. She had then decided to take some acting classes, and that is how she moved into that direction. Caity is also asked about one of her earlier movies, called, "The Machine," which I had not heard of before. Apparently it is about a robot that was learning to dance? Caity gives it a plug though, saying it is streaming on Netflix, and is excited that someone has actually seen that movie.
As for her first acting gig, Caity reveals it was her "hippie chick" character on Mad Men. I have not seen that show, so I am not sure what that character is, but she said she had an emotional scene shared with John Hamm, one of the stars of the show.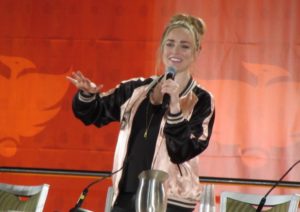 Lotz also gets a lot of the usual questions: Her favorite superhero, which she says is Wonder Woman. She also gets the variation of what Marvel character she would like to play, and she responds saying that she would like to play Black Widow if Scarlett Johansson decided she needed a break. Caity also gets a question asking how Saraa would react if the movie and TV universe merged into one, and she says she thinks Sara would not be star struck by the new heroes joining the universe, but Sara would find Wonder Woman hot. Another question is who her female role model is, and she says that her mother and a great dance teacher had growing up. She also talks about how dancing helped her with her acting in a couple ways–it helped with fight scenes, since fight scenes are choreographed, and it helped her be a performer in general, since both acting and dancing are performance art.
She is also asked about how to get into the acting industry, and she says that making content on a phone or video camera is so easy nowadays, it is easy to produce content. She also advises that to get on a already established show, it would be best to try to make contact with people working on the show. As for another show that Caity would like to be on? She responds saying she would love to be on Game of Thrones, and play either Khaleesi or Khaleesi's evil twin sister because she is obsessed with that character. She would of course want to command a giant army and ride dragons, she says.
Caity also talks about how a musical episode of Arrow or Legends of Tomorrow could be fun, but Amell has gone on record saying he will never do an episode of Arrow as a musical. I guess that leaves Legends of Tomorrow?
Speaking of Amell, another question Caity gets is asking if she or Amell would win in a parkour race. Sarah used to parkour for real, she says, but is out of practice, as it is pretty dangerous. She calls out Stephen Amell, because all of his parkour is in the safety of a padded gym, and even goes so far to say that if she had time to get some training done, she could have a shot at taking him down!
That is the gist of the Caity Lotz panel though. The crowd certainly had a lot of appreciation for her, given how enthusiastic people were when asking questions. She certainly seems to be carrying part of the flag in the entertainment industry, when it comes to bisexuality and homosexuality, which is really nice that people have someone to look up to.
I also really enjoyed listening to her panel as she discussed her transition from singing, to dancing, then finally to acting. She has had a pretty big journey in her young life so far, and I previously had no idea she sang and danced before. Hopefully she catches up on her DC TV universe stuff though, that way she is a little more prepared for the big questions revolving around her show(s) in the future!
Up next, we move on to discussing Sunday, which began with Timothy Omudnson. He was also in West 301BCD, and was the first panel we saw on Sunday morning! Stay tuned for that!