Our first panel of the day on Saturday, June 4 at Phoenix Comicon 2016 was Billie Piper, who is known for her roles as Rose Tyler on Doctor Who and Lily on Penny Dreadful. The panel was scheduled to start at 12:00pm in West 301BCD, but a few minutes before noon, the moderator came on stage and announced that Billie Piper was running a little late due to photo ops. By the time she did arrive on stage, she was a little over 20 minutes late.
Just like all of the Spotlight panels at Phoenix Comicon, the panel immediately opened up for audience questions. The first question was what DC or Marvel character she would like to play, and Piper lit up, saying that she would "love a stab at Deadpool," which she had just seen the day before, and gushed over what a good film it was.
Most of the questions were about Doctor Who, and several had to do with "favorites." She has two favorite episodes, one of which was Tooth and Claw, which she enjoyed the comedic aspect, and described as "a big old romp." Her other favorite episode is Father's Day, mostly because she loves the people who play her mother and father. The episode that she would have liked to be in is Blink, though she also would have liked to be in anything with the Master.
Piper's least favorite episodes to film were anything with Daleks, because they take so much time, as there's always an issue. She also recalled the episode when she was wearing a waitress outfit while they were filming in the freezing cold, and Cyberman were all around.
Her favorite memory from filming Doctor Who was when they shot Doomsday, and she and David Tennant were on the beach together. She even went on to say that it is her most fond acting memory. Piper recounted that it "felt like therapy," as they were saying goodbye to each other in a very dramatic and honest way, and she hasn't experienced anything similar since. It had such an impact on her that she can remember "every single piece of that day." It was weird that the scene came in the middle of the shoot, because they had gotten emotionally ready to say goodbye at the end.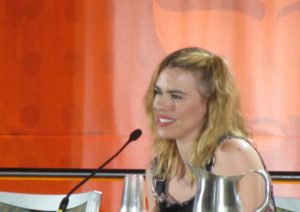 Piper had a hard time choosing just one person in response to her favorite actor to work with on Doctor Who, so she chose two. One was David Tennant, as she recalled that they "had such a laugh together." The other was Camille Coduri, who played her mother, Jackie Tyler. "She felt like my real mother," Piper said, and then added that her real "mum" hates that story.
She was also asked why the producers decided to create a romantic relationship between Rose and the Ninth and Tenth Doctors, but Piper replied that she didn't really know. She speculated that maybe it was because the producers saw how well they got along as people. Whatever the reason, Piper thought it was "a really good choice."
When asked about her weirdest or funnest fan experience, she answered that "marriage proposals are always a bit odd," and in fact, she'd already had one earlier that day. "I never know how to answer those questions except 'Yes'!" she admitted.
Of course, there was the classic "Where would you go if you had your own TARDIS?" question. Piper answered that she would go back to when she and her siblings were kids and see them as a family, or go see her parents in a time before they had kids.
Speaking to how her role as Rose impacted her career as an actress, Piper said that it was her first big job, and it opened up the door for her to audition for "all sorts of things." When she found out she had been cast as Rose, "I think I ran around the garden and screamed a bit, then the fear set in," as she realized that they're bringing back a huge show. "It was joy, then deep fear, then joy again." The night after the first episode of Doctor Who was screened was her most amazing experience as an actress, as it hit her that "I can't believe this is happening."
If she had the chance to go back and play the role of Rose again, she doesn't know what she'd do different, since she doesn't really regret anything. "Maybe the amount of mascara… or some of the clothes," she joked. Regarding whether she brought anything to her character's role that Russell T. Davies hadn't thought of, Piper admitted that Davis "had it laid out pretty tight." The only thing she could think of was that she wasn't too far from being a teenager at the time, so she brought "teenage energy." But she gave all the credit for the character to Davies.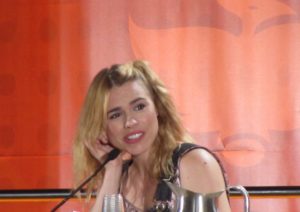 Rose Tyler wasn't the only character that Piper played on Doctor Who. She also played The Moment in the 50th Anniversary Special, and she was asked about that experience as well. When she found out that she was going to be in the special, but that she wouldn't be playing Rose, she was happy, and actually relieved, since it was nice to do something different than "pining for David." She also spoke about what a "fond experience" it was for her going back to work on the show.
An interesting question came up: Who is the better kisser, David Tennant or Matt Smith? Piper's answer: David Tennant. "We've just done it way more," she explained, going on to say that they had perfected their "kissing technique" and that "in the end it was dynamite."
As for whether Piper had snagged any props from the set of Doctor Who, she admitted that she'd stolen "loads of things" from the TARDIS, as well as a ring from a Slavine, "which is actually probably quite pricey." She revealed that she has an entire drawer full of props that she'd taken! However, she doesn't have any sonic screwdrivers. "They are on those, you wouldn't get them out of the building," she explained.
An audience member asked Piper if she would be willing to do a Big Finish episode (Big Finish company that does audio productions based on Doctor Who, as well as other properties), and she replied that she keeps needing to look into it, but yes, she would. She would like to work with Matt Smith on Big Finish, as he is "a dear friend." She went on to say that she hoped they'd be a "good comedy duo" and revealed that have a "shorthand" when working with each other.
Another audience member asked which one was sadder to see go, Rose or Jenna Coleman's character, Clara. Piper confessed that she hadn't actually seen the relationship between the Doctor and Clara yet. However, Piper answered, "I'm still going to say it was sadder when I left." But Piper made sure to clear it up about Jenna Coleman that "I love her, she's amazing."
Although the majority of questions were about Doctor Who, she did get a few about Penny Dreadful. She spoke about how she read the first script of Penny Dreadful and loved it. She didn't know where the role was going, but she knew it was going somewhere. As for working with all the blood, she said that she hates it, and complained about how sticky it is. "I hate how you can't talk to anyone or touch anyone. Everything sticks to you… But it looks great!"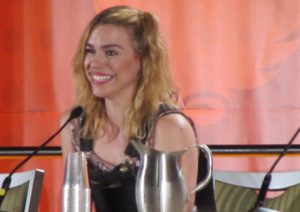 Piper's favorite Penny Dreadful episode is Episode 8, when she confronts the creature and shows her real self. She talked about how every episode before that one had been building to this climax, and finally she could "get it off my chest and stop being so sweet and saccharine." She went on to say that there's some other stuff coming up that she's excited for us to see.
When asked which character she has played that she is the most like, Piper's answer was Rose, saying that Rose was not far from what Piper was like at that age. This was a pretty easy answer for Piper, and she commented, "If I was anything like Belle de Jour [from Secret Diary of a Call Girl] or Lily… that'd be pretty bad."
For those who don't know, Billie Piper was a singer before she became an actress. As such, an audience member asked about any embarrassing funny stories from her singing career. She confessed that one time her trousers came down on TV during a live, charitable show. She didn't even realize it, and kept on going!
Of course, there was the cliche question about advice for young, aspiring actors. Piper's advice was to see as much theater as you can, to experience life before throwing yourself into acting, and not to rush into it (which Piper acknowledged was "rich" for her to say). Piper also said to live a "colorful life" because that's where you get all your experience. Lastly, she said to take a dance class "even if you're rubbish at it."
The final question before the panel ran out of time (which was a little after 1:00pm, as Piper stayed a little past the scheduled ending time to make it up a bit for being late) was what else would she have like to experience on the set of Doctor Who. Piper answered that she would have liked for them to bring back some of the older Doctors, even if it was in hologram form, and that she would have liked watching them compete!
It was a real treat for me to see Billie Piper, as she is my favorite companion, and I had never seen her in person before. She had been at Gallifrey One (the annual Doctor Who convention in Los Angeles) the year before I started going, so I had missed out on seeing her, and was glad I had the opportunity to do so at Phoenix Comicon. I really enjoyed her panel. She seemed very sweet, lovely, and enthusiastic.
Click here for our recap and photos of our next panel at Phoenix Comicon 2016, Oded Fehr!
Click here if you've missed any of our Phoenix Comicon 2016 coverage.
Check out more photos from Billie Piper's panel below: