The final panel of Phoenix Comicon 2016 for us was Alex Kingston, which followed Timothy Omundson's panel in the same room, West 301BCD, on Sunday, June 5. The panel was scheduled for 12:00pm-1:00pm. Alex Kingston is best known for her role as River Song on Doctor Who, though she has also recently made guest appearances on Arrow as Dinah Lance, the mother of Sara and Laurel Lance.
When Kingston took the stage, she addressed the crowd saying, "Hello Sweeties!" garnering much applause, with that being her Doctor Who catchphrase. Of course, most of the audience questions (which, like the other Spotlight panels at Phoenix Comicon, is what the panel consisted of) were about Doctor Who. When asked why she is so drawn to the character of River Song and why she keeps coming back, Kingston replied that it was more that the audience is so drawn to her that Steven Moffat is drawn back to continuing her storyline in the show. When she first appeared on Doctor Who, Kingston thought that she was merely coming in to do a two episode story arc. She had no idea she would be back. That just happened naturally and organically. When she first met the Tenth Doctor, Kingston didn't have any idea of River Song's history with him. However, when she looked at River Song's diary, it was filled with all sorts of things that gave her an idea of the potential history. Kingston also revealed that all the stories we've seen with River Song on the show were all in that diary on her first day of work, and that there are other stories that we haven't encountered yet. Later, someone asked if she actually whispered something to David Tennant in the scene where she and the Tenth Doctor first met, and Kingston replied that she whispered his name. She further elaborated that there were several different camera angles that they had to shoot the scene from, so she "had plenty of opportunities to whisper lots of things in David Tennant's ear!" She wouldn't reveal what his real name is, but did tell us one of the names she whispered: Shaniqua. "He liked that one," she recalled.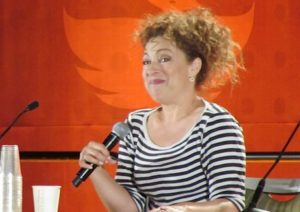 When asked who was her favorite Doctor to work with, Kingston tried to give a fair answer, saying that each actor brings a different personality. She pointed out that she had only worked with David Tennant on 2 episodes, and with Peter Capaldi on one, though it was massive because it was a Christmas special. However, in terms of comfort and getting to know someone, her favorite was Matt Smith because they worked together more than any of the other actors. She fondly recalled the time that she and Matt Smith worked with Arthur Darvill (Rory) and Karen Gillian (Amy) as "Doctor Who: The Rock 'n' Roll Years." She dubbed Matt Smith as Mick Jagger, and Arthur Darvill as Keith Richards. Then she changed her mind, saying, "Maybe Karen was Keith Richards actually…" As for which Doctor was the most annoying to work with, Kingston joked, "Matt Smith!" saying he was "so annoying, especially when he came to work with a hangover!" In answer to the question of how it feels working with Matt Smith, Kingston replied, "A bit soft and squishy… not terribly muscular… a bit thin, a bit ropy…" But in all seriousness, she did say that he was "lovely" to work with.
Kingston shared with us a behind-the-scenes story about working with Matt Smith, telling us that on Doctor Who the clock is always ticking, and so they're always conscious of wasting time, so she didn't dare play a prank. She said that she'll never forget her first introduction to Matt Smith, which was the scene where the Doctor opens the TARDIS door and River Song flies in, and then cut to her standing on the ground pretending like she had just flown in. Well, as she was "flying in" she kneed Matt in the "bollocks" and landed on top of him! She started laughing, and she thought he was laughing too, but it was "more going toward crying."
She said that she doesn't really have a favorite Doctor Who moment. Kingston went on to explain that Steven Moffat doesn't let any of the other writers write for her character (though we'll have to wait and see what happens after he leaves). She revealed that Moffat is very protective of her character, which Kingston said was great for her because she's always in a Steven Moffat episode. "His episodes are always so brilliant," she commented. So she can't say that she has a favorite, because then it would "deny all the others, which were all equally brilliant." But she did talk about how she appreciates the fact that being involved in Doctor Who can sometimes get them access to things that the public normally doesn't have access to. For example, when they went to Stonehendge to film the Pandorica episode, it was all cordoned off, and the public wasn't allowed to go near the stones, but they were. A docent even took her to a stone and showed her ancient graffiti that a Greek warrior had etched onto one of the stones, which you can't see unless you're up close. It was graffiti of the warrior's dagger. Kingston felt like it was "such an honor" to be shown this. Then she was shown another graffiti site where English diarist Samuel Pepys had written his name. "Naughty naughty!" she scolded.
When asked who she thought was the scariest Doctor Who monster, she answered by saying, "There is one… No, I've forgotten," and then acting like she had started to remember it, then forgetting again. Of course, this was a nod to the effect that the Silence has on people, without actually verbally giving an answer. What a great way to answer that question! She then spoke about how the aliens or monsters that Steven Moffat creates deal with human psychosis, that it's all about the brain and the mind. She commented, "The Silence could be here, they could be all around us, but we forget. He's very clever like that."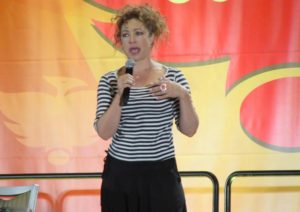 An audience member asked Kingston what would happen if she ran into Rose, to which Kingston replied that they actually get along well, as she and Billie Piper (click here for the recap of her panel) had shared a couple drinks in the bar the night before, and got "a little trashed." She then went on to say that she thinks that Doctor Who is enduring because of love, not only the Doctor's love for the human race, but also his feelings of love for all sorts of people, and about each Doctor growing to learn what love actually means. "It's love and loss, that's why episodes can be so powerful," she commented. Further, she spoke about how even though River is known as the Doctor's wife, Matt Smith and Steven Moffat have both said that River didn't really marry the Doctor, because it was actually the Teselecta. Whether the Doctor did or did not actually marry River Song, Kingston doesn't think that it's unrequited, saying that there are "lots of room in the TARDIS you haven't seen!" She wrapped up her answer with, "Yeah, Billie's cool, she likes a margarita."
It came up that River has never been on an episode with Captain Jack Harkness, so she was also asked what would happen if River ever met him. Kingston joked, "It would have to be called 'Doctor Blue' for a start… and I think we need to leave it there." Kingston further pointed out that she's never actually been on set with John Barrowman, though they cross paths at conventions and around the trailers on set. She revealed that they share the same birthday, and they knew each other socially because they shared friends, so she's known him a long time, but they've never actually worked together.
As for what Kingston hopes to happen for River Song in the future, she replied, "I hope she doesn't die." Kingston pointed out that a better question might be what she hopes happens for her in the past. Kingston thinks it would be great to see what River does when she's not with the Doctor, "like what she does with Captain Jack." However, Kingston also said, "She doesn't always need to have a man around," reminding us that in the Christmas special, River talked about her wives, "So, Doctor Blue."
If River Song had her own show, Kingston said that Captain Jack Sparrow would be her companion. However, then she changed her answer to, "the two Captain Jacks and River in the middle."
An interesting question was whether she knew she was Amy and Rory's daughter. Kingston said that Steven Moffat told her at the end of the previous season, so it was about a year before this was revealed. Of course, she wasn't allowed to tell anybody. But they all started to figure out that she had a secret. Lots of bribes were thrown her way, but she didn't accept any of them. Moffat didn't want the others to know because he didn't want them to change their performances. Kingston mentioned that during the scene where they were having a picnic and the astronaut came out of the water, she knew that the astronaut was her. However, someone leaked a photo of the set, so they had to wait until they were back in Cardiff to film her in the astronaut suit on a green screen in order to protect the secret.
It was brought up that Kingston had appeared on a episode of Blue Bloods, starring Tom Selleck. An audience member asked her the Kiss/Marry/Kill question for Tom Selleck, Paul Blackthorne (who plays her ex-husband, Captain Lance on Arrow), and Peter Capaldi. However, Kingston didn't feel comfortable with the "kill" option, so changed it to "ignore" instead. She answered that she would marry Peter Capaldi, since she's married to the Doctor already. Then she talked about how Paul Blackthorne had played her boyfriend on ER in the final season, and she's pretty sure she kissed him on screen, so she chose him for the kiss option. That left Tom Selleck for ignore. "Sorry, Tom Selleck," she said.
Sh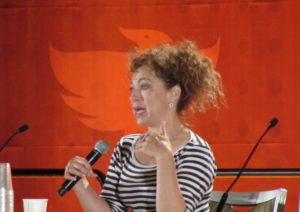 e also talked about the transition from ER to Doctor Who to Arrow. "As an actor, the most important thing to have is versatility," she explained. However, she acknowledged that some actors don't, and they play virtually the same thing over and over again, which can be successful for some actors. Kingston loves "disappearing into the different personalities" of the characters she plays and that she likes to "create a new character each time." She'll only accept a part if she feels connected to that part, whereas if she doesn't have an immediate connection, she tends not to do it. Kingston admitted that sometimes she has taken on roles that she didn't feel very comfortable with, and doesn't think she did a very good job. Therefore, she tries to stay true to what she thinks she'll do a good job on.
Kingston addressed the controversy over the character that she is voicing on the animated series Transformers: Rescue Bots, Quicksilver. She commented how she thought the show was watched by 8 or 9 year olds, but that a lot of men were mad about a female Transformer bot. This is the message she had for them: "Boys — get over it." Coincidentally, she is now married to the cousin of the man who animated Quicksilver, which she found out when she saw him at their wedding!
She also provided an answer to the biggest difference between British and American filming: craft service. She recalled during her time on ER, there was a buffet table set up all day long. However, she was surprised to find out that that was just snacks, and that you get breakfast, lunch, and dinner on top of that! "In England, you're lucky if you get a curled up sandwich or dry biscuit with your tea, it's really pathetic," she commented. Kingston explained that in England they just don't have the same sort of budgets as we do in the US. However, she emphasized that, "In terms of crew, everyone works equally hard."
The final question was a good one to wrap things up on, which was what was her most memorable experience with various fandoms. Her answer: being at conventions. She praised Doctor Who fans, saying that they are "like nothing else in the world," with how loyal, dedicated, generous and enthusiastic they are. "You're crazy!" she exclaimed. "Who doesn't like a little crazy?"
With that, the panel ended, as well as our time at Phoenix Comicon 2016. I think I'd have to say that Alex Kingston was my favorite panel of the weekend. She was just so energetic, enthusiastic, clever, and sassy – much like her character, River Song, in fact. I liked how she gave us some great behind-the-scenes insights, and that she told very engaging stories. I'm glad I finally got the chance to see her, as I was supposed to have seen her at Gallifrey One (the annual Doctor Who convention) last year, but she had to cancel at the last minute due to scheduling conflicts. I hope to see her at another convention, as she was a delight!
We would have liked to stay for the panel following Alex Kingston, which was James Marsters, but it's a long drive from Phoenix to Fullerton, CA, and we wanted to get on the road before there was too much traffic, since we both had to be at work bright and early the next morning. On the way out, we stopped by the Free Movie Posters booth located just outside the Hall of Heroes, at which there were posters from various different movies throughout the weekend that anyone could take anything they wanted. There wasn't much of a line, so we picked up a couple of Warcraft posters. They even provided rubber bands so you could roll up your posters, so that was nice of them.
That about wraps up our coverage of Phoenix Comicon 2016! If you missed any of our coverage, click here.
Check out more photos from Alex Kingston's panel below: