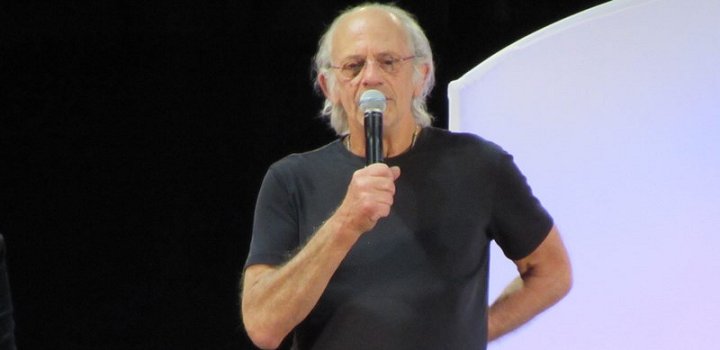 Great Scott! Josh recaps our final panel of Phoenix Comicon, which took place on Sunday, May 31: Doc Brown himself from Back to the Future, Christopher Lloyd! 
If you missed our Friday Report, click here!
If you missed our Saturday Report, click here!
Christopher Lloyd, 10:30am – 11:30am
The final panel we saw for Phoenix Comicon was Christopher Lloyd. Most well known for a few roles: a TV show called Taxi, playing Uncle Fester in The Addams Family, and my favorite, Back to the Future as Doctor Emmett Brown.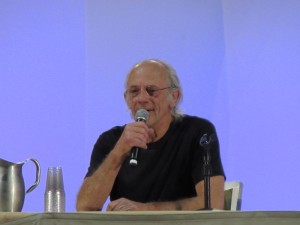 It was an all Q&A panel, and the first question he gets is his fondest memory from Back to the Future, and he tells a great story about how when he was filming the clock tower scenes he asked about kneeling on the tower rather than leaning over the edge. Bob Zemeckis told him that wasn't happening though, so Lloyd did it with a cable. He talks a bit later in the panel about how when filming the movie, he had no idea how big of a movie Back to the Future would become, and talks about a group of younger adults who came up to him and told him that the movie inspired their current professions, which were various science related jobs. He comments how the movie seems to be passed down to generations, where the kids of these movie fans are now fans. He seems to appreciate that he got a role that had some kind of significance with Doc. Brown.
The second question Lloyd gets is where he would like to travel in time, and his answer is going about 70 years in the future to see how various events–climate change, and various conflicts, play out in the future. He talks about another story, where he went to peek at a theater that played the Back to the Future trilogy back to back. He got a funny question, where a kid asked him what it was like to not have to put on old age make up anymore. Pretty funny.
He fields some questions on stuff I wasn't familiar with: Buckaroo Bonzai, for example. He talks about filming this movie in a hot summer in East LA at a closed down tire factory, and filled with rats. It turned out to be the a good location for the film he remarked, despite the miserable conditions.
Another question Lloyd gets is asking who he would like to have worked with who isn't around anymore. Charlie Chaplin, Marlon Brando, Lawrence Olivier are some of the ones he names. He also talks more about time traveling–he says going back in time to seeing Shakespearean films first being performed would be a "treat." Another time travel question he got was asking what role he would like to go back and do again. His answer is play Uncle Fester again, and talks about him getting the offer to play Uncle Fester. He also says he wouldn't mind playing Captain Kruge again from Star Trek 3. Another related question he gets is asking about his roles that required a lot of make-up, which he says both Uncle Fester and Captain Kruge took hours of time. He says he didn't mind though, because it made his characters more believable.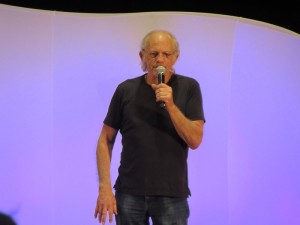 He also gets a lot of questions about the movie Clue, which he apparently was in. I am not familiar with it, but Lloyd talks about the great time he had filming it, and most of it was done on sound stage. He gets another question about Clue as well, asking what other character he would like to play in that movie. He gives an answer of the Butler, who was played by Tim Curry.
He gets another question about his proudest moments, which he says was his first film, One Flew Over the Cuckoo's Nest, and talks about how hard he worked, and talks about how a scene that was basically ad-libed came up, and he was terrified because he couldn't study for that part, but it worked out in the end. He also gets asked his favorite cameo moments, and Lloyd brings up both Sin City and A Million Ways to Die in the West.
There's an awkward moment, where Lloyd can't remember a role he did. Apparently he played a therapist in the show Chuck, but he couldn't remember the part. Moving on from there, he gets a question asking his favorite fan experience. He was at a convention, and a girl asked him to sign her navel. He says that afterwards, a couple hours later, the girl came back and the signing was now a tattoo.
Another young kid asks which superhero he would like to be. Lloyd is stumped at first, but comes back with a great answer — The Lone Ranger. He talks about listening to the radio programs when he was a kid, and eventually watching the TV show.
The questions were so spread out, that the next question is even another movie, about Who Framed Roger Rabbit?, asking what his character looked like under his human suit. Lloyd hadn't really thought about it, but does talk about, if a sequel came about, he would like his character to come back to life. This fan comes up with an elaborate storyline to get Lloyd's character back in the movie. Lloyd seemed impressed with her idea. Another Roger Rabbit question comes up, and someone asks him what other toon Lloyd would like to play. He frankly says Roger Rabbit, because he can't pull off Jessica Rabbit.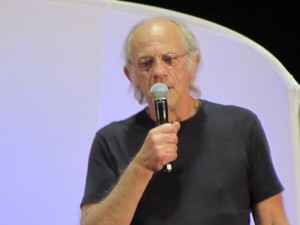 He gets a few questions regarding his TV show Taxi, and the first is asking about a funny story. A fellow actor on the show, Andy Kaufman, apparently was a little "out there" and Lloyd tells a story about how one time, Kaufman tried to prove he could levitate. Lloyd talks about how Kaufman had the cast and crew watching him for 10 minutes, where he tried to levitate. He also gets asked about his favorite episode, which was an episode where he takes his car apart to build someone else a car. I am not familiar with the episode, so I don't know what this exactly is. He talks about a few other comedic scenes in the show, which fans of Taxi in the room seemed to really appreciate.
He also gets asked about what budget of films he likes to work in, and Lloyd says that it is all about the character, and the budget isn't a big factor for him. He also gets asked about having to turn down roles due to conflicts, but Lloyd says he didn't really have that problem, as he didn't have to worry about being inundated with scripts. He does remark how he regrets turning down a Martin Scorsese role though.
At the end of the panel, we get a few great Lloyd quotes from Back to the Future, specifically "Great Scott!" and "Where we're going, we don't need roads". It was really great seeing Lloyd, as Back to the Future was such a big part of my childhood. Lloyd is getting up there in age, and I fear he will not be with us for much longer, so I am glad I to to see him before he isn't around anymore.
After that, we checked out the Hall of Heroes, where there were fan groups and cosplay groups, and also where the various celebrities signed autographs. Plus there were some elaborate LEGO sets! We walked around looking at the different booths set up, and also walked around and saw who was signing autographs. Karl Urban's line was one of the longer lines, but Summer Glau's line was the longest. Then we decided to get on the road to make the long journey home! It was unfortunate that we would have to miss the Ron Pearlman (Sons of Anarchy), Danielle Panabaker (The Flash), and Karl Urban (Dredd, Star Trek) panels, but we both had to be at work early on Monday morning, and wanted to get back to town at a decent hour!
Click here for our final thoughts about Phoenix Comicon 2015!
See below for our photo gallery of Sunday at Phoenix Comicon: