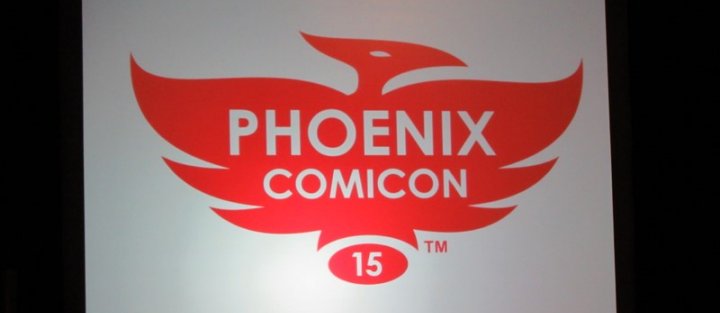 In Part 2 of our Friday Report for Phoenix Comicon, Violet recaps the Edward James Olmos and Mary McDonnell panel (better known as Admiral Adama and President Roslin from Battlestar Galactica), followed by the Charisma Carpenter panel (most people know her as Cordelia Chase from Buffy the Vampire Slayer and Angel). Finally, Josh wraps things up with our final Friday activity, the Sherlock Murder Mystery!
If you missed Part 1 of the Friday Report, click here!
Edward James Olmos and Mary McDonnell, 3:00pm – 4:00pm
Originally, this was scheduled as a solo Edward James Olmos panel, and Mary McDonnell wasn't even scheduled to be in the main room, so I was excited to see that not only had McDonnell been added to the main room, but that she had been added to Edward James Olmos's panel!
For the first half hour or so, it was only Olmos on the panel, as McDonnell had not arrived yet (later we would find out it was due to a cancelled flight, and that she was fortunate to get on another flight at the last minute), so he stood at the front of the stage fielding audience questions alone.
The first audience member asked Olmos how he got where he is today. Olmos said that it took a lot of hard work, and confessed that he had a difficult time because of his face. He emphasized that you have to learn discipline, and that you must have the discipline to do the things you love to do when you don't feel like doing them. Olmos then shared with us how he used to be really good at baseball growing up, and would play 7 days a week. He even had a .800 batting average. However, he hung up his cleats at 14 when he started getting into rock 'n' roll. But then, once he started doing theater, he never looked back.
Olmos confirmed that it was in his contract that if there were any aliens in Battlestar Galactica, he was out. He said he told them if any aliens showed up that he was going to "faint on camera, and then they'll write 'He died of a heart attack.' " Recalling his time on Blade Runner, Olmos commented that the movie was the "essence of the future" and that the only thing missing now was the flying cars. However, he reiterated, "No 4-eyed jellyfish for me."
As for what made him take the role of Adama on Battlestar Galactica, Olmos said it was the writing. He gave great praise to the writing, and pointed out that Battlestar Galactica is the only TV show that's ever been invited to the United Nations. He spoke about that experience, and how the United Nations wanted to discuss issues and themes that were on the show, especially reconciliation, as 9/11 was fresh in everyone's mind back then.
When asked for acting advice, Olmos said, "Don't quit." He went on to say that the only people who don't make it are the ones who stop. He further elaborated on what "making it" means: being the best you can be at what you want to do.
Then Mary McDonnell showed up, and they both took a seat at the table after sharing a warm embrace.
The audience questions continued, as the next audience member asked Olmos about his experience on Agents of SHIELD. Olmos told us that they had needed an antagonist for Coulson whom we didn't know whether he was good or bad, and commented "The audience hated me!" However, he said he had a great time.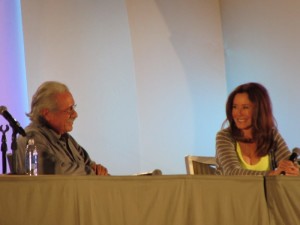 When asked how she got into acting, McDonnell said that she had liked a boy who was in theater, so she joined the props crew so that she could hand props to him in the dark. (Olmos joked that the boy was him!) Eventually, she transitioned into acting.
Another question to the panelists was whether there was any time that the odds were against them and they had to overcome them. Olmos commented that he has to do this every day because he's a Latino living in the United States. To prove his point, he told us that his whole career he's been trying to do just one movie with a Chicano hero, but there hasn't been one yet. McDonnell pointed out that since she's "a girl with an opinion" she also faces discrimination.
Olmos then talked about the movie Stand and Deliver he was in that was about Jaime Escalante, and praised Escalante for teaching 250 kids to take the AP test in one year, which is an unheard of number. Olmos praised all teachers as well, including the ones in the room. Latino representation kept coming up as an issue during this panel, as many Latino attendees kept bringing it up, and Olmos was more than  happy to talk to about it, saying that "it's getting there."
Another political issue that came up was when an audience member asked McDonnell's thoughts about having a female president, and what she thinks about Hillary Clinton. McDonnell said that she's been a "Hill Girl" for a long time, and spoke in praise of Hillary Clinton, and having a female president in general. Having played both a First Lady and the President, she commented that she would much prefer to be President. Olmos said that he bets there will be a Latino Vice-President in 2016. We also learned that Olmos had been asked to run against Arnold Schwarzenegger in the California Governor race, but he declined. Additionally, Olmos spoke about how he had just recently returned from Israel where he was a keynote speaker at a conference against anti-Semitism.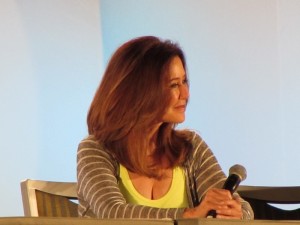 When asked about his favorite actors, Olmos named Mary McDonnell, as well as Bogart and Meryl Streep. An audience member asked how it was to work with Mark Sheppard, and McDonnell commented that "he's a piece of work," and that he was very gifted. As for their favorite season of Battlestar Galactica, McDonnell said that she liked Season 1, because it was all new, but then once Roslin's relationship with Adama began to "risk itself," that was when the show became full for her, and those were her favorite years. Olmos quickly agreed, saying, "Mine too."
An audience member asked who Olmos's hero was, and Olmos told us a story about his great-grandfather. When he was a child, he asked what a sign said. His great-grandfather replied that when you see that sign, you should look around for the birds and the trees. That sign was a stop sign.
Wrapping up the panel, McDonnell talked about how she and Olmos are both really stubborn, which is why they get along. Olmos said they had so much fun doing the show, and that he misses it. They would gladly welcome doing a reunion.
My favorite part of the panel was the very end, though. Just like that amazing scene on Battlestar Galactica where Adama delivers an inspirational speech to the ship and ends it with "So say we all," and having the onlookers say it back, Olmos recreated that scene with the Phoenix Comicon attendees, having the audience repeat "So say we all!" back to him three times. I've been to about 3 other panels that Edward James Olmos had been on, and always wanted this to happen. It finally did, and I was happy.
Charisma Carpenter, 4:30pm – 5:30pm
As soon as Charisma Carpenter came out on stage, she walked to the front of the stage and posed, saying that she wanted to get all the pictures out of the way at the beginning. Then she went and sat behind the table, opening it up for audience questions.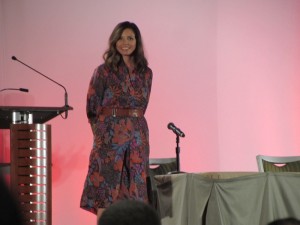 An audience member asked about the Angel episode titled "You're Welcome," in which Carpenter's character, Cordelia, returned to the show after being gone for awhile. Carpenter recalled that the episode was bittersweet, because the agreement was that she would come back to the show as long as they didn't kill off Cordelia, so when she read the script, she got upset. She commented, "It was great to be back with my friends, and it was sad to die."
Carpenter was also asked about her experience on Supernatural, and spoke fondly about getting to reunite with James Marsters, who had played Spike on Buffy the Vampire Slayer and Angel, commenting that it took 10 years of TV to actually get to know him.
As for her favorite TV character, Carpenter said that her first love was dance, so she loved the character Leroy on Fame.
When asked if she has any ideas or plans for what she would like to do, Carpenter said that her goal was to brand and retail, and that she would like to put out a perfume. However, Carpenter noted that she couldn't call the perfume "Charisma," because that's already taken by Avon! Carpenter also spoke about how she used to blog a lot, but that it became hard for her to blog, because people think of her a certain way. But she revealed that it has always been in her to write.
An audience member brought up how in Season 4 of Angel, Cordelia became someone that she wasn't, and Carpenter talked about the difference in her character that season. Carpenter went on to talk about how in Season 3, she had started to personalize Cordelia's character, and how she's "dim-witted." Carpenter started to worry that this was how the writers saw her, personally, so she had a meeting with Joss Whedon and David Greenwalt, and expressed that "It's kind of annoying how annoying she is." However, Whedon had to explain to her, "That's why America loves you!" Carpenter recalled that it was a challenge to bite her tongue and show gratitude, because she didn't identify at all with her character.
Another audience member asked about the transition from Buffy  to Angel, and Carpenter spoke about how her character had changed and grew between the shows. As for her scene in which she is given the gift of visions, she said that she went to the library and looked at old Life magazine images of post-Vietnam bombings, so that she could capture the looks of agony on people's faces.
When asked what her favorite Cordelia moments were, Carpenter answered when Cordelia had her own sitcom (because that's a real life dream of hers), her relationship with Angel (and she went on to talk about how special their relationship was, and how there's more to a relationship than "S-E-X"), and the clothes.
Carpenter brought up her 12-year old son a couple of times, so an audience member asked whether it was harder to memorize lines after she had kids. However, she confessed that it was always hard for her to memorize lines, and recalled how Alyson Hannigan, who played Willow, was always so good at it.
Carpenter told us that she has a show called Surviving Evil on the Investigation Discovery channel, which will be airing its 3rd season soon. It's about real life evil, rather than fantasy.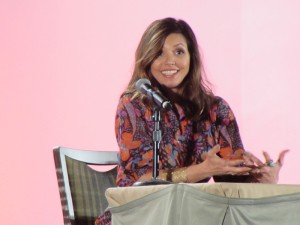 An audience member complimented her on her shoes, and Carpenter revealed that she had actually gotten them from a Payless type store and that they're falling apart. However, she loves the shoes so much that she keeps getting them repaired.
As for the actress who is an inspiration to her, that would be Cate Blanchett.
A female writer brought up sexism in writing, and Carpenter encouraged her to go write and make something that would go against that.
She then talked about her time working on Expendables, and her experience working with Jason Statham, which she enjoyed. However, she said she worked with Sylvester Stalone the most. Julie Benz, who played Darla on Buffy and Angel, had recommended Carpenter to Stalone for the part. Stalone had initially wanted Benz to play the part, but Benz directed him to Carpenter instead. Before Stalone gave Carpenter the part, he kept wanting her to say that she was a better actress than Benz, but Carpenter didn't want to do that. So she showed him the "You're Welcome" episode from Angel to show him that she knew what he was looking for in that character, and when it got to that specific part she wanted him to see, Stalone playfully punched her arm, letting her know that it was in fact what he was looking for.
Another attendee asked who she would like to play in the Avengers. She said she would have liked to have played Black Widow, if not for Scarlett Johansson. She-Hulk also came up, and Carpenter also said she always wanted to play Wonder Woman (though no one brought up the fact that Wonder Woman is DC, not Marvel).
She was also asked about her character on Veronica Mars, but I never watched that, so I didn't really follow the conversation.
In regards to whether there were any issues that came up in response to her pregnancy, Carpenter told us that there was a concern for her safety, though they didn't want to tell her that. Apparently, she had also received something bad, though she didn't want to tell us what it was, but it was kept from her because of the pregnancy. She said that for the most part, she has good fans though. However, she doesn't consider herself famous. She commented that people often see her and think she looks familiar, and wonder where they know her from, thinking maybe they went to high school with her, rather than that they know her from TV or the movies. Carpenter said that she thinks it embarrasses her son, "But, oh well!"
Upon wrapping up the panel, Carpenter commented that it's always great to see people from shows that she's worked on go on to do bigger and better things, and that she looks forward to being included in something soon. She ended the panel by posing at the front of the stage for pictures again.
Sherlock Murder Mystery, 6:30pm – 8:00pm
[Note: Josh takes over from here.]
After finishing up with Charisma Carpenter, then grabbing some dinner, Violet and I headed to check out a murder mystery that was going to take place at the Renaissance Hotel.  It was a bit of a trek.  We had to leave the convention center, then walk down the street past the Hyatt hotel, and enter the Renaissance.
The panel was called "Sherlock Murder Mystery."  The description of the panel didn't really give a whole lot of information, and I was worried it would put me on the spot too much, but my fears were put to rest when we reached the room.  It was very similar to any other panel, with rows of chairs facing a stage.  The room was pretty full too, so I wouldn't have to worry about being singled out really.  So I decided to get my proverbial detective hat out and get ready for the investigation.
The mystery started with a male and female cop informing us how this whole thing will work.   They explained that we, the audience, were "Sherlock," able to ask investigative questions as if we were investigating the crime while the cops investigate the murder.  Seemed easy enough.  So the detectives tell us about the case: a man named Nate was getting his booth ready for Comicon, and while getting ready to sign stuff for some fans, fell over and died.  So far the cops are not sure whether to rule this as a homicide yet, but obviously this was a murder mystery.  We all knew someone did it.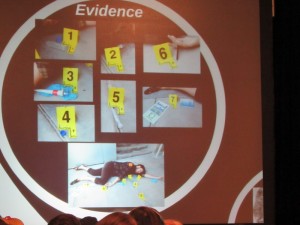 So the investigation continues, with us seeing video evidence of the victim dying.  We see him collapse, and learn firefighters were unable to resuscitate him.  The forensic team gathered evidences as well: a pen, a flask of tequila, an epinephrine pen, among a few other irrelevant pieces.  Also, Sherlock (us the audience) was able to ask questions to the witnesses.  The first witness was Pete, a friend of Nate, and the main take away from him was that Jayde (Nate's girlfriend) and Nate were not getting along.
After Pete, the rest of the "persons of interest" are interrogated.  First Karen is talked to.  She seems a bit dodgy with her conversation, and the main take away from her conversation was she had no alibi, and seemed to really dislike Jayde due to her interference with the comic book.  Karen was the illustrator for Nate's stories, and Jayde and Nate's fights seemed to always get in the way.  She also seemed to feel a underappreciated by Nate.
The next POI was Patrick, Nate's comic book inker.  He was very standoffish, and didn't like Jayde either.  He also felt ignored by Nate, and felt that Karen wasn't getting a fair shake.  He also seemed to think that Karen might get cut from the comic.  Patrick also gave off the vibe he had a thing for Karen.  He also seemed to have an alibi–buying a present for Karen, with a receipt that proved he couldn't be the killer.
Then finally Jayde was interrogated.  She seemed un-fazed about the death of Nate.  In fact, she seemed to think he deserved it.  She thought Karen and Nate were having a fair, and felt betrayed by Nate as he started making comics about her when they were fighting.   She also admitted to being physically abusive towards Nate.  She said she had an alibi though, receipts for shopping somewhere or another.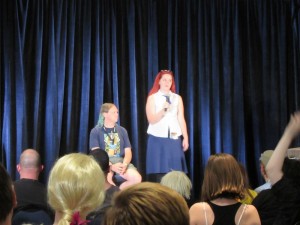 Finally, the death is ruled as anaphylactic shock.  Additionally, the audience learned that Nate had a peanut allergy.  Eventually, the "Medical Examiner" rules the case a murder, as the pen had essential oil residue, which could have came from peanuts, and the epinephrine pen had been emptied and refilled with water.  So, some "persons of interest" are brought out and Sherlock (the audience) begins their accusations.
After quite a while, the detective finally gets the case "solved," and the murderer is Patrick, with the pen, which he somehow coated with essential oils, with the motive of trying to be with Karen as well as save her job.  And just like that, the case is closed.
So Violet and I have been to quite a few murder mystery type dinners, which all have been of various degrees of fun.  This one is admittedly a huge undertaking for the organizers.  They have to come up with a show that will appeal to not only a larger number of people, but a wide range of ages.  They were having to make a story that was interesting both for younger and older audiences.  So having said all that, and this being the first run, I thought it was a pretty successful murder mystery.  They had decent actors, and it felt really organized.
There are a couple improvements I would recommend though: The audience portion of the show felt a bit drawn out.  It is something that is difficult to accomplish when you have a few hundred people that you want to participate in an event.  I think my feelings on this was partially fueled by some of the ridiculous questions being asked by the audience.   For example–What does asking the last time someone had a peanut butter sandwich, or whether a person likes/dislikes peanuts have to do with someone using them as a murder weapon?  This question along with a few other questions kept coming up repeatedly that had little bearing on the meaning of the case.  This of course is not anyone's fault, especially not the organizers, but I think that they could have helped steer the conversation in the right direction a little more.  Another example of this needing to be done was with the forensic scientist.  People kept asking her questions about the condition of Nate's body.  Even though she said she isn't the person who analyzed it, people kept asking about it.  Again, no one's fault, but maybe the "detectives" could have used a heavier hand in keeping the audience on target with their questioning.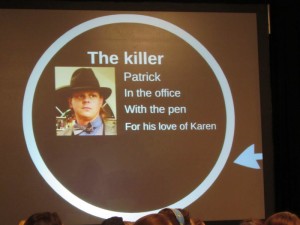 Additionally, I thought the case was a pretty cut and dry case, with little mystery to it.  In fact, Patrick being the murderer felt so obvious, I thought there was going to be some weird "switcheroo" with another piece of evidence coming to light, shifting the blame somewhere else.  Turns out it was a pretty simple case that I think almost everyone over thought.  I guess like many crime dramas say–usually the simplest answer is the right one.
In the end, I had a pretty good time.  Maybe next time we can have a little more meat to the story, and maybe a little less audience involvement.  I think making a more intriguing storyline that I had to work out mentally would have made me really enjoy the show more.  But again, I commend the organizers being able to put something like this together for such a large amount of people.  I know it is something I could never do.  I also understand I am just one person, and this show was made to appeal to a wide audience.
After the murder mystery ended, Violet and I headed back to the hotel.  We had to get rested for our next foray out into Comicon, which would be Saturday–typically the most crowded day of Comicon Conventions.
Click here for Part 1 our Saturday coverage of Phoenix Comicon 2015, featuring Summer Glau and Jason Momoa!
Below is our photo gallery of pictures from the Edward James Olmos and Mary McDonnell panel, Charisma Carpenter's panel, and the Sherlock Murder Mystery: