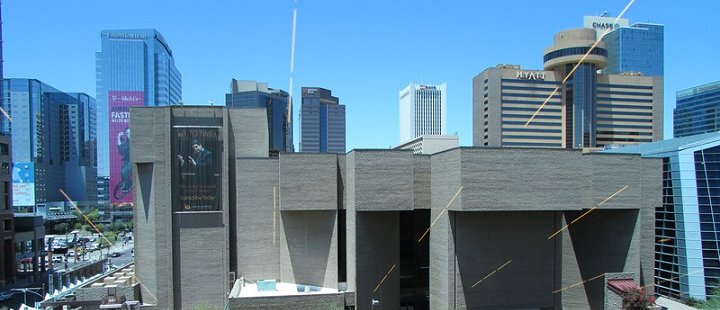 Phoenix Comicon 2015 took place Thursday, May 28 through Sunday, May 31 at the Phoenix Convention Center. This was our second time attending the con. In this post, we each provide our final thoughts about this year's Phoenix Comicon! 
If you missed any of our Phoenix Comicon 2015 coverage, click here!
Josh's Final Thoughts on Phoenix Comicon 2015
So, again I was reminded, Phoenix Comicon is a different beast than SDCC. It is not the cutting-edge news behemoth that San Diego has become, where you will see never before-seen footage, or learn the next slate of comic book movies coming out. It is a place where you basically get to hang out with thousands of like minded people, and hear from media stars that don't have a specific agenda to push.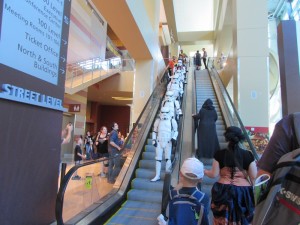 As this Phoenix Comicon came around, I was having doubts about it. The guest line up seemed less entertaining than last year, and seeing all of the other cons having some awesome guests kind of bummed me out. But I have to say I was completely wrong with that initial impression.
It was really fun seeing the various stars from our favorite movies and shows–Christopher Lloyd from Back to the Future, Alyson Hanningan from Buffy, Alexis Denisof from Angel, Jason Momoa from Game of Thrones, and Jason Isaacs, and Katee Sackhoff, Edward James Olmos, Mary McDonnell, and everyone else we saw. It is also fun seeing all of the attendees in cosplay. It just was a lot of fun without the pressure of SDCC.
But one thing Violet and I did notice–Phoenix Comicon is getting bigger. Last year there were 80,000ish attendees, and just by how early people were getting to panels this year, there were probably even more this year. Last year, we would get to a panel a little bit beforehand, and had no trouble getting in. This year, we got there an hour early and we were sitting in the middle of the Hall, and it was a bigger hall this year.
The staff did a great job of keeping the crowds moving though. While we could tell there were a lot of people this year, security was around to guide people and keep traffic moving.
I would say the biggest complaint about Phoenix Comicon is mother nature. Any time spent outside is HOT! The good news is at least it is a dry heat, rather than a muggy one. But still, it is a very warm environment, and I am glad we get to spend most of our time inside.
I am pretty sure we will be back next year. We have had a lot of fun both years, and look forward to coming back. The one hope I have for next year is that Phoenix doesn't overlap with other cons, so we have a really good round of guests next year. This year was still good, but I have to admit, I was a little jealous of some of the other guests at other places.
Violet's Final Thoughts on Phoenix Comicon 2015
Last year was our first time attending Phoenix Comicon. We thought we'd try it out and see how we liked it. Well, by the end of the weekend, we were already talking about coming back the following year, and including Friday the next time, since we were only able to attend Saturday and Sunday. So this year we did just that, driving in late on Thursday night, and attending Friday through Sunday this time. We thought about flying in and staying downtown, but ended up driving in and staying at the same hotel we stayed at last year about a 10 minute drive from downtown, the Wyndham Garden Phoenix Midtown. It's nice not to have to pay for expensive downtown hotel parking, and to have a free hot breakfast every morning.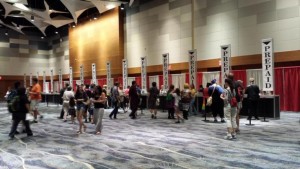 It's pretty evident the Phoenix Comicon is growing. Even just between last year and this year, the panels and events had expanded to take up more space in the convention center, and there were still plenty of overflow events in the surrounding hotels that offered programming all day and late into the night. The growing popularity of the event is also evidenced by the fact that 4-Day passes sold out a day prior to the start of the convention, which I don't think happened last year.
This year, the vendors took up the entire bottom floor, rather than sharing space with celebrity autographs and photo ops. The con organizers seem well aware of the growth of the con, and addressed attendee concerns to make things more efficient this year. Indeed, things did feel very organized, as far as lines go, and with people directing you where to go in order to keep the crowds moving smoothly.
It also seemed like attendees are becoming more aware of the need to line up early for panels if they want to get a good spot. Whereas last year on both Saturday and Sunday we got a spot in the second row by arriving one hour prior to the first panel of each day, this year the first section of seats (maybe 15 rows?) already had a good number of people sitting there when we arrived an hour early.  Also, last year, the celebrity panels were held in the 100 North Ballroom, but this year they were moved to the 300 West Ballroom, which holds about 4,500, compared to the previous 4,200. Unlike last year, I don't believe that the room was ever completely full. However, I'm also of the opinion that this year's caliber of celebrity guests was a bit subpar compared to last year. I think that may have had to do with the fact that both Dallas Fan Expo and Awesome Con (in Washington, D.C.) took place the same weekend.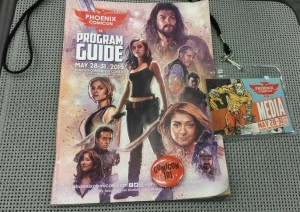 Despite that, I still enjoyed the guests that were there. I especially liked how there were panels where people were paired up, like the Edward James Olmos/Mary McDonnell panel and the Alyson Hannigan/Alexis Denisof panel, rather than all being solo panels. Last year, I felt like there were missed opportunities to combine guests into a panel to discuss a show they were on together, most notably Arrow, as Stephen Amell, John Barrowman, and Manu Bennett each had solo panels last year.  I hope that they continue this trend next year of combining guests into panels when the opportunity arises.
I also like how Phoenix Comicon groups the other panel rooms by topic, for example, Science Fiction, Anime, Comics, Costuming, etc. Plus, they have many unique events, such as the Sherlock Murder Mystery that we attended.
Although Phoenix Comicon doesn't have a studio presence like San Diego Comic-Con, and therefore doesn't have the "first to see it" or "first to know" aspect, it also doesn't have the constant stress that SDCC has. It's nice not to have to worry about camping out for panels to make sure you get in, yet you can still see some fairly big name stars. It was great to be able to come back to our hotel room at the end of the day and relax, and actually sleep in our hotel! We even had time to swim (which was awesome, considering it was 105 degrees!), and actually got the pool to ourselves for a little while. These are things that rarely happen when we go to SDCC.
Overall, Phoenix Comicon is a lot of fun, and we'll definitely be back next year for our third year in a row. Unfortunately, it'll once again be on the same weekend as Dallas Fan Expo and Awesome Con, June 2-5, 2016. Hopefully Phoenix Comicon will be able to snag some of the bigger name celebrities before the other cons do! I'm thinking they may be able to, based on the attendance alone, which will most likely be more than last year, so well over 80,000!
If you missed any of our Phoenix Comicon 2015 coverage, click here!