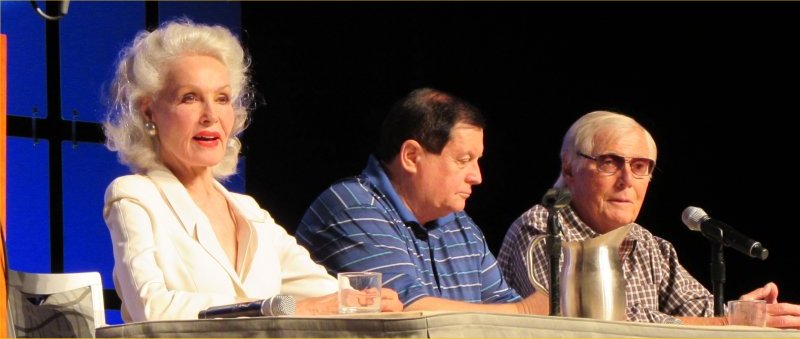 Our very first panel at Phoenix Comicon featured Adam West, Burt Ward, and Julie Newmar, better known as Batman, Robin, and Catwoman from the 1960s Batman TV show! Read on for our recap of that panel.
The panel was scheduled to start at 10:30am, but wanting to get in line a little early, and thinking that there might be a bit of a line for Media registration (there wasn't) we ended up lining up around 8:45am. At that point, we'd say there were probably about 75-100 people already in line. When they let us into the Ballroom around 9:15am, we were able to get seats in the 2nd row of the left middle section, where we stayed for the remainder of the day.
As it got closer to the time when the panel was supposed to start, Phoenix Comicon staff began to entertain the crowd, first with videos of Burt Ward's Robin audition and with footage from the pilot episode, then bringing people up on stage for a Batusi contest! The panelists arrived about 30 minutes late due to traffic, but no extra time was added to the 10:30am-11:30am time slot, so the panel only lasted 30 minutes – 11:00am-11:30am.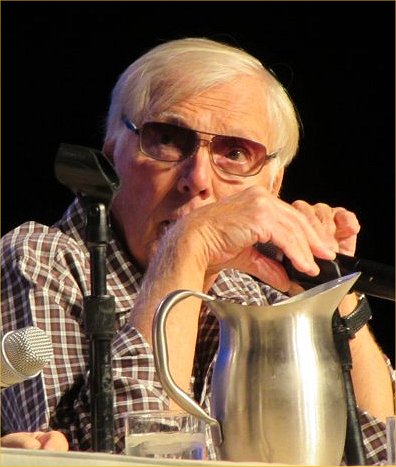 The panel was immediately opened up to audience questions, the first of which was what Batman means to the panelists. Adam joked, "Money." He then made sure to point out that there were two Batmans before him, though he embraced the title of "Classic Batman." Julie said it was "fun, fun, fun!" going on to ask how many girls out there had ever dressed up as Catwoman, which got a huge cheer from the audience. She then asked, "How many guys?" which got a few cheers and a lot of laughter. As for Burt, he had a fun time working with the actors, and liked how it appealed to people of all ages.
The next audience member asked the panelists if they ever go out to lunch together every once in awhile. Adam said, "No, because he won't pick up the check!" Then someone asked Burt which phrase he had to say that he had the most difficult time keeping a straight face with. He started going on about how there were so many, and how each related to the situation that was going on, and Julie got impatient and interrupted him asking, "What's the answer?!" Burt didn't skip a beat, continuing his response, talking about how some things were difficult to say, especially because he had to say them energetically. For example, "Haven't you some anti-ballistic bat flaps in your utility belt, Batman?!"
Another audience member asked if a Batman Beyond movie was made, whether Adam would be interested in coming back as Bruce Wayne. He said he would love to play Bruce Wayne again, even animated, though he might play it in a little bit of a different way. Someone else asked what the panelists thought about the evolution of their characters from then to now. Julie replied, "Well, we come from light and funny times in the 60s…and then we had the dark Batman, and then they had the darker Batman," to which she fell to her side in disapproval. She offered these words of advice: "You wanna live a long life? Have fun!" Adam responded that they had noticed it has gotten much darker, but that it was okay, because each era did their own thing. Julie interrupted, wondering how the actors can act with all the padding they now wear, pointing out to Adam, "You didn't wear any padding. It's the real thing!"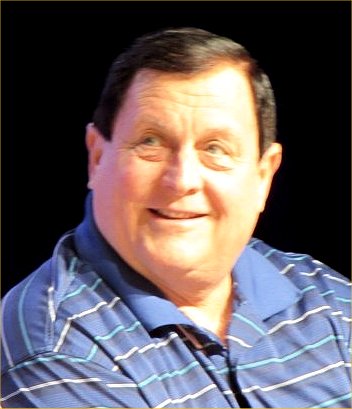 The next guy that came to the microphone was in tears at seeing his idols, telling them how much they mean to him. Adam commented, "You're going to make me weep, so get outta here." Before he left, he decided to change the tone, telling Julie, "I did dress up as Catwoman one time," to which she replied, "Oh, I love it. Let's get married." Then a young boy came up to the mic and asked the panelists what their favorite Bat vehicle was that they used while filming. Adam said that he liked the Bat Boat. He also liked the Bat Cycle with the side car, because he got rid of Burt! Adam recalled one time when Burt went in the ocean off the pier and they had to pull him out, because Adam pushed the wrong button. Burt remembered that the cape had gotten caught in the back part of the seat, and he was nearly strangled. Burt said he liked the Bat Copter, because he got to hang upside down from the Bat Rope and hand Adam the anti-shark Bat spray while he was beating off the shark that was on his leg. Julie commented, "I got to ride in the Bat Copter with you Adam, and your knuckles were white!"
Another audience member asked if they had any advice on becoming an actor, to which Adam replied, "Yeah, quit," saying that he didn't want the competition. Burt said that he thought the young man should study, because it's hard to get a break. Julie gave him this gem: "Become a producer and hire yourself!" The moderator asked Burt how many other actors he was up against for Robin – 1100. He was told that the reason that he was selected for the role was because in their opinion, if there really was a Robin, then he personally would be him. All he had to do was be himself and be really enthusiastic. Adam added that he knew within one minute when he and Burt did the screen test, that Burt would be the one selected as Robin, listing many reasons, including the fact that "he listened to me."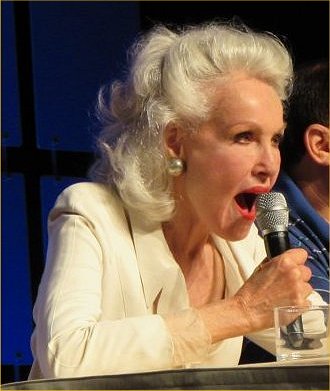 The next audience member brought greetings from Adam's hometown of Walla Walla, Washington, where Adam joked, "Our favorite sport was standing outside with a rifle, and when a convict would escape from prison…" Then someone else asked Adam if he felt that being in a campy show like Batman restricted the roles he was in afterwards. He admitted that it was difficult, and that afterwards he did plays and struggled for about 5 years. However, he added that it doesn't matter because of the warm response they always get for the work they did in Batman.
The panel wrapped up with the moderator bringing two people up on stage for what turned out to be a marriage proposal! She said yes. Adam commented, "This is a first! This is stunning! And you already have a baby!" Adam also revealed that he is an ordained minister, saying, "I could possibly marry you right now… But I won't."
After everyone else left the stage, Julie took the time to thank her brother, John, who was there on stage with her. She explained that he is the reason that she became Catwoman, as he had said, "If you don't do this part, I'm leaving town."
We actually enjoyed this panel a lot more than we thought we would, not having watched much of the 1960s Batman. You could tell that all of the panelists really enjoyed the work they had done on the show, and that they appreciate the fact that people of all ages still enjoy the show all these years later. However, Julie Newmar was the unexpected highlight of the panel, with her sassy and fun-loving attitude.
You can view more pictures from this panel in our Adam West, Burt Ward, and Julie Newmar photo gallery.