Josh and Violet each share their final thoughts about their very first Gallifrey One!
Click here for all of our coverage of Gallifrey One 2015!
Josh's Final Thoughts on Gallifrey One 2015:
So I have to say, Gallifrey One feels a lot different than most conventions Violet and I have been going to. Gallifrey One is much more intimate, feeling like a really big party, rather than the convention feel that many Comic-Cons have. I don't think that either one is necessarily better than another, but they are very different environments. I had a lot of fun though, seeing all of the creative costumes, and felt like I was hanging out with some pretty interesting people.
I do wish that we had a little bit more star power though. It would have been nice to have at least one of the Doctors at the event, preferably from the new series, as it felt a little lacking in that area. The only huge name that was at Gallifrey One was John Barrowman. The Torchwood cast was a pretty big draw as well, but I really thought a Doctor would have made the event feel a little more whole.
But I think that Violet and I agree, that next year, even though we live relatively close to the venue, we will probably get a hotel so we can just walk down to the event, and not have to worry about being too tired. Even being in driving distance can be tiring, as when you finish the event you have to deal with parking issues, then getting on the road and hope to not have to deal with traffic, and then get up the next morning and do all of that again. It would be so much nicer and enjoyable to just wake up, grab some breakfast and head down to the convention. This would make me more motivated to stay for other panels that were on my periphery that I decided I didn't want to expel the energy for.
But there were a lot of fun panels, that before walking into, I wasn't sure I would enjoy. While my favorite panel was John Barrowman, my second and third favorite were the NASA panel and miniature prop panel. And there weren't really any bad panels that we attended either.
Overall, I am really looking forward to next year. Being there in a hotel will certainly make it a lot more fun, and less stressful dealing with the terrible LA traffic. I hope we get to meet a few more Whovians in 2016!
Violet's Final Thoughts on Gallifrey One 2015:
Going into our first Gallifrey One, I wasn't sure what to expect. So I tried to read about other people's experiences and listen to podcasts about the convention as much as I could, because I like to be prepared. Everything I heard about the show was always positive, and everyone who attends seems to have an amazing time. Well, after our first Gallifrey One experience, I would have to agree with the consensus.
However, there are some things that I would like to do differently next year to enjoy the show even more. I would describe our experience this year as "Gally Lite." I say that because we did not get a hotel this year, instead opting to make the 45 minute drive from Orange County. Because of that, we did not attend Thursday night's LobbyCon, and we left relatively early on Saturday and Sunday nights. I think we would have stuck around for more things if we had a hotel room. We stayed late-ish on Friday night, but probably quite early by Gallifrey One standards! If we had a hotel room, we might have explored more late night activities, knowing that we could always walk to our hotel room at any time for sleep.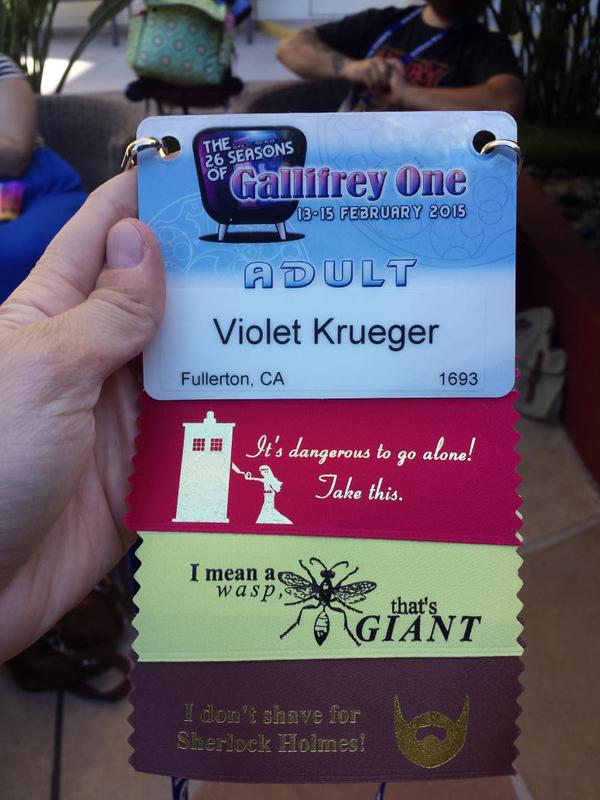 Although I had heard about the ribbons, I didn't realize just how big of a deal they were. Not having brought our own ribbons to trade, it took a little while before we were given any, and I only ended up with a few by the end of the weekend, rather than the long train of ribbons that it seemed most attendees had. So next year I think we'll have to bring some of our own!
I liked that Gallifrey One had panels that were not only Doctor Who related, but also science and science-fiction related, and covered other topics like cosplay, and television production and scripting. In that way, it seemed like there was always something that everyone could be interested in, if for some reason the particular Doctor Who panels going on at a certain time didn't interest you.
I especially liked being able to just walk into a panel a few minutes before it started. Being that we usually go to larger conventions, such as San Diego Comic-Con, it was a relief not to have to camp out or get in line hours beforehand just to get into a particular panel. This freed up time for us to do things that are offered at other conventions that we never have time to take advantage of, such as the hospitality suite and the board game room.
However, I do have to admit I was just a little disappointed in the guest lineup. Yes, the lineup of minor guests was great. But with the absence of Alex Kingston (which I know was no fault of the convention), that left the headline guests feel a bit lacking, leaving only John Barrowman as a headliner. Don't get me wrong, I love John Barrowman. But it just felt like there should have been more, and at least a Doctor. The Torchwood guests were great, but I got the feeling that a good number of people at the convention didn't really watch Torchwood. I guess I just feel like the convention should have been able to get more popular, more current/recent guests, given its status. I know that Matt Smith, Karen Gillan, Jenna Coleman, and even David Tennant have been on the con circuit recently, as well as several older Doctors, so I was disappointed when not one of those people were announced as a guest, as I thought at least one of the first two would be a shoe-in.
I was also disappointed in the fact that it appeared that many people did not follow the convention's rule that you're only supposed to go to one or the other of the headliner's panels, not both. The purpose of this rule was to make it so that everyone attending the convention would be able to have a seat for one panel or the other. However, both of John Barrowman's panels had standing room only, suggesting that some people didn't adhere to this rule. Gallifrey One might have to start cracking down on this.
As for nighttime programming, I felt like there was quite a bit going on Friday night that I would have liked to go to, but there was so much happening at the same time that it would have been impossible to go to everything. However, on Saturday night, I didn't feel like nearly as much was going on. I suppose that's because the convention wants to make the Masquerade the focal event of the night. But I think we would have been more likely to stick around had there been as much going on Saturday evening as there had been on Friday evening.
All in all, though, it was a really fun event that I look forward to attending next year!
Tickets for Gallifrey One: Station 27, which takes place February 12-14, 2016, go on sale Friday, May 1, 2015 at 10am PT. [4/6/2015 UPDATE] Tickets will now go on sale Monday, May 4, 2015 at 10am PT.