We attended New York Comic Con for the first time this year! The event took place at the Javits Center October 5-8, 2017, though we only had Thursday badges, so we had to make the most of our one day at NYCC 2017.
After getting into the convention center, participating in the War for the Planet of the Apes motion capture experience, and signing up for the Jack Ryan themed Amazon Echo Escape Room, we then proceeded to walk up and down the aisles of the show floor.
Next to the Amazon Echo Escape Room was a stage set up, with a few rows of chairs in front of it. There was also a schedule of live interviews that would take place on that stage throughout the day.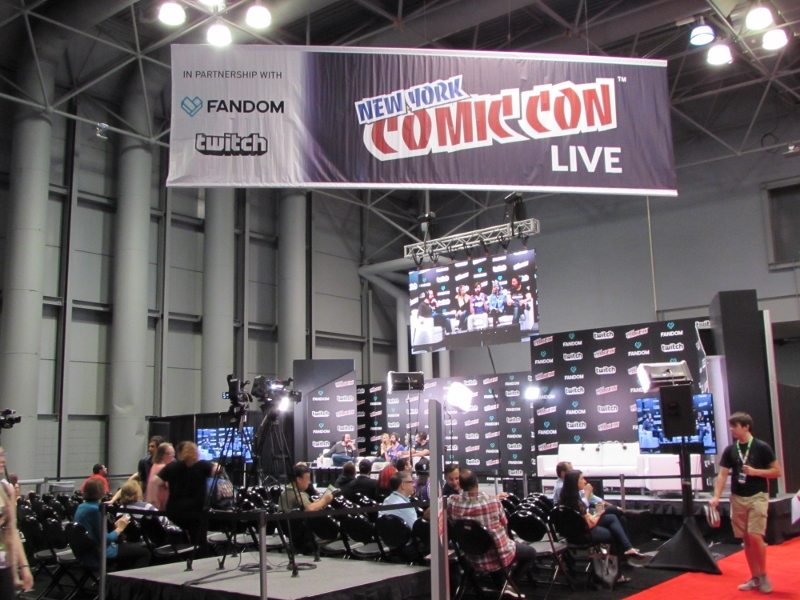 Moving on, there was an enclosed Star Wars booth that you could walk through… except that the line wrapped all the way around the booth. We opted not to stand in line.
Oh, and there was an elaborate The Tick enclosed walk through booth over by the Echo Escape Room, but also had a long line. We skipped that one as well.
We didn't even try to go near the Funko booth, because you had to have entered and won a lottery before NYCC in order to buy anything there. I would have liked to go by and say hi to our friend Sully, but knew that he would be busy, and wasn't sure how close security would let us get to the booth if we weren't authorized to be in line there.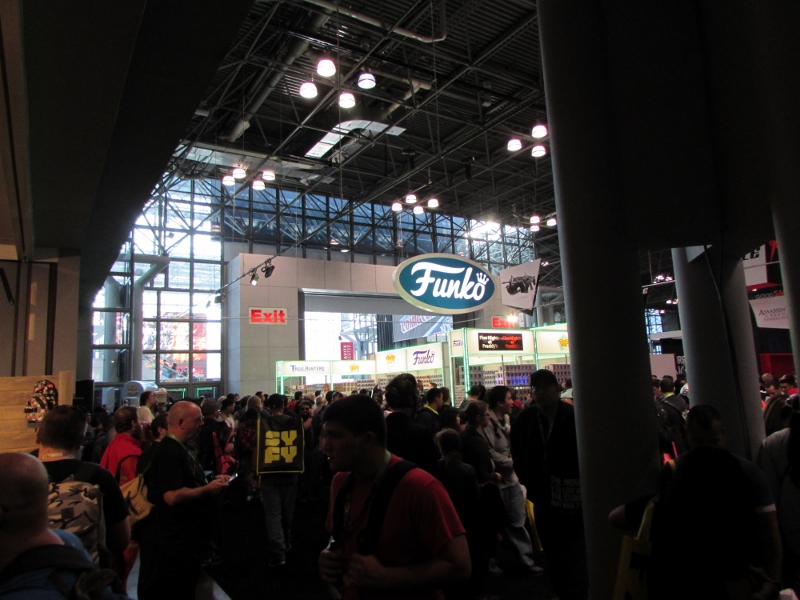 There was a Marvel booth, but not much going on there at the time we passed by.
Hulu had a booth promoting their upcoming Marvel show, Runaways.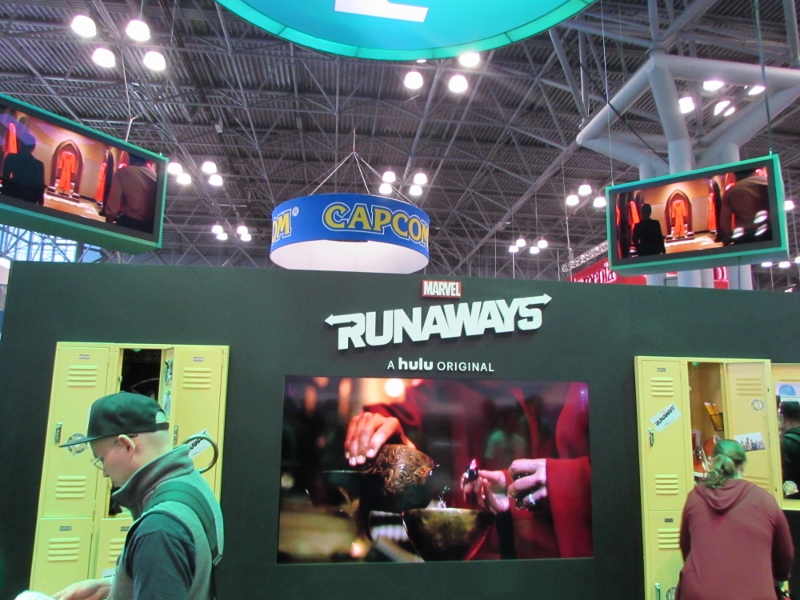 There was a video game company section with stations set up for attendees to play various video games.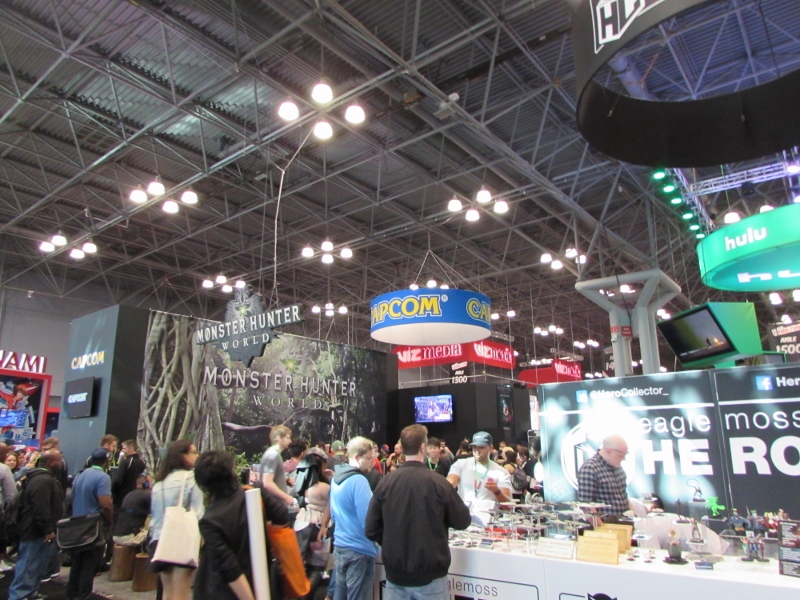 New York City's own Midtown Comics had a sizable section of the floor to sell their comic books.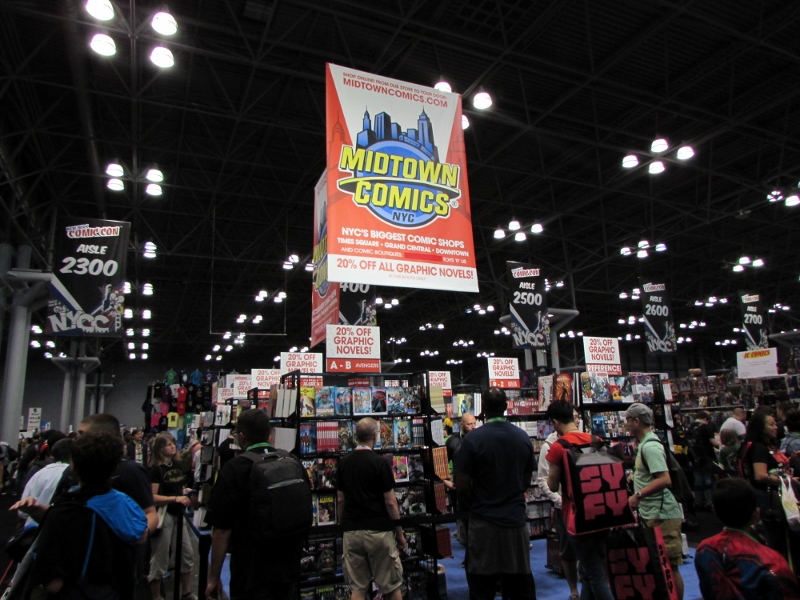 One of the biggest differences that I noticed between New York Comic Con and San Diego Comic Con was that there was a significant number of booths selling books — not comic books, just regular books. I had noticed in the past that Phoenix Comic Con has a bookseller presence, but at NYCC it's even more so. I guess this makes sense, since BookCon usually takes place in NYC, at the Javits Center, in fact.
After a couple hours, we went back to the Echo Escape Room to see what was going on with the virtual line. Click here to read about our escape room experience, and watch a full video of our session!
Before heading down to spend our time in a panel room the rest of the day, we stopped by the Ecoin booth and signed up for an account (even though we had already signed up for an account at San Diego Comic-Con) and got some free swag! There were only a couple people in line. Probably because it just looked like a regular bank, and didn't have any indication that it was a Mr. Robot promotion.
Stay tuned for our recaps and photos of the Artemis panel with Rosario Dawson and Andy Weir, the Viz Media panel, the Cult of Chucky panel, and the Replicas panel with Keanu Reeves!
You can view more photos of the New York Comic Con 2017 Show Floor below.