We attended New York Comic Con for the first time this year! The con took place October 5-8, 2017 at the Javits Center, but we only had Thursday badges, so we had to make the most of our one day there. We recently told you what it was like getting there, and participating in the War for the Planet of the Apes motion capture experience. We now continue our story.
Another of my goals for the day was to do the Jack Ryan themed Amazon Echo Escape Room, which I remembered from the map was actually not too far from the Planet of the Apes experience, also being on the left side of the show floor. So we headed over there, where we were instructed to stand in a line to sign up for it. When we got up to the sign in device, we scanned our badges, and were told we would get a text to come back when it was our turn. So I thought that was cool, that we wouldn't have to stand around waiting, and could go check out the Exhibit Hall for a bit and then come back later. As we started to walk away, we got a text with a link to our virtual place in line. Josh's said he was number 69, but when I clicked my link, it said that I was not in any virtual line… Um, what? So I asked one of the booth workers, and she said she would remember us when we came back later that we were together.
While walking around the Exhibit Hall floor, we periodically checked our status in the virtual line for the Echo Escape Room. For awhile, nothing was changing. But cell service wasn't very good, so we attributed it to that. A little while after that, Josh's position changed to 59. Meanwhile, mine was still saying I wasn't in a virtual line. Then for awhile it wasn't updating again. Then both his and my link gave a 404 error code. About 2 hours had passed, so we decided to head back over to the booth and see what was up.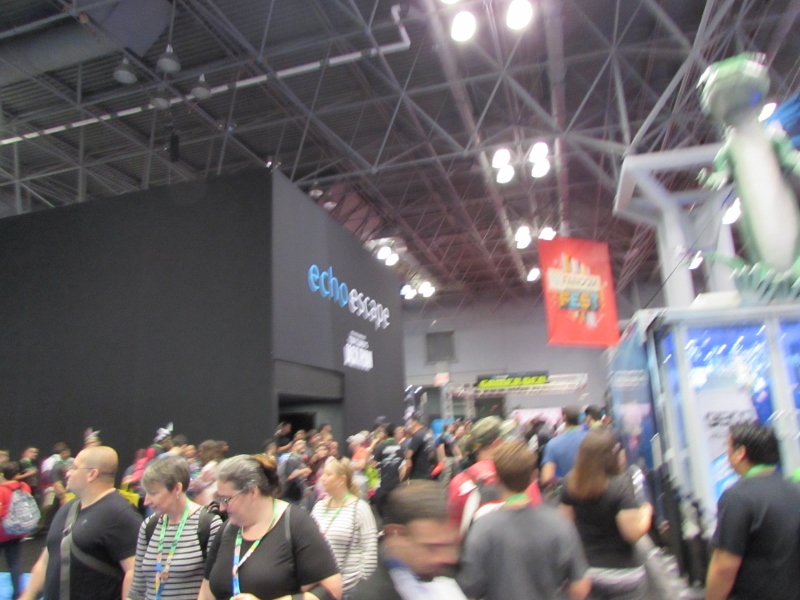 When we got there, unlike earlier, there wasn't anyone in the standby line of people who were supposed to be going in next. I spoke with the booth worker I had spoken to earlier, and she told us we could go ahead and get in line to go in. Shortly after we talked to her, a man spoke to her who was having the same problem as me (his link also said he was not in a virtual line), and who had signed up much earlier like we did, so she had him get in line behind us. Another booth worker came by and asked us if we had gotten the text message to return, but we explained the situation. He said he was asking because apparently the system was having some problems sending out the notifications. I guess that would explain why no one was in the standby line (though there were plenty of people going through the sign up line). Not too long after, they got a few more people in line behind us, and we were able to form a group of 7 to go into the room.
Before going in, they scanned our badges, and had us put all of our bags, cameras, and cell phones into a bin. Three people, one of which was Josh, volunteered to wear a microphone, which would allow Alexa (the Amazon AI) to hear them better when giving commands. They made sure to tell us that if we ever felt stuck, we could call up Agent Foxtrot to help us out. We were given a quick tutorial on how to use the Amazon Echo (to give commands) and the Amazon Show (to answer phone calls), then it was time to head in.
We stepped into a circular room that had a table in the middle with an Echo and a Show. After hearing a hint about lights, we told Alexa to turn off the lights. This revealed glow in the dark writing on the walls, and puzzles we had to turn in order to read the writing. There was also an equation. The writing around the room said Foxtrot, Alpha, and November. F-A-N. Instructing Alexa to turn on the fan led to fake money flying all around the room. The money had symbols on it, matching the symbols in the equation we had seen. Within the symbols were numbers. We asked Alexa to do some calculations, which gave us the code for the keypad on the door, and we were able to make it into the next room!
This was a much larger room, with a lot of things going on inside of it. There was a locker section, a desk and a knocked over chair, and other paraphernalia around the room. This part of the game is more of a blur to me, as there were so many things going on, sometimes simultaneously. We got a couple of instructional calls from our friend Agent Foxtrot, and we did things like tell Alexa to turn on red lights, and turn on blue lights in order to find new clues. One thing we found was a magnet, which we used to draw out a clue hidden inside of a long pipe. Jack Ryan even called us, and told us not to trust anyone. At one point, there was some loud banging, and we used the Amazon Show to show us the garage door camera, at which point we saw "live footage" of people outside trying to get in (it was pre-recorded).
We finally made it into the next room, at which point Agent Foxtrot came in to greet us in person, saying she urgently needed one of us to go with her. But reminding the group what Jack Ryan had told us, I told the group that I didn't think we should trust her. This prompted her to pick me to come with her, but I refused, thinking it was part of the game not to trust her, worrying that it might be an automatic fail. However, she then sort of broke character and said that if I didn't go with her, then the game couldn't continue! So I went with her back into the room we just came from, as she sealed the door and yelled to my team, "Suckers!"
I was then led into a "backstage" area and handed off to another booth worker, who assured me that this was all part of the game, and led me to another room — where he handcuffed me to a chair with my hands behind my back. He made sure I was comfortable, then left me alone to continue the game.
A glass panel between my room and my team's room was revealed, and they were able to see what had become of me. Not sure what was going on over on their side of the glass, but a pair of dice fell from a shelf in my room, both having 5 dots displayed, which apparently helped them out with whatever puzzle they were working on. I also had an Amazon Show, with instructions next to it telling me to ask Alexa to show me the switch panel. A photo (or maybe it was supposed to be live footage) was displayed on the Show of switches in different positions, and arrows underneath them, pointing: up down up down left right. I yelled this to my team (who commented, "Oh, the Konami code!") and this allowed them to join me in my room and use a key to release me from my handcuffs.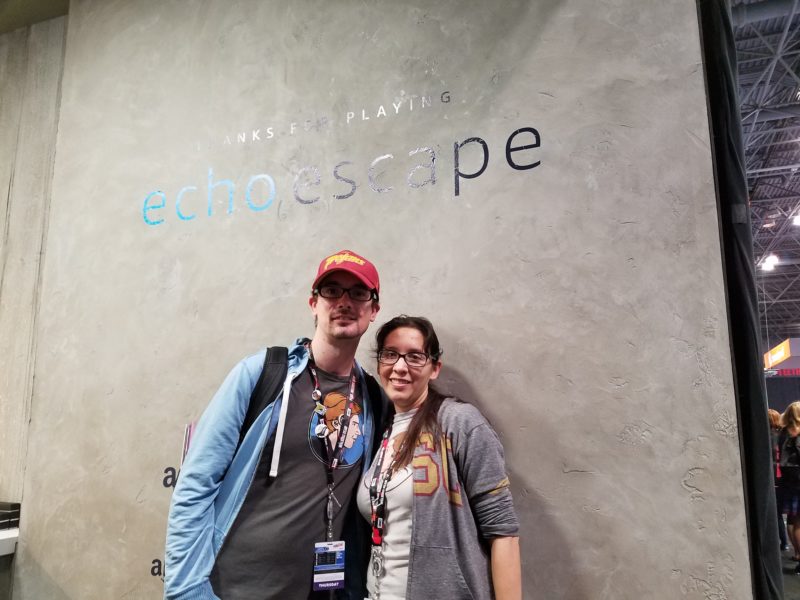 Our last task was at the computer in the room, figuring out a phrase that had several letters missing. We were told we had 3 tries to get it right, or else we fail. First we tried, "Your voice will get you free." No, that didn't work. So then we typed in "Your voice will set you free." Yep, that was it! The exit door opened, and there were several booth workers there cheering us on, congratulating us on our escape, high-fiving us, and giving us some free swag. We had been allotted 30 minutes to escape, but we got out with several minutes to spare.
We took a group picture, but the photo ended up on a girl's phone that we don't even know, and the group disbanded before I handed the guy my phone, so I got him to take one of just me and Josh. (If you have our group photo on your phone, please send it to us!) They told us that they were going to send us a video of our experience, and a few weeks later, we did in fact receive a link to a full video! You can view it below.
All in all, it was a really fun experience, and I'm glad we got to do it. Our team worked really well together, despite most of us not knowing each other. Even though we've done a few escape rooms before, this was a really neat, innovative experience with the use of the Echo and the Show, which worked really well. Yes, it was obviously a marketing ploy for these Amazon products, but it was a great one, and brilliantly done. Who knows, maybe we might even make our own escape room using these devices!