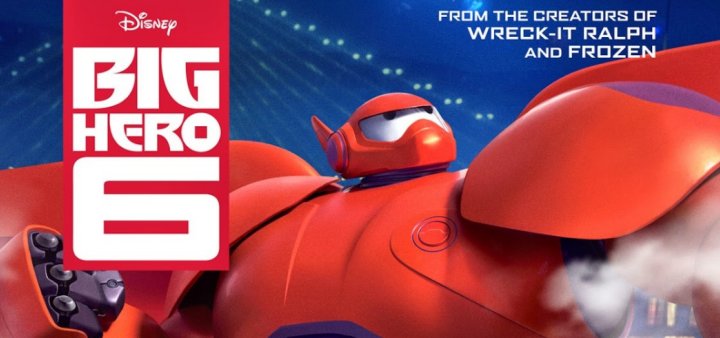 Check out Josh and Violet's spoiler-free male vs. female perspective reviews of Disney's new computer animated movie, Big Hero 6!
His Movie Review of Big Hero 6:
Big Hero 6, directed by Don Hall and Chris Williams, clocked in at $56.2 million this weekend, beating out the much anticipated Interstellar, which was directed by Christopher Nolan. Big Hero 6 is an animated film from Disney, starring a pre-teen named Hiro (voiced by Ryan Potter), and his inherited robot Baymax (Scott Adsit). Big Hero 6 is sitting at a nice 96% on Rotten Tomatoes, so most people are enjoying it. I have to say, I echo that sentiment 100%.
The film focuses on Hiro, who is a genius, but has opted to use his big brain for frowned upon activities—such as robot fighting. His brother Tadashi (Daniel Henney), on the other hand, is probably not quite as smart, but certainly has a higher than average IQ and works in "Nerd School" where they work on "the next big thing" in technology. Tadashi convinces his brother to join him at school, and after coming up with an ingenious idea to get himself in, a big tragedy occurs, putting Hiro back into his slump.
Enter Baymax, a big, white, lovable medical robot. Hiro decides that he needs to repurpose this robot to exact revenge on the evil-doers that caused a specific tragedy.
This movie follows a lot of superhero tropes we are all familiar with. Look at Batman, Spider-Man, and various other comic book characters, and you can see inspiration from these sources dripping through this film. The great thing though, they are used in a refreshing and quite comical way.
The show stealer in the film was Baymax. He reminds me of Wall-E to some extent in his interactions with the world, where he almost seems like a child trapped in a robot's body. Seeing Baymax simply try to figure out how to move around obstacles is hilarious despite the rather blank expressions on the robot's face.
The animation was great as well, but that is expected from anything Disney or Pixar. There are a lot of crowd shots in this film, and they are done really well, surprisingly. Sometimes in animated films, the crowds can look stiff or wooden, but Big Hero 6  really pulls off putting life into their world. The cityscape is another really beautiful part of the movie. There are several city shots, and how meticulous the city was made is amazing.
Big Hero 6 is not without its flaws though. I think the most disappointing part of the film is the predictability of the storyline. It mirrors so many superhero revenge stories, that knowing what was coming was a little bit of a let down. Also, the big "twist" isn't much of a twist, that can be seen quite easily. In fact, it is so easily spotted that it seems almost too obvious. Of course, there are also plenty of plot holes, but these are minor knit-picks, and it is a film primarily made for children. The humor provided by Baymax and the rest of the cast is so great, that most of these minor quibbles are easily overlooked.
One thing I would suggest if you are a Marvel fan at all: One, stay for the credits for a pretty funny scene, two, look for the typical Marvel Stan Lee cameo. It's a pretty funny one.
This film definitely deserves a sequel. Now that we have the "origin story" out of the way, I would really like to see the next step for this new hero group. I really hope this isn't a franchise that just sits around now, and we have to wait several years before a sequel is announced (The Incredibles, for example).
I think that I would give this film an 8 out of 10. It has a really good story, despite it being borrowed from any number of superheroes. Combining that with great characters, particularly a big poofy, white robot, really makes for an entertaining movie. Add to that the great animation quality of Disney, and it is a sure fire winner for both children and adults. Just don't try to analyze the story too much, and enjoy being a kid for about an hour and a half! One final note: the animated short before, Feast, was great as well. I look forward to those almost as much as the main movie itself.
Her Movie Review of Big Hero 6:
Big Hero 6 is a computer animated film from Walt Disney Pictures, directed by Don Hall (Winnie the Pooh (2011)) and Chris Williams (Bolt), starring the voice talents of T.J. Miller, Damon Wayons Jr., Maya Rudolph, and Alan Tudyk. The film was inspired by the Marvel comic books of the same name.
Going into the movie, I didn't really know what it was about, nor was I familiar with the comic books at all. All I knew was what I had seen in the two scenes that have been shown as part of the previews when we have gone to see movies over the past year or so: the scene where Hiro forces the armor on Baymax, and the scene where Hiro tries to report a crime at the police station, with a leaking Baymax in tow. Those scenes seemed funny enough, and considering that I love both Disney movies and Marvel movies, I decided to give it a chance.
Big Hero 6 takes place in the city of San Fransokyo (a hybrid of San Francisco and Tokyo), and tells the story of a 14-year old genius named Hiro who has already graduated from high school at the age of 13. Rather than go on to college, he has elected to devote his time to creating robots for illegal bot fighting. However, Hiro's older brother, Tadashi, figures out a way to get him interested in wanting to go to college after all, specifically, Tadashi's "nerd college" of San Fransokyo Institute of Technology (SFIT). In order to get into the school, he has to come up with a project to put on display at the annual exhibition. He invents microbots, and is invited to attend SFIT. However, soon after, his microbots are lost in a tragic fire at SFIT — or so he thinks.
Hiro discovers that someone has stolen his microbots and is manufacturing more. With the help of the personal healthcare robot named Baymax that Hiro's brother Tadashi created, along with Tadashi's college friends Wasabi, Honey Lemon, Fred, and GoGo Tomago,  they use their super smart brains to come up with superhero weapons and outfits. They come together as a team to track down the culprit, so that they can take control of the microbots away from him.
However, there's a lot more to the story than that, but I have left out some important events that come up throughout the movie, so that I don't spoil it for you in case you haven't seen it yet!
I was pleasantly surprised with Big Hero 6, considering that I had little interest in it going into the movie. The film is slightly on the longer side for animated movies, clocking in at 108 minutes (1 hour and 48 minutes), whereas most animated films are typically around the 90 minute mark, but that didn't bother me at all. I felt that the time was used wisely, and never felt like it was dragging at all. Visually, the movie looked amazing, and it was really interesting to see the way that they combined the cities of San Francisco and Tokyo, as you could easily identify elements of each city blended into one.
The storyline itself is simple enough, though actually had a couple of surprises. Although it seems like more of a movie for kids, it feels like a film that both children and adults can enjoy. Indeed, there are a couple of scenes that only an older audience will get! Like most Disney movies, there's definitely humor in the movie, though more subtle, and not over-the-top, and there are also a few emotional scenes. As for the characters, they were enjoyable for the most part, although a couple of them felt a bit stereotypical. On the bright side, despite the fact that the movie blatantly refers to Hiro and his friends as "nerds," it makes it feel like nerds are cool. But then, isn't it the consensus with kids these days that nerds are cool?  I also like the fact that the team was made up of both male and female characters.
In any case, I like the message that the movie sends, that if you want to do something, that's it possible to achieve your goals. All you have to do is put your mind to it and work hard. Then maybe you can end up going to "nerd college" one day and changing the world.
All in all, a cute, humorous movie that's fun for all ages, and has a lot of heart.
My rating: 8/10.
P.S. If you're a Marvel fan (and even if you aren't) make sure you stay after the credits for a fun scene!
P.P.S. I also loved Fetch, which was the short film screened before Big Hero 6! If you're a dog lover, you'll love it too.