The 8th annual Long Beach Comic Con takes place at the Long Beach Convention Center this weekend, September 17-18, 2016! The convention will host over 150 guests, 100+ panels, a huge artist alley, and numerous vendors! Read on for some of the Long Beach Comic Con 2016 highlights.
Some of the celebrity guests include Nathan Fillon, Adam Baldwin, Summer Glau, Sean Maher, and Jewel Staite, who you'll know from Firefly, as well as Kevin Conroy and Loren Lester, the voices of Batman and Robin in Batman: The Animated Series! Click here to pre-book celebrity photo ops.  Many comic book writers and artists will be in attendance, including Marv Wolfman (New Teen Titans), Brett Booth (New 52 Teen Titans), Georges Jeanty (Buffy the Vampire Slayer), Todd Nauck (Young Justice), and Jimmy Palmiotti (Harley Quinn), just to name a few.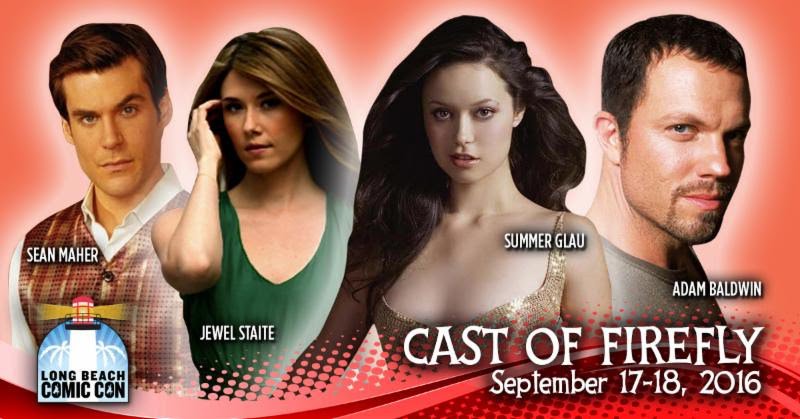 Saturday, September 17 Highlights
Fiery Heroines, Rumble Room (S7), 10:30am – 11:30am Authors and Actors discuss what it takes to create strong heroines that leap off the page, inspire and triumph in spite of realistic flaws with Jenna Lind (Spartacus: Blood and Sand), Rebekah R.Ganiere (Fairelle Series, President of Fantasy, Futuristic & Paranormal, RWA Chapter), Katrina Law (Actress-Arrow), Gigi Edgley (Actress-Farscape, Star Trek Continues), Karan Ashley (Actress-Mighty Morphin Power Rangers – Yellow), Moderator James Ganiere (Chief Editor Fallen Angel Press, CEO-Rio Vista Universal).
Doctor Who related panels, Cardiff (Long Beach Public Library), 11:30am – 4:30pm "You May Also Enjoy…"  11:30am – 12:30pm (discussion of British sci-fi and fantasy TV series); History of TARDIS Props, 12:30pm – 1:30pm; Doctor Who LIVE!, 1:30pm – 2:30pm (comedic actors improvise an episode of Doctor Who); The Pseudoscience of Doctor Who, 2:30pm – 3:30pm; "My Nerdy Year" Live!, 3:30pm – 4:30pm (podcast recording focusing on the topic of Doctor Who)
BattleBots, Rumble Room (S7), 11:30am – 12:30pm In its 7th Season, this competition show features robots competing to take each other down in a series of rounds. This can't-miss panel features members from three teams that have competed during past seasons, and they are making themselves (and their robots!) available to answer your questions about what it's like to compete on the show, how they got into it, and the skills it takes to build your own robot that qualifies. Featuring The Disk O' Inferno, Splatter, Lock-Jaw, Invader, Escape Velocity, Bad Kitty, and SawBlaze!
G.I. Joe: Knowing is Half the Battle, Knerds of the Round Table, 11:30am – 12:30pm Michael Bell (Duke), Arthur Burghardt (Destro), Hank Garrett (Dialtone), Loren Lester (BBQ), Zach Hoffman (Zartan) and Morgan Lofting (Baroness) are top Hollywood voice actors from Hasbro's TV cartoon G.I. Joe and they're appearing on a live panel to tell the behind-the-scenes stories of how this timeless TV cartoon has stayed popular and endures to this day.
A Marvel-ous Universe!, Danger Room (S1), 12:00pm – 1:00pm Andy Park (Marvel Studios Visual Development Supervisor/Lead Concept Artist), Craig Kyle (THOR producer & creator of X-23), Brandon Easton (Agent Carter, Civil War II), and Nick Spencer (Captain America) discuss the Marvel comics and movies they are helping to shape and how it impacts the Marvel Universe in both aspects. Q&A to follow.
History of Teen Titans, Knerds of the Round Table, 12:30pm – 1:30pm Join Marv Wolfman (New Teen Titans, Teen Titans Go), Brett Booth (artist for Teen Titans, part of DC's New 52), and Jonboy Meyers (artist of Teen Titans: Rebirth) for a discussion about their influences, experiences and inspiration. Q & A to follow.
Pokemon (Go!), Rumble Room (S7), 1:30pm – 2:30pm Tara Sands (voice for Ritchie, Bulbasaur, Sammy Oak, Bianca and more), Craig Blair (Tracey and Giovanni) and Bill Rogers (Brock, Scott, Drew and more) discuss their roles in Pokemon, how it feels to be a part of the pop culture phenomenon and answer the real questions…do they play Pokemon Go, and what level are they on?
Batman: The Animated Series, Knerds of the Round Table, 1:30pm – 2:30pm In celebration of DC Entertainment's recently announced Batman Day, Kevin Conroy and Loren Lester reunite for this special panel, to revisit their roles as The Dark Knight and Boy Wonder.
DC Comics: Rebirth, Rumble Room (S7), 2:30pm – 3:30pm Find out what's new and upcoming from some of your favorite key DC Comics contributors Brett Booth, Jonboy Meyers, Jimmy Palmiotti and Marv Wolfman, whose unique voices add to the DC Comics experience!
Con Man, Knerds of the Round Table, 2:30pm – 3:30pm Join Nathan Fillion & PJ Haarsma as they talk about the awesome new Con Man game based on the wildly successful show of the same name! [9/15/16 UPDATE] Nolan North has been added to this panel!
The Star Wars Perspectives, Danger Room (S1), 3:00pm – 4:00pm Join Greg Weisman (Star Wars Rebels), Craig Miller (Director of Fan Relations for Lucasfilm from 1977–1980), Brian Miller (Star Wars artist), and Mike Mayhew (Star Wars comic book artist) as they discuss the different aspects of Star Wars that they have been involved in.
The Paranormal Experience Hosted by TAPS West Coast, Rumble Room (S7), 3:30pm – 4:30pm Travis Wester is Harry Spangler, one of the Ghostfacers from Supernatural, and he is joining TAPS West Coast, the REAL Ghosthunters, for a fact vs fiction campfire story that will be sure to thrill you! Check out evidence reels and participate in a Q&A.
Shiny! The Official Firefly Panel, Knerds of the Round Table, 3:30pm – 4:30pm Summer Glau, Adam Baldwin, Jewel Staite, Sean Maher, and Nathan Fillion get together for a rare look back at the fan favorite sci-fi classic TV series, Firefly
The Death of Superman Lives: What Happened?, Rumble Room (S7), 4:30pm – 5:30pm Join director Jon Schnepp and producer Holly Payne as they share some footage from the doc and do a Q&A with you.
The Arkham Sessions Presents: A Spotlight on Jimmy Palmiotti Featuring the Psychology of Harley Quinn, Danger Room (S1), 5:00pm – 6:00pm Join Dr. Andrea Letamendi, who has a Ph.D. in Clinical Psychology, and Jimmy Palmiotti as they discuss the intersection of psychology and comic books, specifically focusing on Harley Quinn.
Marketing & Promoting Your Indie Film and Webseries, Film Festival (S3B), 6:00pm – 7:00pm GeekFest and Chris Gore (Film Threat) team up to give you a one hour primer on how to best promote, market and use social media in your indie film crowdfunding campaigns and your film festival run! Learn from filmmakers who've found success selling their film on social media from concept to distribution. Chris Strompolos (Raiders of the Lost Ark: The Adaptation), Jon Schnepp (The Death of Superman Lives: What Happened?), Randy Van Dyke and Dave Edmundson (Geek Legacy), Brian Crewe (GeekFest Alum, Director)
Collider Heroes Live, Cosplay Closet (S4B), 7:00pm – 8:30pm Join Host Jon Schnepp (Collider MovieTalk) as he does a live "Collider Heroes" panel, set up just like his popular YouTube show, but with a live audience Q&A.
LBCC Cosplay Competition, Rumble Room (S7), 7:00pm – 8:30pm
LBCC Official After Party Celebrating 75 Years of Wonder Woman, Hyatt Regency Long Beach, 9:00pm – 12:00am Enjoy themed drinks and win raffle prizes as you watch your favorite artists draw their version of the Amazing Amazon. Each piece of artwork will promptly be auctioned off by the lovely Michelle Jensen, founder of Nerd Out App with the majority of the proceeds going to the Hero Initiative.
Sunday, September 18 Highlights
Wonder Woman Turns 75, Knerds of the Round Table, 10:30am – 11:30am Wonder Woman turns 75 and we're celebrating with a special panel featuring the Voice of Wonder Woman, Susan Eisenberg and Cat Staggs, artist of Wonder Woman '77.
The Artists of DC Comics, Danger Room (S1), 12:00pm – 1:00pm Brett Booth (Flash), Colleen Doran (Justice League 3001), and Cat Staggs (Wonder Woman '77, Adventures of Supergirl) talk about their projects at DC Comics, and what it means to have the opportunity to draw some of the most iconic characters ever created!
Darwyn Cooke: An Oral History, Knerds of the Round Table, 12:30pm – 1:30pm A celebration of the late Darwyn Cooke: Join Jimmy Palmiotti and Frank Tieri while they host some professional and personal friends of Darwyn's and share intimate stories about the legendary artist and his wonderful career from TV animation to comic book giant.
Young Justice: Panels to Pixels, Danger Room (S1), 1:00pm – 2:00pm Greg Weisman, Peter David, Todd Nauck and Kevin Hopps discuss everything Young Justice from the comics to the animation.
The Art of Voice Over (as Told By the Best!), Knerds of the Round Table, 1:30pm – 2:30pm Join the discussion as top voice over artists Troy Baker (Uncharted 4), Phil LaMarr (Hermes, Samurai Jack, Green Lantern), Tara Jayne Sands (Pokemon), and Kevin Conroy (Batman) talk about what they're working on, how they got into the business and their favorite part about it! Q&A to follow.
Let's Get Fashionably Nerdy, Smallville (S3A), 1:30 – 2:30pm Talented fashion designers will talk about their lines and how to dress fashionably while expressing yourself and the things you love. Moderated by Stephanie Pressman (Fashionably Nerdy) with Panelists: Katie Elhoffer (Elhoffer Designs), Jinyo (Gold Bubble Clothing), Tiffany Mink (Whosits & Whatsits), Tony B Kim (Hero Within), Xander Jeanneret (Fashionably Nerdy), Bonnie Gordan (Fashionably Nerdy).
DBZ: Light of Hope, Knerds of the Round Table, 2:30pm – 3:30pm Join the 'Dragon Ball Z: Light of Hope' cast and crew from Robot Underdog for an exclusive look at the upcoming episode! The creators discuss "behind the scenes" and share set footage from Episode 2. Plus the cast and crew do a Q&A with the fans! And don't miss their signing directly after the panel until 5pm at the GeekChic Promotions booth #1009 on the exhibit floor!
Severus Snape & the Marauders – Screening & Meet the Cast, Film Festival (S3B), 3:00pm – 4:00pm The creators of the biggest Harry Potter fan film 'Severus Snape & the Marauders', are coming to Long Beach Comic Con! The film took the internet by storm with articles in Buzzfeed, Entertainment Weekly, MTV, IGN, Elite Daily and more. Talk to the cast and find out about the journey of the film, from legal scares and weather troubles, to working with a full 65 piece orchestra and artists from around the world to make the film as standout as possible! We will have a screening with LIVE commentary from the cast, a Q&A, and give away a few prizes!
Space Goat: Evil Dead 2 & Beyond, Knerds of the Round Table, 3:30pm – 4:30pm Evil Dead Fans Rejoice. Space Goat is bringing Ash and a mess of Deadites to the gaming table with their new Evil Dead 2: the Official Board Game. This visual presentation and lively discussion with Space Goat team Dave Olbrich (VP of Space Goat), Taylor Smith (Game Designer), and Frank Hannah (Evil Dead 2 Series Writer) will feature exclusive sneak peeks into the future of Space Goat board games and comics. Also meet the team behind award-winning Monster Elementary (Nicholas Doan, Gwendolyn Dreyer), Space Goat's newest all-ages graphic novel. Surprise Guests! All things Space Goat Publishing, prepared just for you! Certified Groovy!
All Weekend
Space Expo: The Columbia Memorial Space Center is once again partnering with Long Beach Comic Con for Space Expo 2016. Panels will be held featuring engineers and scientists from NASA's Jet Propulsion Laboratory (JPL), and there will be interactive exhibits in the Exhibit Hall featuring robotics, 3D printing, and even a spacesuit.
GeekFest Film Fest: Screenings of full length feature films, short films, web series and fan films all day each day in Room S3B, which you can vote on throughout the weekend, and ending with an Awards presentation with special guests on Sunday afternoon
#MakeComics workshops where aspiring writers and artists can learn from comic book pros
Cosplay: Vegas Power Girl as well as other cosplayers and cosplay groups will be in a section of the Exhibit Hall devoted to cosplay, called Cosplay Corner. Additionally, there were be panels throughout the weekend focused on cosplay.

If you will be cosplaying, take note of the following cosplay group photo meetups:
Saturday
2:00pm DC
4:00pm Fallout
5:00pm Marvel
Sunday
2:00pm Disney
Hours
Saturday: 10:00am – 7:00pm (9:30am for advance ticket holders)
Sunday: 10:30am – 5:00pm (10:00am for advance ticket holders)
Tickets
If you don't already have tickets, you can click here to buy them online at $55 for a weekend pass, $35 for a Saturday ticket, or $30 for a Sunday ticket. If you wait until the day of, you can buy tickets at the door at $60 for a weekend pass, $40 for a Saturday ticket, or $35 for a Sunday ticket. Children ages 10 and under are free with the purchase of an adult admission (limit 2 per adult).
Click here to download the full program guide, which includes a map, or click here to download just the panel schedule. More details at longbeachcomiccon.com
If you're curious to see our past coverage of the show, click here for our reports on Long Beach Comic Con 2015!
Will you be attending Long Beach Comic Con 2016 this weekend? Have you ever attended Long Beach Comic Con before? Let us know in the comments below!