Dwayne "The Rock" Johnson made an appearance on the Hot Topic Main Stage at Stan Lee's Los Angeles Comic Con on Saturday, October 28, 2017. His was the final Main Stage panel of the day, and the standing room only audience was the most crowded I'd ever seen it. People were packed to the point where you could barely move. But before the Rock came out on stage, Stan Lee himself made some introductory remarks, welcoming the Rock, and then the two of them took a selfie together.
The Rock came out to chants of "Rocky! Rocky! Rocky!" Then he did one of his signature moves, exclaiming, "Finally! The Rock has come back to LA Comic Con!" The crowd went crazy.
Once things calmed down, the moderator asked the Rock what was the nerdiest thing about him in high school. He struggled to find an answer, getting shouts from the audience (such as "Tooth Fairy" which made him laugh). Eventually, he declared, "It doesn't matter!"
The Rock then went on to talk about Jumanji: Welcome to the Jungle. He said that he had seen the original, and when they came to him with the idea of making a new one, he loved it, and thought it was an opportunity to introduce Jumanji to a whole new generation. The Rock said that he thought they made a good movie, and that people have been loving it in early screenings. Most importantly, it was his personal way to pay homage to the man who created the Jumanji magic to begin with, Robin Williams.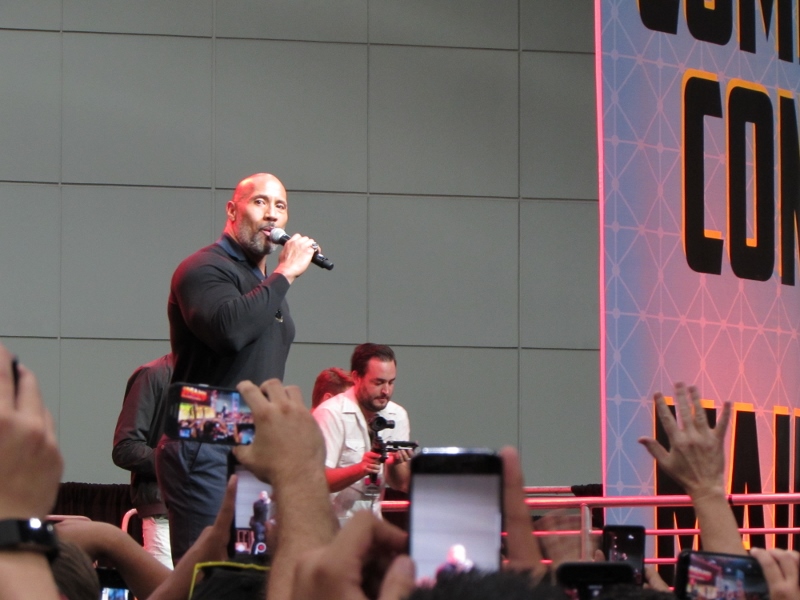 The Rock's character in  Jumanji is Dr. Smolder Bravestone, who has the ability "to smolder." He gave a quick rundown about the character being a terrified teenager trapped in "this body" (which got some squeals from the audience), and "long story short, I need carbohydrates."
The moderator pointed out that The Rock also appears on HBO's Ballers, and that Jumanji  is his third feature film coming out this year. So he asked if the Rock sleeps, to which the Rock admitted that he needs more sleep.
It got down to the moderator's last question, but the Rock said they should let the people ask some questions. He asked the audience who had a question, and many hands went up, but he said "ladies first!" The Rock called on someone, who asked if she could take a picture with him! He sounded a bit dismayed that she didn't ask an actual question, but obliged and asked her to throw him her phone.
Another question was if he could wrestle anyone today, who would it be? The Rock answered three guys: Triple H ("The Game"), Brock Lesnar, and Roman Reigns.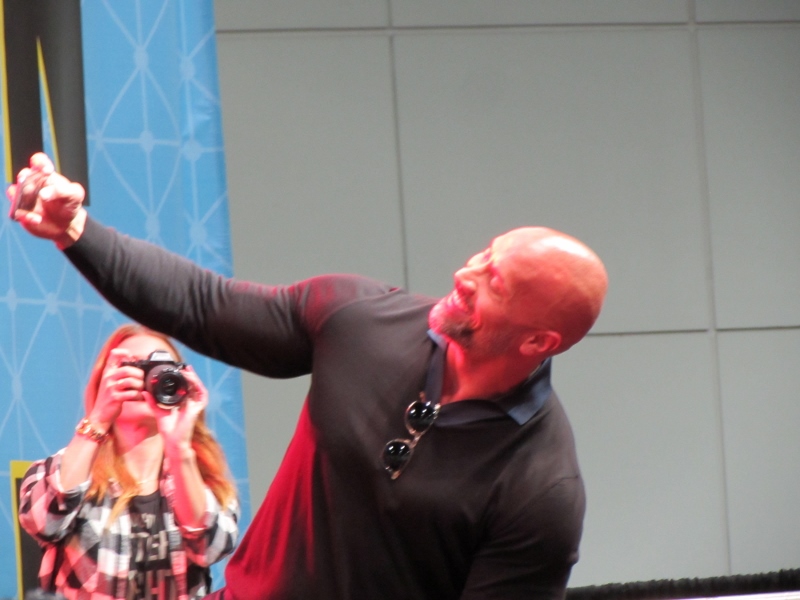 Another lady asked him to sign her arm, because she wanted to get it tattooed. He said he would take care of that, but asked if there were any women who had an actual question.
A woman asked if he would come to the WOW (Women of Wrestling) ring that was at the con and wrestle her. But he replied, "No, you'd kick my ass!"
Another audience member asked if he was going to run for President. He laughed, and the crowd began chanting, "Rocky! Rocky! Rocky!" Finally, The Rock replied, "I think 'The People's President' has a really nice ring to it."
The Rock went back to the moderator to ask his final question, which was who were his favorite action heroes growing up. His answer was Harrison Ford, John Cena, Sylvester Stallone, Clint Eastwood, and Arnold Schwarzenegger. When he first broke into Hollywood in 2000 and did The Mummy Returns, all those guys were very gracious and welcoming to him, and he'll never forget that. So he wanted to pass along the message to "always be good to people when you're coming up in life, because you never know what's going to happen down the road." He added that he grew up in a family of professional wrestlers, and those guys were his heroes.
The moderator then mentioned that The Rock brought a clip with him to show us. The Rock started jokingly introducing the clip as, "This is a porn I made back in college…" But then he properly introduced it as a behind the scenes clip that gives you an idea of what the movie is all about. The clip was released online shortly thereafter. You can watch it below.
That about wrapped up the time for the panel, but before he flew off to Vancouver to shoot his new movie, Skyscraper, there was something he wanted to do first, which was film a video for his Instagram. The plan was to point the phone toward the backdrop, while everyone remained quiet and the Rock made comments about no one showing up to see him at Comic Con. But then he was going to say there's no one there because they're all behind him, then was going to turn around and point the phone at the audience, who would then cheer. So he started filming the sequence, and someone cheered when they were supposed to be quiet. The Rock immediately stopped, and jovially asked "Who did that?!" He then had to start all over again, but this time the audience got it right. But then The Rock said he forgot to press the record button! However, he was only joking.
The Rock thanked the audience for the love, saying that he appreciated everyone, and that this kind of interaction is the best part of his job.
And so ended our Saturday at LA Comic Con 2017, which had started very early that morning. But we would be back on Sunday — and this time we would be cosplaying! Click here to read about our Sunday experience.
You can view more of our photos of The Rock at LA Comic Con 2017 below.