San Diego Comic-Con ("SDCC"), which takes place every July, isn't a convention that you can just decide to go to last minute. Attendance is limited to 130,000, and it sells out months in advance every year. Plus, getting a badge is only one of the obstacles you must face. You'll need to be vigilant practically year round in the time leading up to each year's convention. So we've put together a guide to let you know things you need to do and important milestones you should be aware of if you're thinking about attending.
1. Get a Member ID.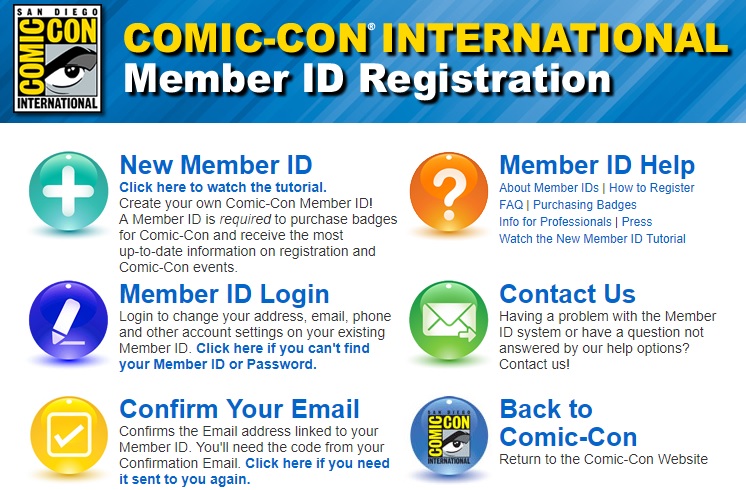 This is a requirement. You can't even attempt to buy badges for SDCC without a Comic-Con International ("CCI") Member ID. It's free and easy. Just go to the Member ID site, make up a user name and password, and enter your contact info. Make sure you are opted in for all emails from CCI, because this is how you will receive notifications about important dates. If you don't already have a Member ID, sign up for one now, because there will be a cutoff date for Member IDs that are eligible to purchase badges, and it will not be announced in advance.
2. Returning Registration
There are two opportunities to purchase a badge for each year's SDCC. You usually aren't given much advance warning of the badge sale dates, sometimes as little as 4 days. But the badge sales always take place on a Saturday.
Returning Registration (formerly known as "Preregistration") is the first badge sale. It typically occurs in the Fall prior to the next SDCC, though it can also take place as late as Spring. One time it was in August, just a couple weeks after that year's SDCC ended!
Only paid attendees of the immediately prior SDCC may participate in Returning Registration for the following year's SDCC. For example, only a paid attendee of SDCC 2017 would be eligible to participate in Returning Registration for SDCC 2018. However, if you are a newbie who has never attended SDCC, you would not be able to participate. But just because you were a paid attendee does not guarantee you a badge for the following year. Only a limited (unknown) number of badges are available during Returning Registration.
You start out in a waiting room, which you log into with a unique personal registration code, and then little by little, attendees are randomly selected for a registration session. If you make it into a registration session, you may buy badges for up to three total people who have eligible Member IDs, including yourself. However, you also have the option of not buying a badge for yourself and instead buying badges for three people other than yourself. This latter option usually comes into play when you're working with a buying group, and someone in the group has already bought a badge for you, which then leaves you with three open spots to buy for others in your group.
Badges typically sell out in the following order: Preview Night, Saturday, Friday, Thursday, Sunday. (However, Sunday sold out before Thursday in SDCC 2017 Open Registration.) You can only buy Preview Night if you also buy badges for all 4 of the other days.
Below are the badge prices for SDCC 2018, which will be the same for Open Registration:

If you are unsuccessful in obtaining all of the badge days you wanted during Returning Registration, you may participate in Open Registration.
Returning Registration for SDCC 2018 already occurred on October 28, 2017. Below is the history of Returning Registration/Preregistration dates.
SDCC 2018 October 28, 2017
SDCC 2017 March 11, 2017
SDCC 2016 November 14, 2015
SDCC 2015 November 8, 2014
SDCC 2014 February 8, 2014
SDCC 2013 August 4, 2012
SDCC 2012 and prior: Attendees bought on site for the next year
3. Early Bird Hotel Sale
There are also two hotel sales. Note that both hotel sales are at convention rates that are significantly lower than if you tried to book a hotel independently. And that's if you're even able to book on your own at all, as many of the hotels block out the dates during SDCC.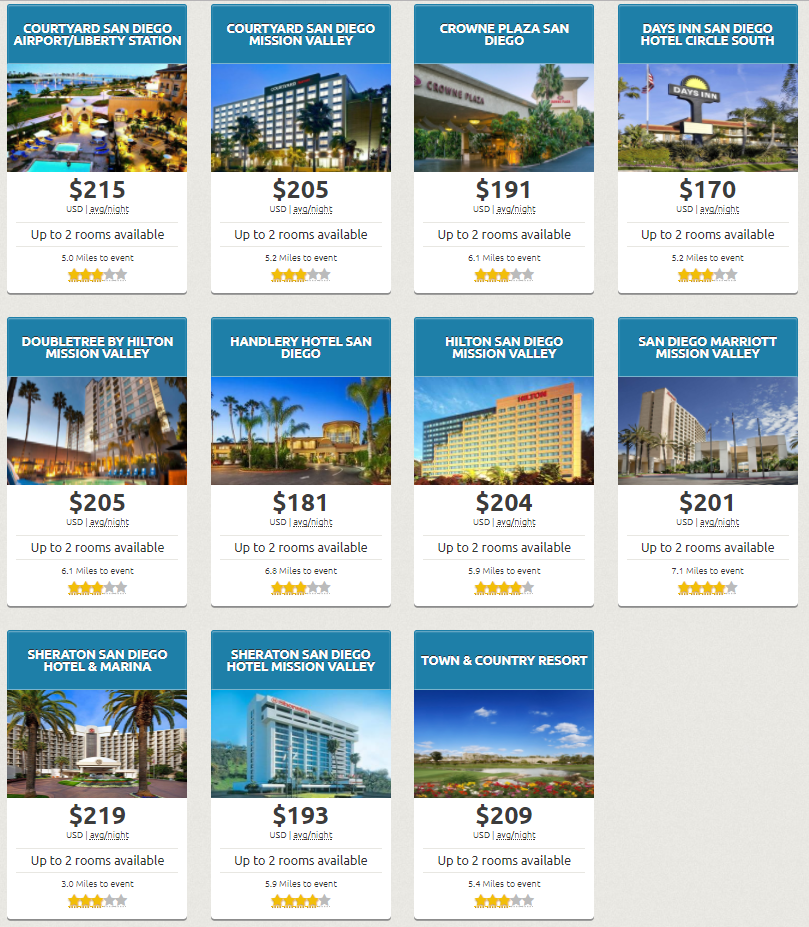 The first hotel sale is the Early Bird Hotel Sale. This sale becomes available after Returning Registration. However, it only includes a limited number of hotels, none of which are located downtown, where the convention center is. They are all in the Mission Valley or airport area, from which you would need to take a free shuttle provided by CCI or drive to the convention center. In some cases, the hotel may be close enough to take the trolley to SDCC.
Because the hotels are further away, they are not in high demand, so it is easy to secure one of these hotels. Unfortunately, distance is not the only drawback for the Early Bird Hotel Sale. You have to pay for your entire stay in advance, and there are no refunds.
On the other hand, these hotels include incentives, such as a discounted rate, free wi-fi, free breakfast, and free parking, depending on the hotel, which won't be available if you wait until the General Hotel Sale. So at least you'll get these bonuses and peace of mind that you have your lodging taken care of if you go this route. Hotel prices for the SDCC 2018 Early Bird Hotel Sale range from $170 to $260 per night.
The Early Bird Hotel Sale for SDCC 2018 already began on November 7, 2017. It is usually available for a few months, up until when the General Hotel Sale begins. Below is the history of start dates for the Early Bird Hotel Sale.
SDCC 2018 November 7, 2017
SDCC 2017 March 23, 2017
SDCC 2016 March 3, 2016
SDCC 2015 February 25, 2015
SDCC 2014 February 25, 2014
SDCC 2013 January 23, 2013
SDCC 2012 February 15, 2012
Some people like to book via AirBnB or other similar sites. But beware, the downtown locations can cost just as much, if not more, than downtown hotels during SDCC. If the price seems too good to be true, it probably is. Sometimes condo owners are unaware of SDCC dates far in advance and will cancel reservations closer to the con without warning so that they can increase the rate, which then leaves attendees scrambling to find a place to stay at the last minute. If you decide to go this route, make sure to confirm with the owner in advance that they are aware that your stay is during SDCC, so that you don't end up with any surprises.
4. Open Registration
If you're a newbie, this is the badge sale you'll be participating in. Open Registration is open to anyone with a valid CCI Member ID, unless you already obtained a badge for 4 Days + Preview Night in Returning Registration. As mentioned before, there will be an unannounced cutoff date for when you would have been required to have already registered for a Member ID. Any new Member IDs created after that time and date will not be able to participate in Open Registration.
Open Registration always takes place on a Saturday, and you are not given very much prior notice. It typically takes place in Spring. However, CCI has announced that it expects Open Registration for SDCC 2018 to take place before the end of 2017, which is surprisingly early! [UPDATED] On November 27, 2017, CCI announced that Open Registration for SDCC 2018 will be on Saturday, December 9, 2017.
Like Returning Registration, you may buy for up to three total people with eligible Member IDs, which may or may not include yourself.
It's much tougher to obtain badges during Open Registration, because so many more people are participating than Returning Registration. Joining a buying group can help your chances. Check out the Friends of Comic Con forum for more information about joining a buying group.
Below is the recent history of Open Registration dates.
SDCC 2018 TBA (sometime in 2017) [UPDATED] December 9, 2017
SDCC 2017 April 8, 2017
SDCC 2016 February 20, 2016
SDCC 2015 February 21, 2015
SDCC 2014 March 15, 2014
SDCC 2013 February 16, 2013
SDCC 2012 March 4, 2012
SDCC 2011 February 5, 2011
5. General Hotel Sale (aka "Hotelpocalypse")
This is the second hotel sale, and the one that most attendees participate in. That's because most attendees want to stay downtown, and the only way to get a downtown hotel without paying outrageous prices (such as $1,000/night) is through the General Hotel Sale, or what attendees have come to refer to as "Hotelpocalypse." Pricing for downtown hotels is generally around $300/night through Hotelpocalypse. But there aren't enough downtown hotel rooms to accommodate all attendees, so competition is fierce. The General Hotel Sale not only includes downtown hotels, but also hotels in the Mission Valley, airport, Coronado Island, Mission Bay, Shelter Island, and Old Town areas.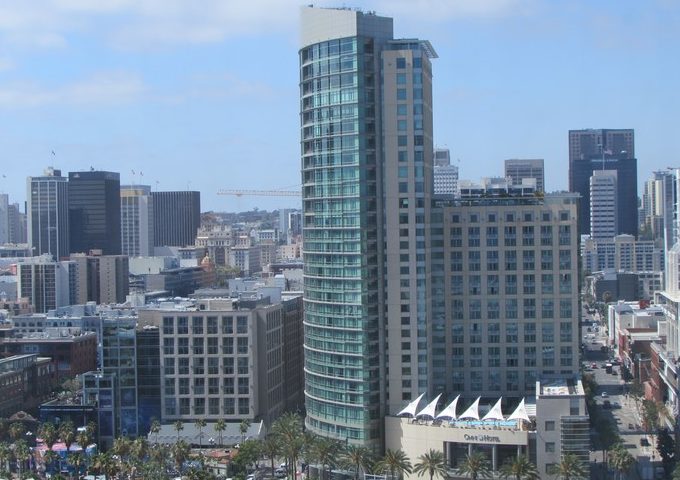 Although both Returning and Open Registration always take place on a Saturday, Hotelpocalypse always takes place on a weekday, usually Tuesday or Wednesday, in the Spring, after Open Registration has been completed.
How Hotelpocalypse has worked most recently is that you start off in a waiting room, then once you are randomly selected to be let into a session, you will pick your top six choices for downtown hotels and top six choices for non-downtown hotels. You may choose to select less than six hotels in each category, or even to not select any hotels in one of the categories.
However, you will not know right away which hotel you got. The hotel booking company, onPeak, will notify attendees via email in waves as to which hotel they were assigned, which may be a few days later, or a couple weeks later. If you want to book at that hotel, you will then have a limited amount of time to make a two night deposit on the room. The remaining nights will be charged by the hotel upon completion of your stay. There will be predetermined cancellation cutoff dates for a full refund and a one night refund.
If you are unhappy with the hotel you were assigned to, you don't have to follow through with the booking. You can wait until the "waitlist" is opened up and take your chances with any unbooked/returned hotel inventory then. Sometimes downtown hotels pop up on the waitlist.
Click here to see the General Hotel Sale prices for SDCC 2017, which ranged from $178 to $392 per night. Below is the recent history of Hotelpocalypse dates.
SDCC 2018 TBA
SDCC 2017 April 26, 2017
SDCC 2016 April 5, 2016
SDCC 2015 March 24, 2015
SDCC 2014 April 8, 2014
SDCC 2013 February 26, 2013
SDCC 2012 March 29, 2012
SDCC 2011 March 9, 2011
6. Parking Lottery
If you'll be driving in to SDCC each day, you'll need to pay attention to the Parking Lottery, which is run by ACE Parking. If you don't pre-purchase a parking pass, you could find yourself spending a significant amount of your con time driving around downtown looking for parking. (Note that if you will be driving in and staying at a downtown hotel, the Parking Lottery does not apply to you, as your hotel will provide a parking space for you.) Since CCI is not in charge of this, they don't usually alert attendees about it, so you'll need to monitor ACE Parking's website and social media to find out when the Parking Lottery is.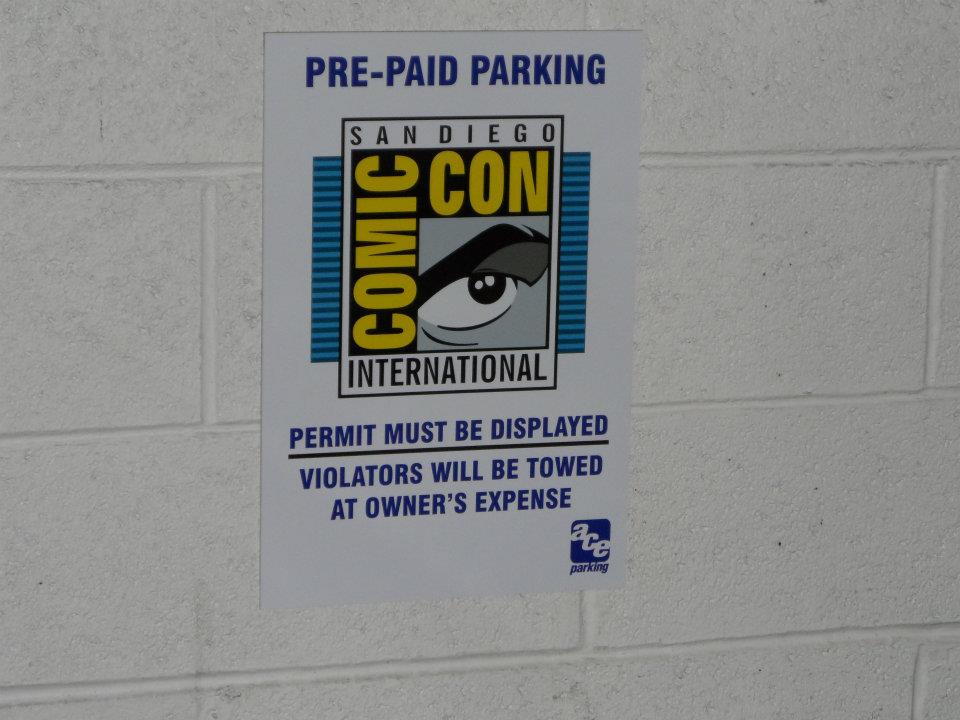 There will be a window of time, usually in the Spring, during which you can submit your email address as an entry into the lottery. The window for SDCC 2017 was March 20-April 24, 2017. After the window closes, ACE will randomly select lottery winners and assign group numbers to them. There are usually about 6 groups. Each group will have a window of a week to purchase a parking pass. Convention Center parking goes the fastest, followed by the Hilton Bayfront parking garage, as they are not only the closest to the convention center, but also the least expensive. After all groups have had a chance to purchase a parking pass, then parking is opened up to the public.
Prices range from $20-$60 per day, depending on the parking location that you purchase. Overnight parking is not permitted.
7. Other Ways to Get a Badge for SDCC
The deadlines for these options for SDCC 2018 have already come and gone, but you might want to keep them in mind for SDCC 2019.
Volunteer. Each day that you volunteer to work a 3 hour shift, you get a free badge for that day. If you volunteer for a pre-con shift, you can choose which day you would like to have a free badge. However, priority for those who may volunteer is given to those who completed a volunteer assignment at the previous SDCC. Usually in the Fall, a Volunteer Interest List will open up for a limited amount of time for new volunteers to sign up. After the Priority Volunteer registration has been completed for returning volunteers, then registration for those that signed up for the Interest List will open on a first come, first served basis until the volunteer program reaches capacity. Interest List signup for SDCC 2018 has already been closed for awhile, and Priority Volunteer Registration has recently closed. Registration for those who signed up for the Interest List will take place on November 16, 2017. Below is the Volunteer timeline for SDCC 2018.
SDCC 2018 Volunteer Interest List Open September 18-19, 2017
SDCC 2018 Priority Volunteer Registration October 30-November 10, 2017
SDCC 2018 Volunteer Interest List Registration November 16, 2017
Apply as a Professional. There are two types of Professional badges: (1) Creative Professionals and (2) Trade Professionals. Creative Professionals are writers, artists, and others who work creatively in the industry. Those approved as Creative Professionals will receive a complimentary SDCC badge. Trade Professionals also work in the industry, but on the business side, and those approved for this category may purchase a SDCC badge (rather than receive it for free). The deadline for SDCC 2018 Professional applications was August 16, 2017.
Apply for a Press badge. If you're a media writer, photographer, podcaster, broadcast media reporter, or documentary filmmaker, you may qualify for a complimentary Press badge. The SDCC 2018 Press application period was open September 13, 2017 through November 3, 2017. The Press application period typically is open during the Fall, but has happened as late as Spring.
There are a lot of other details that go into planning to go to San Diego Comic-Con, but these are the major ones that we thought you should know about. We try to keep you informed of important dates throughout the year and provide you with SDCC tips, so you might want to keep us bookmarked! If you have any questions, feel free to ask!
Below are other helpful resources when it comes to SDCC planning:
Comic-Con International official website
Comic-Con International's Toucan Blog
SDCC Unofficial Blog
Crazy4ComicCon
Friends of Comic Con forum
An Englishman in San Diego
The Geekiary
The Nerdy Girlie
The Nerd Fu
Nerdophiles
San Diego Comic-Con 2018 kicks off with Preview Night on July 18, which is followed by four full days of programming July 19-22, 2018.