The Los Angeles Times put on the Hero Complex Film Festival Friday, May 30, through Sunday, June 1 at TCL Chinese Theaters in Hollywood. Friday kicked off with a screening of the Battlestar Galactica miniseries, which we attended and will post an article about soon. Saturday morning we were back again for an advance screening of How To Train Your Dragon 2 (you can read our review of the movie by clicking here), which was followed by a discussion with the film's writer/director and a couple of the actors! Read on for our recap and pictures from this special event.
Gina McIntyre, the editor of Hero Complex, served as moderator for the How to Train Your Dragon 2 Q&A panel, which included writer/director Dean DeBlois, and actors Jay Baruchel (who plays Hiccup) and America Ferrera (who plays Astrid).
DeBlois said that they used The Empire Strikes Back as their "tonal model" when making this sequel, and in considering the scale to which they were going to expand upon the first film.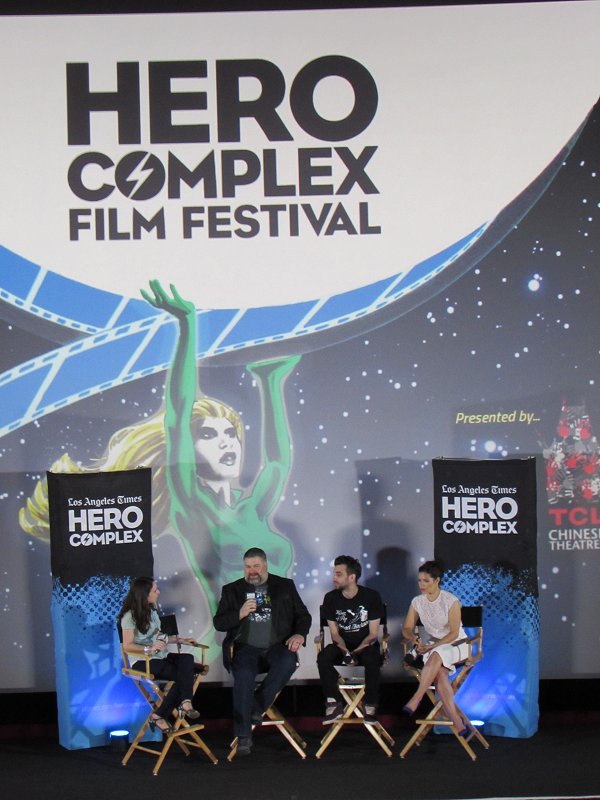 Baruchel spoke about how Hiccup has been a part of his and Ferrera's life consistently for the past 7 years. Ferrera then talked how she and DeBlois had discussed how her character, Astrid, would have changed over the past 5 years, as well as how Astrid and Hiccup's relationship would have evolved, and referenced a quote from the movie where Gobber says they're "getting it on," and she made sure to emphasize that "They're not getting it on — on camera, anyway, not on screen." Baruchel quickly interjected, "Nor off screen!" humorously referring to Ferrera and himself. Ferrera also pointed out that Astrid isn't sitting around waiting for Hiccup to pop the question, she's more interested in going out on adventures with Hiccup. Ferrera said that she thinks it's awesome that young boys and girls are growing up assuming that strong female characters are the norm.
DeBlois told us that he had Cate Blanchett in mind when he wrote her character, and told us the story of how he got her involved in the film: he simply walked up to her at a cocktail reception and told her that he wrote a part for her in How to Train Your Dragon 2. He told her a little more detail about the character, and she asked him to send her the script. It also helped that her sons were huge fans of the first film.
McIntyre asked the actors about their interactions with young fans, and Baruchel talked about how his friends with kids will tell their children that Hiccup is coming over, and then when he shows up they're disappointed. However, he said he makes up for it by leaving voicemails on their phones, saying things like "Hear you like dragons, come hang out on Berk." He went on to joke, "There's nothing like seeing a kid expecting to see one of their heroes and then seeing me!" Ferrera added, "They're even more confused when someone tells them that I'm Astrid." Ferrera also said that there are also a lot of adult fans.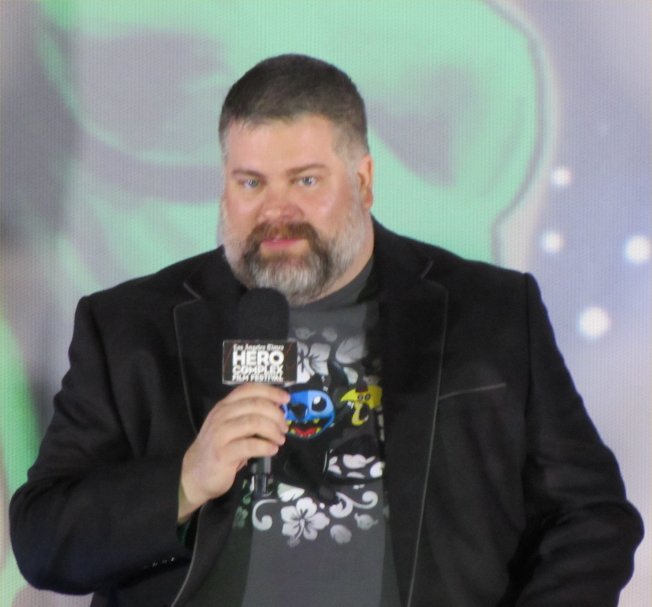 When asked how he approaches handling the dark moments in the movie, considering the large number of younger fans, DeBlois explained that it's tricky,  but in the end he makes the movie that he would like to see, explaining that when he was a kid, the movies that were on the darker side are the ones that tended to stay with him. However, he pointed out that even when there's a sensitive moment, there's at least some fun going on, and they try to keep it balanced. DeBlois also talked about how they had to sort of reinvent the concept of a dragon in movies, considering that at the time they were making the first film, the last dragon movie was Eragon. They tried to make the Toothless seem organic and symbiotic, and like a pet that you almost believe you could really have.
As for the film being in 3D, DeBlois said that whenever a film is converted to 3D, he feels like it's a "money grab," but this film is authored in 3D, and they organically engineer it into scenes, both in kinetic ways, like when someone is flying on a dragon, and in subliminal ways, such as to add depth and to draw the audience in. "When it's a storytelling tool, it's great. When it's a gimmick that takes you out of the experience of watching the movie, that's when I check out," he explained.
Regarding the isolation that often comes from voice work, Ferrera said that she and Baruchel actually got to work more on the first film together, and were able to do a couple of joint recording sessions. However, with this film, they only recorded one scene together, which was the scene early in the movie when they are imitating each other. Baruchel recalled, "That was the only scene I did with another actor. The rest of the time it was Dean pretending to be Cate Blanchett." However, Baruchel went on to say that Hiccup is the favorite part he's ever gotten to play.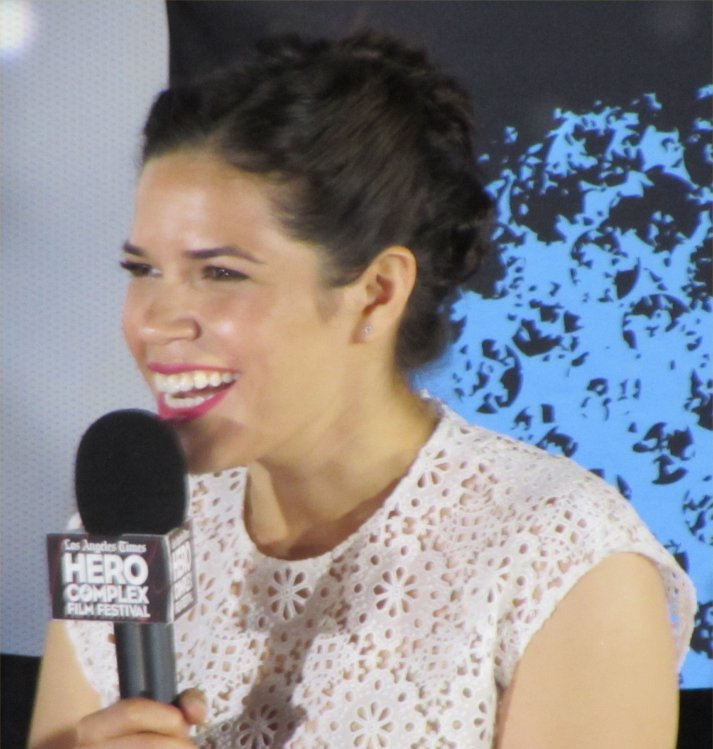 When asked about special moments in making the movie, Baruchel joked, "They always get me hamburgers!" He also praised Dean's efforts in coming in at the 11th hour and revamping things, so he knows what the original incarnation could have been, "So, thank God for Dean!" Also, the first time he saw himself flying Toothless, he got goosebumps. Ferrera chimed in that she was swept away when she walked out of the theater after the seeing the first film, thinking, "I cannot believe that's what I was a part of three years while I was recording my voice." DeBlois then revealed that Baruchel's and Ferrera's opinions actually shaped who the characters became, and that by now, they know the characters better than he does.
McIntyre inquired how much thought about a third film goes into the making of a second film, and DeBlois said that when he was first approached about a sequel, he asked if they would consider it being the middle act of three acts, so that it wasn't just some random made up problem. DeBlois said that he's been working on a running outline for a long time, and that he knows they're going to get to the point in Cressida Cowell's books where Hiccup is looking back on his life saying, "There were dragons when I was boy." How the dragons disappear and where they go is what the third movie addresses, but he will also make sure that threads from the first and second film are embedded in the third.
In terms of what they want their characters to accomplish, it was revealed that Ferrera thinks Astrid is going to become chief in the third film, though Baruchel says that he keeps telling her it's never going to happen. Baruchel said, "We're both excited to become chief, that's the answer to the question."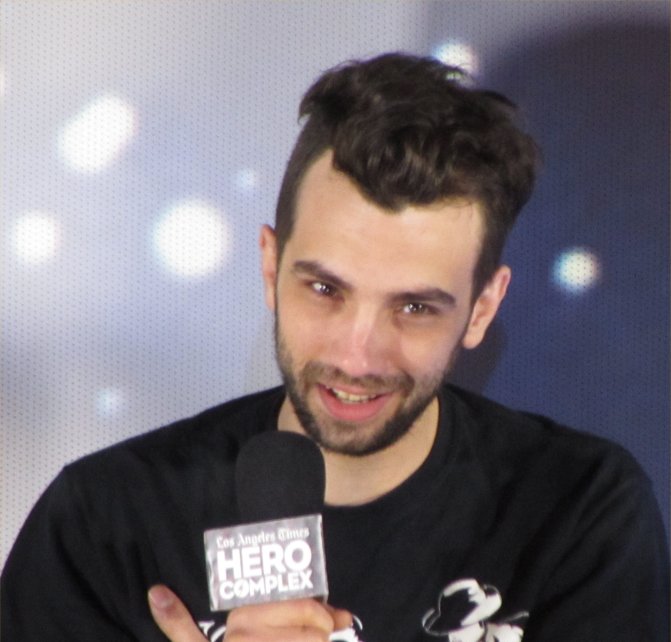 The panel was then opened to audience questions. The first person started out by praising Hiccup's new fire sword in the film, and DeBlois interjected to tell us the nerdy story behind it: Hiccup created this sword that harnesses the power of dragon fire so that when he encounters a hostile dragon, it will perceive him as one of their own. It's a dragon training tool, but if Hiccup needs to defend himself, since he's a pacifist, he can use it. The audience member went on to ask her question of the actors, which was what aspect of their characters they find most like themselves. Ferrera's answer was Astrid's competitiveness, while Baruchel answered, "This may come as a surprise, but I'm kind of a square peg," going on to tell us that growing up, all he wanted to do was read comics and play with this G.I. Joes, so he knows what it's like to be wired differently than everyone else around you, but to still feel a connection to them.
The next audience member put in a vote for baby Night Furies, and DeBlois responded, "Okay, thanks," to the laughter of the audience.   Another audience member asked DeBlois his favorite part in creating the sequel. He answered that they looked for inspiration in all sorts of things, for example, they took a six day snowmobile safari trip through an archipelago near the North Pole, but Baruchel insisted, "That's not true! None of that happened!" DeBlois then gushed about getting to work with the world's best, including composer John Powell, sound designer Randy Thom, cinematographer Roger Deakins, and even Steven Spielberg came by to see the movie several times and gave them notes.
Then Baruchel and Ferrera were asked what was their favorite aspect of their respective characters. Baruchel said that he likes how Hiccup is earnest, truthful, a "bleeding heart," a true believer, and "a person that history remembers," who is on the right side of history. Ferrera talked about how Astrid's compassion and loyalty really comes through in this second film.
Next, an audience member asked when Stoick's dragon changes from Thornado to Skullcrusher. DeBlois explained that it's covered on the TV series, which takes place between the first and second movies. The third season of the show, which will be released after How to Train Your Dragon 2 comes out, shows events leading up to the second film. Another audience member followed up by asking whether the series will match up to the movie, and DeBlois answered that he meets with the showrunners of the TV series every few months and they let each other know what they're doing and "make sure that we don't step on each other's toes."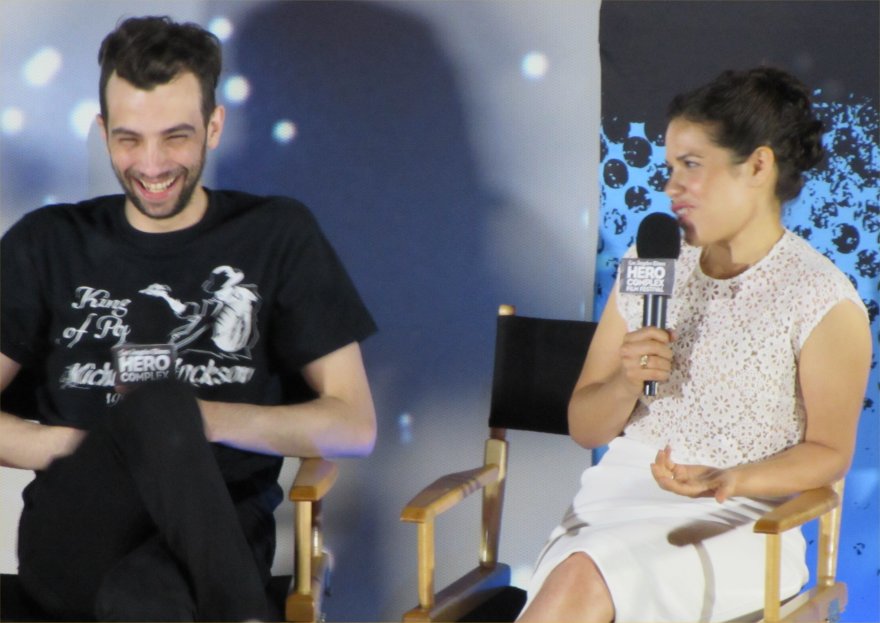 A teenage boy who makes short films then asked Baruchel and Ferrera for advice on how to get where they are. "Just do it. You just keep doing it." Baruchel said that he always comes back to something his mother told him: "Find something you would do for free, and find a way to get paid to do it." Baruchel opined that if you keep doing it, if it's something you're meant to do, eventually it will "hit critical mass" and someone will pay attention.
The final audience question was how DeBlois chooses his composer, from another teenage boy, interested in composing for films. DeBlois said that when he inherited the film, Powell was already attached, but he couldn't have been happier about it. DeBlois told us that Powell has a very meticulous manner of recording, and he tries to write for every member of the orchestra. He talked about how Powell and Sigur Ros frontmanYonsi worked together to compose the song that introduces Hiccup, and also the melody to the song that Stoick and Valka sing together, which Shane MacGowan from the Pogues wrote the lyrics to. At that revelation about MacGowan, Baruchel erupted in surprise, "What?! You never told me that!" DeBlois then went on to offer advice to the teen, telling him that he'll probably do a lot of free work in the beginning, but if he picks the right projects, he might get noticed.
With that the panel wrapped up, having lasted about 35 minutes.
How to Train Your Dragon 2 will be in theaters June 13.