Josh recaps Season 4 Episode 8 of Game of Thrones, titled The Mountain and the Viper, where we finally get to see the trial by combat! Also, the Wildings make their next move, Jorah is blindsided with some unexpected news, Theon helps Ramsay take Moat Cailin, and Sansa testifies about her aunt's death. Following the recap, both Josh and Violet share their thoughts about the episode.
Don't need the Game of Thrones episode recap for The Mountain and the Viper? Click here to jump directly to Violet's thoughts on the episode!
To see Josh's thoughts on episode 8 of Game of Thrones, click here to get directly there!
Episode Recap of Game of Thrones, Season 4 Episode 8: The Mountain and the Viper
The Wildlings Pillage and Murder Mole's Town–Castle Black seems Next
The episode begins with Mole's Town, and at a tavern, some of the patrons are having a good time it seems. But the town gets some unwelcome visitors, in that of the Wildings. They come in to pillage and murder, killing anyone they find. Ygritte is among the killers, who spots Gilly and her baby hiding–but has some compassion, letting her live. There is a lot of carnage going on here.
Back at Castle Black, several of the people there, including Jon Snow and Sam, are upset about the attack in Mole's Town. Sam is distraught that Gilly could be dead. Jon suspects Castle Black is next, and the men fret over dealing with the massive numbers difference, and their inevitable deaths.
Jorah is Banished for Being a Traitor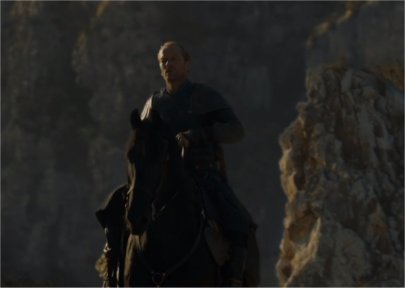 Meanwhile, on Daenerys' side of the world, Grey Worm is oogling Missandei, his language teacher.  Later, Messandei contemplates this with Daenerys, as the "unsullied" are castrated, and shouldn't being interested in that sort of thing.   Daenerys wonders if perhaps it wasn't "all" taken.  Missandei and Grey Worm run across each other again in Daenerys' temple, and Grey Worm apologizes for his wandering eyes.  It is clear that he is smitten with her, however.  Missandei apologizes for the castration he had to suffer, but Grey Worm is not too broken up about what happened, and explains it led to the events that have him meet her.  He sure is optimistic on life considering what he has had to go through.
A little later, Barristan receives a courier message.  It is not good news for Jorah.  It turns out to be a pardon for Jorah–from Robert Baratheon–in exchange for the spying on Daenerys he was supposed to be doing.    Barristan gives Jorah the courtesy of giving him a heads up, but Daenerys is not happy to hear the news.  She banishes him from her kingdom, without allowing him to explain.
Ramsay Snow Makes Father Proud, Taking Moat Cailin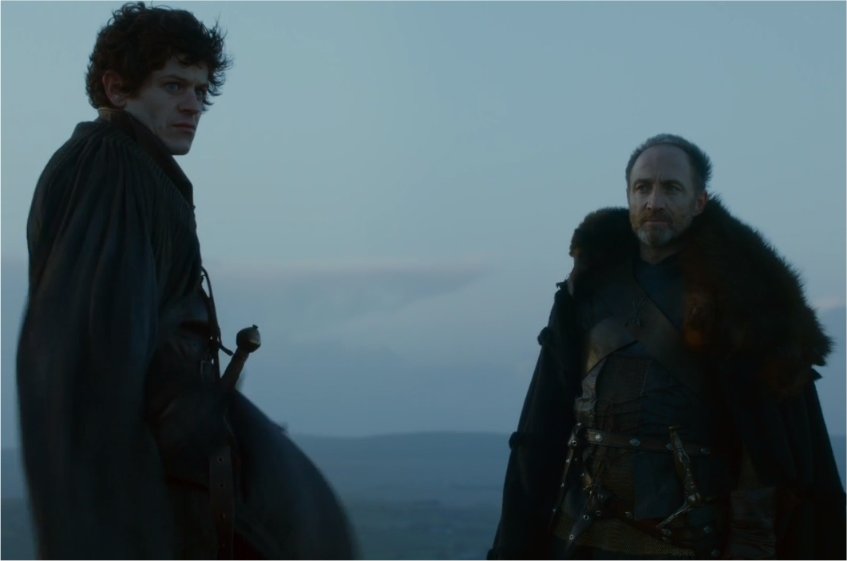 Outside Moat Cailin, Ramsay Snow gives Theon Greyjoy his mission, to demand the surrender of Moat Cailin.  He ensures that Theon remembers that he is still Reek though.
At Moat Cailin, Theon warns the Commander of the castle to surrender or face certain death.  The commander is a little worse for the wear, ailing from some illness which appears pretty serious.  He declines the offer for surrender, but his men aren't too keen on holding out, and murder him.  They offer to surrender given that they are allowed to live.  Theon reassures them.
Unfortunately, Ramsay had no plans to uphold the living part of the deal.  He murders everyone in Moat Cailin.  Theon doesn't seem too concerned with the death, and more concerned about not being beaten by Ramsay.  Ramsay is happy with Reek's performance, and so is Ramsay's dad, Roose Bolton.  Ramsay and Roose have a father-son moment
Roose Bolton allows Ramsay to take his last name, making him an heir.  Ramsay is happy to hear it.
Sansa is Learning to Play the Game–Littlefinger Continues His
Littlefinger, in the Vale, is being questioned by the Lords of the Vale regarding the death of Lysa.  They do not seem to be too trusting of Littlefinger, considering his dealings with the Lannisters.  The "tribunal" of sorts demand to speak to the girl that witnessed the execution, which turns out to be Sansa.  The tribunal has learned her name is Alayne, and do not know she is Sansa–yet.  They demand to know what she saw, and begins with telling them that she is Sansa Stark.  They are surprised to see her, and berate Littlefinger, but Sansa continues her story, and explains her horrible conditions in King's Landing.  She exclaims that Littlefinger saved her, and proceeds to explain that Lysa saw the innocent kiss Littlefinger gave to Sansa, and that Lysa went off on her.  She says that the death was suicide from jealously.  We then see Sansa and Littlefinger exchange glances–that are a little creepy.
Littlefinger and the Lords of the Vale meet, and all seems well between them.  Littlefinger decides it is time to have Robin see the world, and "leave the nest".  Sounds like this may be more for his own benefit than Robin's.
Returning to Sansa, Littlefinger asks why she helped him.  Sansa explains that she was protecting herself, because if Littlefinger was out of the picture, she may disappear.  Littlefinger then gives Robin a pep talk about getting out to see the world!  Robin seems afraid of the outside, but Littlefinger sure can be convincing.  Meanwhile, Sansa comes in, and seems to be trying to work her seduction magic on Littlefinger.  Apparently she has taken lessons.
The Hound May Not be Making Much Money Off of Arya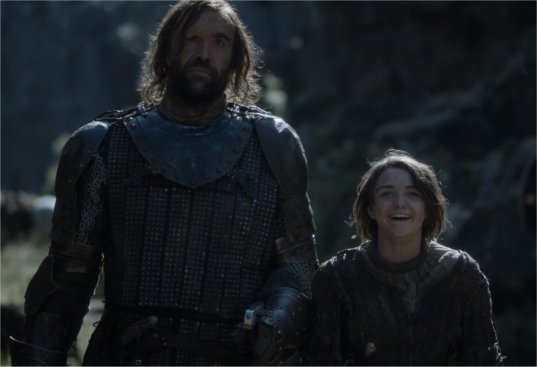 Meanwhile, the Hound and Arya have finally made their way to the Vale, and great guards of the Eyrie.  They ask to see Lysa, and the guards explain that Lysa is dead.  The Hound isn't happy to hear it, but Arya finds it quite amusing.
Oberyn and the Mountain Finally Fight
Finally, the climax of the episode is almost here!  Jamie visits Tyrion in his cell before the trial by combat.  They discuss Tyrion's chances, but seem undecided, and instead talk about the various types of murder.  Tyrion also discusses their cousin, Olson Lannister who was "simple" according to Jamie.  Tyrion tells Jamie of his obsession with trying to figure out what made his cousin a beetle-smashing maniac.  Tyrion explains his investigation of trying to figure him out, but never seemed to be able.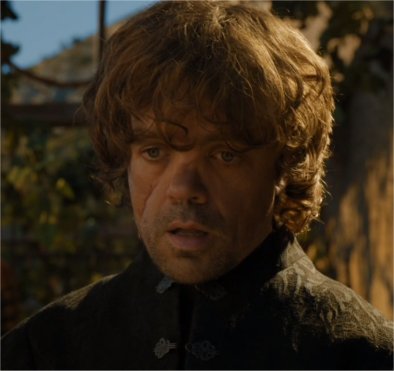 Finally, the trial by combat is here!  Oberyn and the Mountain are ready to fight.  Oberyn assures Elia that this will not be his final day.  And the fight begins, and it looks that Oberyn wasn't lying about living.  A much more agile Oberyn is able to evade the Mountain for the most part, dancing around him with his spear while the Mountain is only able to connect glancing blows on Oberyn with his gigantic sword.  Oberyn finally is able to impale the Mountain with his spear, and begins cutting him frequently across his body until the Mountain crumbles.  Oberyn isn't satisfied yet though, and demands that the mountain admit to killing and raping his sister.  Well, finally the Mountain does admit to it–after he crushes Oberyn's skull with his bare hands.  Tywin then makes no delay in issuing the verdict–Tyrion is sentenced to death.
Josh's Thoughts: Game of Thrones, Season 4 Episode 8: The Mountain and the Viper
This was a pretty big episode of Game of Thrones!  There was a lot going on, and I was expecting that the fight between Oberyn and the Mountain would be the only thing worth watching!  We see Sansa getting a little conniving, Littlefinger continuing is secretive, ambitious goals, Jorah being banished, Ramsay becoming a part of the family, and Arya cracking up all in the same episode! What else could you want?
I really enjoyed the scene with Sansa, as she weaved her half truths and lies together to basically ally herself with Littlefinger.  She seems to have picked up on his methods pretty quickly, and seems poised to use his own strengths against him.  This becomes readily apparently when she seems to be attempting to seduce Littlefinger towards the end of their scenes this episode.  It is a little creepy…
Poor Jorah though.  I really like his character, and am a little disappointed Daenerys gave him the boot.  She could have at least heard him out!  I am curious to see where Jorah plans on going, though.  He really doesn't seem to have many options.  King's Landing probably isn't going to throw out the Red Carpet for him.  And just a quick note–what is with Grey Worm?  Seems like the show is trying to dance around the fact that he is supposed to be castrated.
Speaking of people down on their luck, The Hound seems to be very down on his, hearing that Lysa is dead.  Perhaps Littlefinger might pay a sum of money for Arya's return?  I don't think The Hound has much other plans for Arya, so he might as well try.  I was cracking up at Arya's reaction to Lysa's death.  Her laugh was really funny.
Then the fight happens.  What a fight it was.  Game of Thrones really likes to make you like a character, then take the rug out from under both the character and me at the same time.  I really didn't care for Oberyn until the last couple episodes, and I finally warmed up to him.  I thought he would pull through this fight when it began, considering it seemed like he had other business to take care of once the Mountain was dead.  But of course, when Oberyn was leaning over the Mountain, taunting him, it was pretty obvious what was going to happen next.  And it happened in about the most gruesome way possible.  Apparently Oberyn should have took Tyrion's advice and at least worn a helmet!
Next week looks to be having Castle Black invaded by the Wildlings.  I am really wondering how that will play out.  Based on Jon and Sam's conversation on this episode, Castle Black is outnumbered. Not just 2 to 1 or 3 to 1, but hundreds to 1.  Sure their castle is a great strategic structure, but I have to think that eventually Castle Black would fall.  I guess we will see next week!
Violet's Thoughts on Season 4 Episode 8 of Game of Thrones: The Mountain and the Viper
What an eventful episode, for once! Let's start off with Mole's Town and Castle Black. Despite all your favorite characters getting killed off, and the Wildlings killing off everyone in Mole's Town, Gilly's and her baby's lives are spared, proving there is a little sympathy and humanity left in Ygritte. Just a little. Poor Sam, sitting around wondering if Gilly made it or not. Even though they listed tons of reasons as to why she's a survivor, I'm not sure that Sam really believes she could have survived, though he obviously wants to. Looks like we will finally get our Wildling fight at Castle Black next episode, just as I predicted.
Over in Meereen, Grey Worm seems to be lusting over Missandei – even though he's castrated. Not sure how that relationship is going to work. Although I guess the show makes sure to point out that we aren't exactly clear on what a castration of the Unsullied involves. This is a storyline that is exclusive to the show, as Missandei is supposed to be like 10 in the books, I believe. Also, Grey Worm and the rest of the Unsullied are supposed to have no interest except in serving the one who commands them, because all humanity and feelings have been trained and bred out of them, and they live only to serve. So this is an interesting twist that the show is adding in, portraying that it's possible the Unsullied could gain back their humanity.
But oh my gosh, Jorah. I knew it was coming, I just didn't expect it to be so soon, considering how the show is dragging its feet on most other aspects. We also never got the scene where Jorah kisses Dany, which is supposed to have happened by now according to the books! Instead, Dany sleeps with Daario. Lame. I love Jorah, and it breaks my heart that he didn't get a chance to explain himself, and is simply banished. Sigh. I don't think the TV show audience ever even got to hear the story of why Jorah was exiled from Westeros in the first place. So, where is Jorah going now? Will we see him again soon? Will Dany ever forgive him? I hope so.
This is probably the most interested that I've been in the Ramsay Snow storyline this season. I keep holding out hope that Theon is really just faking that he thinks he's Reek, or will at some point remember who he really is. But no indication of that yet.
Last week I was wondering what the explanation would be for Lysa's death, considering they didn't have a scapegoat in the show like they did in the books. Sansa's explanation of suicide from jealousy was actually a very convincing one. Sansa is starting to become quite the conniver. I'm a little uncomfortable about the suggestion of something going on between her and Littlefinger, considering how young she is supposed to be. But I thought Sansa did a great job manipulating the Lords of the Vale and saving her own skin, along with Littlefinger's. Now where are they all off to? In the books, they're just coming down from the Eyrie and visiting the Lords of the Vale, I think. The show kind of makes it seem like they're venturing out further, but we'll see.
I was surprised that Arya and the Hound made it to the Eyrie so quickly. I didn't expect to see that happen. What happens now, that they've been informed that Lysa is dead? Since they don't know that Sansa is at the Eyrie, is there any reason for them to stay? Or will they just turn around and be on their way? If so, where would they go? Would the Hound try bringing her to Castle Black? Would the guards at the Eyrie even allow them to enter? If so, will Littlefinger, Sansa, and Robin be gone already? Will Sansa and Arya just miss each other?
Finally, we come to the climax of the episode, the trial by combat! But first, Jamie and Tyrion have to have some random conversation about their "simple" cousin that did nothing but smash beetles, and Tyrion's unsuccessful attempts at researching why he was like that? Huh? I don't remember that from the book, and I'm not sure what the point of it was. Obviously it was supposed to be a metaphor for something, as long and drawn out as that speech was, but what? Was the Mountain supposed to be like the cousin, needlessly killing things for no reason? Was Oberyn supposed to be the beetle who ends up getting smashed? But yeah, even though I knew what Oberyn's fate was, I still enjoyed watching the fight. Oberyn repeating the same phrase over and over in the books got annoying, but it came off much better while watching the fight in live action. Oberyn's ultimate death was much more gruesome in the show than I imagined while reading the books.
Looking forward to the next episode, which will be action packed with the Wilding attack on Castle Black, and I expect some other very interesting things will happen in King's Landing!
Scenes from Game of Thrones, Season 4 Episode 9: The Watchers on the Wall
Here are scenes from next week's Game of Thrones episode titled The Watchers on the Wall:

Click here to watch the scenes from The Watchers on the Wall
What did you think about Season 4 Episode 8 of Game of Thrones, titled The Mountain and the Viper? Let us know in the comments below!