The 28th annual Gallifrey One, a Doctor Who convention, took place at the Los Angeles Airport Marriott February 17-19, 2017! We continue giving you a rundown of our experience at the convention. In this first part of our Saturday Report, Violet starts off by telling you how our Saturday morning went, then Josh takes over later.
It was about 1am when we got back to our room after the Idiot's Lantern show on Friday night (click here if you missed our Friday Report), and I passed out pretty much immediately, since I'm not used to staying up that late anymore! I slept pretty solidly until Saturday morning. I took a look out the window to see what the view was like in the daylight. It was still raining, so no one was at the pool. I also looked across the way and saw a Dalek out on the balcony! Oh, the things you see at Gallifrey One…
We went down for some breakfast, opting to get the breakfast buffet at Latitude 33. Thankfully, there was no wait. The buffet was a bit pricey at $24.00, but such pricing is to be expected for a hotel restaurant. It included coffee and orange juice as well. The selection was decent, with hot foods like bacon, scrambled eggs, sausage, eggs benedict, seasoned potatoes, biscuits, gravy, an oatmeal bar, waffles with various toppings to choose from, and a made-to-order omelet bar. There were also cold foods like yogurt, cereal, assorted fruits, deli meats, bagels, muffins, pastries, and so on. If we hadn't eaten there, the alternative would have been the long Starbucks line, or venturing out to Denny's or somewhere else nearby – which we didn't want to do considering that it was raining.
After finishing up our breakfast (which I recommend splurging on for at least one breakfast while at Gallifrey One), we headed over to Program A.
Creature Feature: Behind the Magic
Our first panel of the day (and our first official panel at Gallifrey One 2017, since we weren't able to make it until Friday night) was Creature Feature: Behind the Magic, which started at 10:00am in Program A, the main room. The panel featured Barnaby Edwards, Nicholas Pegg, Simon Fisher-Becker, Jimmy Vee, and Nicholas Briggs, the latter of which also moderated the panel. The panelists started off by going down the line and telling us about their respective roles in Doctor Who. Nicholas Pegg and Barnaby Edwards are both Dalek operators, while Simon Fisher-Becker is best known as Dorium Maldovar. Jimmy Vee has played all sorts of different characters, almost too many for him to name them all. (It wasn't mentioned in the panel, but Jimmy Vee is the new R2-D2 in the upcoming Star Wars films, so that's pretty cool.) Nicholas Briggs voices the Daleks and the Cybermen. After that, the panel was immediately opened for audience questions.
They all recounted humorous anecdotes about their favorites memories of working on Doctor Who.
Nicholas Pegg shared a story about working on the Daleks in Manhattan episode. He revealed that there are no electronics in the Daleks — there's a wheel in the front and two in the back, and they just pull them along with their feet. They had put real mud in the sewers, and in the episode they were trying to figure out which direction the Daleks were coming from. Well, it was pretty easy to tell, because you could easily hear the Dalek operators stomping along in the mud!
Edwards told us about the episode where Peter Capaldi is sitting in Davros's chair and operating it. Capaldi only had about 10 minutes before shooting the scene to familiarize himself with the controls. The controls were so sensitive that when Capaldi shifted the joystick left, it spun him around in circles very quickly, and shifting it right had the same result. He was hesitant to try to go forward, but he went ahead and tried it. When he did so, there happened to be a Dalek head in the way on the floor, and the chair went forward so fast, that it crashed into the wall, pushing the Dalek head forward and through the wall of the set, leaving an outline, which Edwards likened to when you see an outline through the wall on a Bugs Bunny cartoon. The director didn't skip a beat though, just giving orders for someone to clean it up, and they moved on.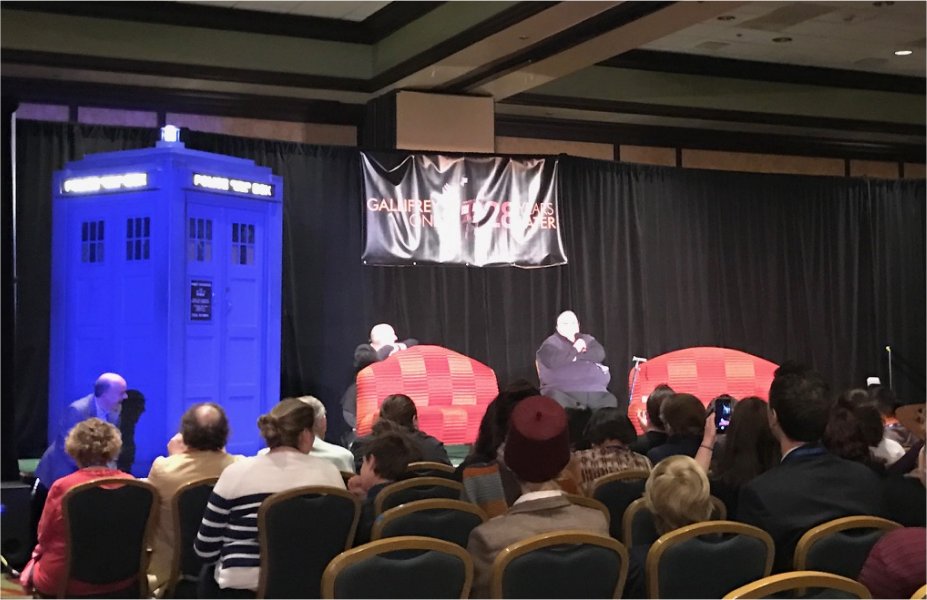 Fisher-Becker recalled that his favorite memory of working on Doctor Who was when he met Alex Kingston (who plays River Song), and she told him "Hello Sweetie" — to which he joked he had a "reaction." At the mention of this, the other panelists hilariously scooted away, not wanting any part of his reaction. He went on, telling us about the episode he filmed with Kingston when their characters met in a small bar in a tiny space. A "hooker" was introduced, which he explained is a Turkish pipe. Fisher-Becker then said that a young boy approached him and told him, "All you have to do is suck hard." The other panelists then scooted away even more!  These antics kept on throughout the panel, anytime someone (usually Fisher-Becker) mentioned something that made the panelists a bit squeamish, they would lean or scoot away from him, sometimes even running and hiding behind the couches and the TARDIS! One time, Jimmy Vee humorously even walked off stage! It was pretty funny.
Briggs had a couple of stories of his own. In the episode where Jenna Coleman (who played Oswin/Clara) is stuck inside of a Dalek, Briggs was doing the voice of the Dalek, and figured out that Jenna was the only one who could hear his voice. So he decided to be funny and creepily say (in the Dalek voice), "Hello Jenna. You're the only one that can hear me." She was not amused! Going back to the Billie Piper days, they used to film in a large cavernous studio. One time he was the only one on set, and there was a microphone hanging down, which Briggs was recording a Judoon voice into. While he was doing that, Billie walked in, who didn't know anything about Judoons, and from her expression, Briggs figured she must have thought he'd lost his mind!
Barnaby Edwards shared a story about when he first met Freema Agyeman (who played Martha Jones). Apparently back then, he and Nicholas Briggs had similar hair and Briggs didn't have a beard. So when Freema met Edwards, she thought she was talking to Briggs, whom she had already met before, so she told him it was nice to see him again. But at that moment, Briggs walked into the room and she was so confused!
Edwards also had a story about John Barrowman. There was supposed to be a closed set because he had a nude scene, which meant that everyone that doesn't have to be there, leaves. As everyone was starting to leave, Barrowman came in, wearing only his robe, and confirmed that it was a closed set — then dropped his robe in front of everyone!
Another audience question was what classic Doctor Who monster they would like to see come back. Answers included the sea devils, the Moxx of Balhoon, the Krynoids, the Mind Robber, and the Meddling Monk. A young child also asked who the panelists thought was the scariest Doctor Who monster was growing up, and (surprise surprise) Briggs answered the Daleks. Other answers included the Cybermen, the Sea Devils, the Sontarans, and Wirrn.
The 45 minute panel flew by very quickly, and before we knew it, the panel ran out of time. It was really interesting and entertaining hearing all these behind the scenes stories!
I'll hand it over to Josh to tell you about what we did after this panel.
Dealer's Room and Codenames
After the Creature Feature panel, Violet and I met up with Jason, aka @CorgiKohmander. We walked the Dealer's Room floor a bit, and they had some interesting things for sale, such as Superman and Batman rings, Zelda and Doctor Who earrings, Harry Potter clothing, and Doctor Who dresses. A lot of tempting stuff, but Violet and I managed to keep our money in our pocket. We also saw many of the guests signing autographs, including Paul McGann, David Gareth-Lloyd, Naoki Mori, and many others. There was also a life sized TARDIS on the floor, and Jason was nice enough to take our photo with it.
After walking the hall, we decided to check out the game room. We had three people, but I figured I would teach Jason how to play the board game Codenames since he hadn't played it before. To check out a game, you just hand over your badge in exchange for borrowing the game of your choice, then you get it back when you return the game.
As we were about to get started someone came up to us and asked if they could join in, and that worked out well because it evened out the teams! We played a round of the game, which goes pretty quickly. After finishing up the game, it was time for Violet and I to head to our next panel.
Catrin Stewart
The Catrin Stewart panel, our second panel of the day, began at 12:15pm in Program A. Catrin Stewart is best known for playing Jenny, the wife of Madame Vastra.
The panel started with her experiences in LA so far. She says that this is her first time being here, and first time to America so she plans to explore LA a little bit more. The moderator asks her about the American fans, and she says that all of the fans of Doctor Who have an energy and seem appreciative of their visits.
Catrin is then asked about how she got into acting, and she says that she originally thought it wasn't something she thought could be done as a job. In primary school, she said she was taught a lot of singing and theatrical type classes. She got into a drama group at 16, and then went to drama school for 3 years as well. She talks about how drama school was inspiring because she was surrounded by a bunch of like minded people, but she was no longer the "best" because she was surrounded by a bunch of aspiring actors. After school, she went from Cardiff to London. She talks about how much of her work post school was in Cardiff though.
Catrin then talks about her experience acting, where she went from her young acting, where she felt she was playing more off instinct, to where when she got done with school, she started thinking more about it. But she talks about how acting doesn't feel like a job. She also talks about the struggle as she gets older, getting her foot in the door for parts, but she is still working in theater.
Then Catrin is asked about how the Doctor Who job came up, and she auditioned for it like most people do. She says that after drama school, people "sell themselves like cattle", with a 2 minute presentation, showing off their acting skills. For Doctor Who, she was only originally scheduled for a couple episodes. She also talks about how she wasn't really sure what was going on in the episodes she was in. She does says she was in "awe" of the set though.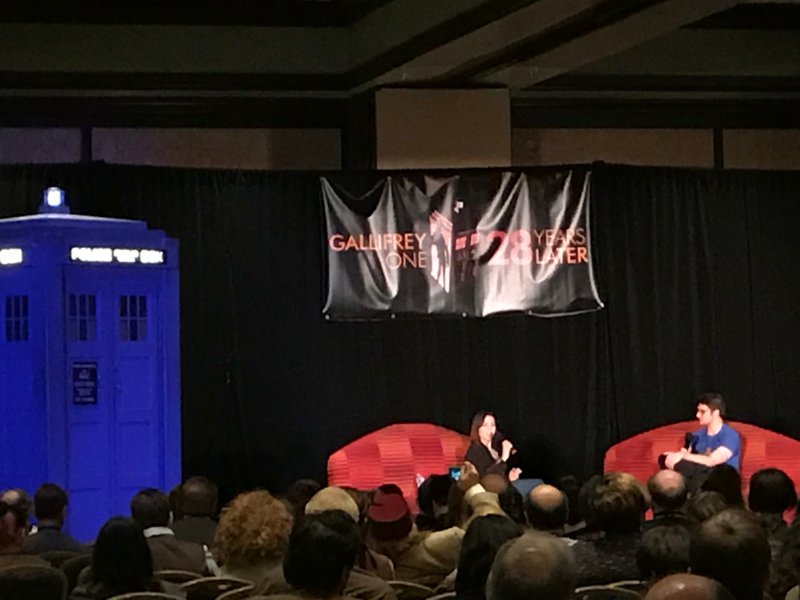 After these initial episodes, she talks about talking with Matt Smith while they shared a car ride. Apparently he knew she would be back, because he had a copy of the script with him. Catrin then talks about her familiarity of Doctor Who — she didn't really have much knowledge of the show. But once she was cast, she watched some episodes.
The moderator then asks her what it was like seeing her co-actors when they would put on their costumes. She says it's "normal now", but talks about how she was complaining about her corset, but the others have much more elaborate costumes. Apparently Neve McIntosh, who played her wife Vastra, played Catrin's step mom in a different show, which she insinuates is kind of weird. Catrin talks about their make-up process too, where Vastra has to get to set at 3am to get make up put on, and she can stroll in much later and get a little normal make up on.
Moving on to talking about the action scenes, Catrin says that there is a stunt person on set that would help them out with the action scenes. She also talks about imagining what would be on set, given a lot of stuff is added with CGI after the fact.
Doctor regeneration was discussed next, and Catrin is asked about transitioning from Matt Smith to Peter Capaldi, and she talks about how nice and chatty Capaldi was.
Catrin is then asked about a spin off for her character, Vastra, and Strax, and she says she would be up for it, but there hasn't been anything going on that she knows of. She says that those characters could definitely come back to Doctor Who as well.
The panel then opens up to audience questions. The first question is asking about wardrobe malfunctions, and how people deal with it. Catrin explains one about a dress situation that happened during one of her theater productions, where someone named Maggie was putting on a dress. Apparently a glass was smashed on the floor, and she was barefoot, and talks about how it added to the tension of the scene, considering it wasn't supposed to happen. She also talks about improvisation when she was struggling to get a dress on in a play, and trying to keep calm, and explains staying in character is the key to dealing with the struggles on stage.
The next question asks about how much she knew about Jenny's story in advance. Catrin said she didn't know far in advance, but says that she likes how the journey for Jenny turns her into a stronger woman as her episodes progress.
When asked what character would Catrin want to be in all of space and time, Catrin responds with saying that she likes to play really difficult, and different parts. She doesn't have a specific character in mind though.
Then Catrin is asked if she has thought of a back-story for Jenny and Vastra, and she says that her family abandoned her, and Vastra eventually found her, and paid her for her services, and they became friends over time.
Catrin is asked about keeping things fresh for theater given the same part is played for weeks on end. Catrin says she is able to keep it fresh. She says there are some bad days, but tries to focus on specific things to keep her interested in the part.
Another question asks what Catrin's reaction was to learning her character was gay, and Catrin said she thought it was great, and bold for the show to put a progressive character on the show. She also remarks how strange it is that complainers about the gay relationship have no problem with Vastra being a lizard person. She also talks about how she hopes her character makes people more aware, but was baffled to hear when her friend told her she is a "lesbian icon".
The panel finishes up with one more question, asking if she has a funny story with Matt Smith. She says that she had to slap him, but then ponders it for a while, trying to remember whether it was in the script to slap him or not. Catrin couldn't remember, but apparently it was a very hard slap, and she apologized after the scene. She also elbowed a stunt guy in the chin later that day.
The moderator then asks her about her future work, and she is finishing up a play, and is hoping that she gets a new part in television, and she is hoping for a part on a police drama, which will be filmed in Wales. She talks about a Welsh movie she played a set of twins in as well.
Time soon ran out for the 45 minute panel, and we headed over to Latitude 33 and met up with @CorgiKohmander for lunch.
Click here for Part 2 of our Gallifrey One 2017 Saturday Report, featuring the Torchwood panel!