Violet and Josh finish off their recap of Gallifrey One, the annual Doctor Who convention, which took place at the LAX Marriott February 12-14, 2016. The Sunday Report includes Sir John Hurt's panel, followed by Samuel Anderson's panel.
If you missed the Friday Report, click here!
Click here to go back to the Saturday Report!
Sunday was the final day of Gallifrey One. One of the panels I had most been looking forward to on Sunday was the live commentary of Heaven Sent by director Rachel Talalay (because if there's any episode of Doctor Who that needs some explanation, it's definitely that one!). However, with the previous day's announcement that she had to cancel her Gallifrey One appearance, the live commentary had been canceled as well. As a result, the schedule had to be updated, and with Gallifrey One using the electronic schedule, MySched, it was easy to see the updates! Before the cancellation, Samuel Anderson's panel had been scheduled at 10:00am, but was moved to 12:00pm, which meant that we wouldn't need to get as early of a start, since the first panel of the day that we wanted to attend was now at 11:00am.
We decided that since it was Valentine's Day, we would splurge and get the breakfast buffet at Latitude 33, which was a tad pricey at $24, but turned out to be pretty good, and included drinks. The wait was about 20 minutes. Then we went back up to the room to pack, checked out, brought our stuff to the car, then headed in for Sir John Hurt's panel, which was scheduled to begin at 11:00am in Program A. We were about half an hour early, so we caught the last half of the screening of the Prisoner Zero episode, a new animated children's sci-fi show.
Sir John Hurt
Gallifrey One usually has their headliner guests do a Saturday panel and a Sunday panel, and asks attendees to choose one to attend, so that all attendees can have a chance to sit in on the headliner's panel, since the room is not big enough to accommodate all attendees. We had left just before John Hurt's Saturday panel, which was pretty packed, opting to attend his Sunday panel instead. This one seemed like it wasn't quite as packed, but was still mostly full.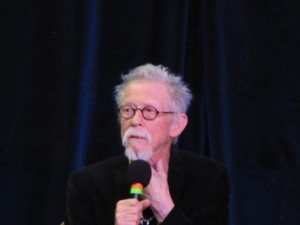 The moderator started out by bringing out a bag of "goodies" to show to Sir John Hurt, aka The War Doctor, to get his reaction, such as an Alien action figure, a magazine with him on the cover, and a sonic screwdriver.
Hurt then discussed some of his older acting roles, such as playing Timothy Evans in 1971 in 10 Rillington Place, and a horror film called The Ghoul in 1975. Hurt commented that Peter Cushing, who starred in The Ghoul, treated the role with seriousness. However, Hurt said that he tries not to do those sorts of scripts. He admitted that he never knew what he wanted to do, just that he wanted to act, saying that he puts himself "as a victim of other people's imagination." He also added that actors choose for themselves badly because they choose what they would like to do.
Other roles that he spoke about were when he played Quentin Crisp in 1975's The Naked Civil Servant and Caligula in the 1976 miniseries I, Claudius. Hurt confessed that he declined the part of Caligula at first, but later changed his mind. Director Herbert Wise invited him to a party, at which Hurt talked to Wise to see if he could still have the part, to which Wise replied, "Why do you think I invited you?!" Later, an audience member asked what his thoughts were during the transvestite scene in I, Claudius, and Hurt exclaimed, "I was having a ball!"
The moderator had Sir John Hurt read several iconic Doctor Who speeches, which was pretty awesome to hear. Although Gallifrey One prohibits video of the panels for anything other than personal use, someone apparently ignored that rule, and publicly posted their videos of the speeches. The Radio Times found those videos and posted them on their site, so you can watch all of those speeches by clicking here. A volunteer was also brought on stage to do a reading with Hurt, which must have been quite amazing for her, because now she can say that she has acted with Sir John Hurt!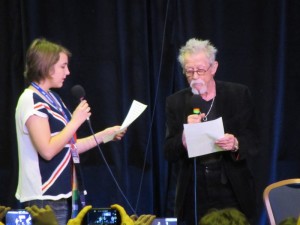 When it was opened for audience Q&A, Hurt was asked about his experiences on various films, such as Hellboy, a Hayley Mills movie called Cry of the Penguins, and Little Malcolm. Of course, he was also asked about working with Billie Piper, David Tennant, and Matt Smith on the Doctor Who 50th anniversary special. He recalled that David and Matt helped him out a lot, since he was new to the show, and commented that the two seemed to have the "same mind," in that they would start doing things together at the same time, and they hadn't even rehearsed it! He also told us about when his agent called to offer him the Doctor Who role. He wasn't really interested, but when his wife heard it was for the Doctor Who 50th Anniversary, she told him, "You are doing it!" so he listened to her.
One audience member asked Sir John Hurt about when he was knighted by the Queen. Hurt described the Queen as "quite short" and "very knowledgeable." The man confessed that he just wanted to get close to a knight, so Sir John Hurt brought him up to shake his hand!
The final audience question was whether he had stolen anything from set. He would not admit to "stealing" anything, but did tell us about "taking" some items from the set of the first Harry Potter film: four wands, which he got for his two young sons and two nephews. However, the next time he appeared in a Harry Potter film, several years later, Warner Bros. had everything under lock and key, and you couldn't even take a piece of paper!
The panel ended with Sir John Hurt reading one more Doctor Who speech, this time it was William's Hartnell's promise to come back, from The Dalek Invasion of Earth, which seemed like the perfect way to say goodbye. The audience gave a standing ovation.
I'll let Josh take over for the next panel, which directly followed Sir John Hurt's panel in Program A.
Samuel Anderson
Samuel Anderson was the last panel we ended up seeing for Gallifrey One. For those unfamiliar with that name, he played Danny Pink, Clara's boyfriend on Doctor Who. I have to say, that Sam Anderson is a completely different character than Danny is, it is quite jarring. Danny seemed like an uptight, broken man who has a strict sense of what he believes is right and wrong, as we saw with his conflicts with the Doctor, and his relationship with Clara. Sam, on the other hand, seems really laid back, likes to have a lot of fun, and seems to have a bit more of an open mind than that of Danny.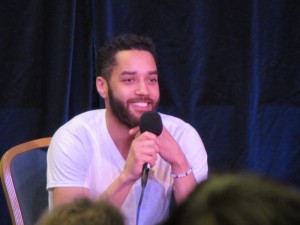 There were a few interesting highlights from the panel. He talked about how he got the part of Danny on Doctor Who–He had been doing a very small play, which had just happened to have received great reviews the day of his audition for Danny, and fortunately for him, the people doing the casting had seen it. He thought that might have been a reason he got the part. He also talked about how he gets nosebleeds randomly, and happened to get one just as he was about to do his audition.
When he got the part he talked about how he wound up telling the group of people he was with, just before his agent called back and told him not to tell anyone—oops. Another interesting tidbit was that when he read for the part, he was initially told that he would likely just be in a single part, and he had no idea at first he would have a recurring role in the show. He also discussed how he wasn't too familiar with the show prior to his audition, not having any idea how big the show was.
Some other topics that came up in his panel were his experiences and expectations as an actor. He revealed he quite enjoyed science and history, but back in school when he was shown the physics book he would have to read, he opted for drama school instead because it seemed like an easier route. He also talked about how he decided to follow his cousins into acting school. The plights of acting also came up, and he said just a couple of weeks ago he was in the "throws" of not knowing if he will get another job again., until he finally got a part.
Interestingly, an audience member asked him about this part he would be getting, and Sam Anderson was cryptic in his response, saying that Columbo (the old detective show) had something to do with it, and that it came to America two years ago. This made me think it could be Broadchurch or Gracepoint, as it seems to fit the criteria of what Sam Anderson mentioned, but we will have to wait and see.
Sam Anderson seems to be quite the comedian though. When asked about his feelings when he was revealed as the Cyberman in his final episode, his answer was, "This suit is really tight." Then the audience person asked, "How about emotionally?" and his response was about the same—"This suit is really tight!"
It came up that he prefers when something forces him to do something, and gave the example that he had recently taken his driving test. The result? He passed — and he showed off his shiny new driver's license to prove it.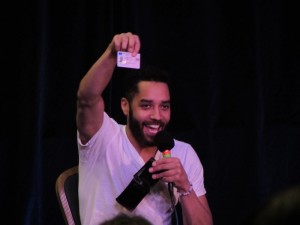 One funny bit that came up was Sam Anderson mentioning his being a fan of Will Smith and Fresh Prince of Bel-Air. This then caused another audience member to ask him to prove his "street cred" by rapping the theme song to the show—which he did pretty well.
A few more interesting tidbits were him revealing he would like to do movies with Will Smith, or some of the classic actors from today. He also mentioned liking to work with a director like Scorcese.
More Doctor Who related, Sam Anderson was asked about how he handles his newfound fame. He discussed how people started pointing him out and he didn't realize they were referring to him at first, and he got excited when he realized it. He also talked about how when he first got the part, Jenna Coleman told him that his life was about to change (presumably because of how fanatically Doctor Who fans are).
Sam was also asked about his favorite Doctor, and the answer was as expected—Peter Capaldi, as that is the only one he worked with. He also was asked which one he would like to work with, and he said Matt Smith would be fun, but the drinking might get a little out of control.
I'll hand it back over to Violet to finish off the day.
Goodbye, Gallifrey One
After Samuel Anderson's panel wrapped up, we took a stroll over to the hallway which neither of us had been down yet that featured a few vendors. Then we checked out the Art Show, which featured many awesome pieces of Doctor Who art for sale and also art from other geek-friendly properties, such as DC and Marvel characters. Photography was not allowed in the Art Show, so we are unable to share any photos with you. The Art Show seemed pretty popular, as the room was pretty busy with people looking around, and had a bit of a line of people waiting to pay for items. After finishing up at the Art Show, it was time for us to leave.
As we exited the room and headed toward the exit doors, out of the corner of my eye, I saw an older gentleman that seemed like he was trying to pass in front of me, so I let him. This older gentleman turned out to be the Sixth Doctor himself, Colin Baker, commenting to his handler that he didn't know where the "lifts" were (in case you didn't know, "lift" is the British word for "elevator"). So that was a nice way to cap off our weekend at Gallifrey One!
Check our photo gallery below for more pictures!