Josh provides a recap of the first half of our day on Saturday at Gallifrey One, the annual Doctor Who convention, which took place February 12-14, 2016 at the LAX Marriott. This recap includes the following panels: Doctor Who Prop Design in Depth with Nick Robatto, Creature Feature with Matthew Doman and Jami Reid-Quarrell, Part of the Doctor Who World: A Round Table with Sean Carlsen, Andrew Hayden-Smith, Neve McIntosh, Naoko Mori and Will Thorp, and Mars 2020 Mission Update!
Click here if you missed The Friday Report – Part 1!
Click here to go back to The Friday Report – Part 2!
Gallifrey One 2016: The Saturday Report – Part 1
We got up a little after 8:00am on Saturday morning, showered, and considered what to do for breakfast. We ultimately decided to walk to Denny's, about 2 blocks down the street. We were seated pretty quickly. By the time we got back to the hotel, it was almost 10:00am. While waiting in the elevator lobby to go up to our room to get our stuff, we noticed Clare Higgins, who played Ohila, the High Priestess of the Sisterhood of Karn. She ended up getting in a different elevator though. Anyway, by the time we went to the room and grabbed our stuff, it was time to head to our first panel, which started at 10:00am.
Doctor Who Prop Design in Depth
Nick Robatto from Rubbertoe Replicas was the panelist for the prop-making panel at Gallifrey One, which took place in Program C, and was standing room only by the time we walked in, just a few minutes late. Nick has actually made many Doctor Who props for the TV show, including Matt Smith's and Peter Capaldi's sonic screwdrivers. In this panel, he shows off some of the props he has made and talks about the prop making process, from the design to the finished project, and even making replicas for fans. He even had a few prop replicas with him that were passed around the room. It was a pretty interesting panel to watch.
One big thing Nick talks about is the difficulty of taking a designer's idea for a prop, and turning it into reality. He talked about various drawings he received when making Matt Smith's and Peter Capaldi's sonic screw drivers, and basically seemed to indicate that what is easy to do on paper may not be nearly as easy as doing it in reality.
He also talked about the various processed he uses when making props. He expressed that depending on the prop, it can have a very different process compared to another—the example he provided was making a sonic screwdriver then making the console to the TARDIS. This sort of makes sense coming from someone who likes to build things—I image the screwdrivers take a lot more metal crafting, while the console, as Nick explained, was a lot more woodworking, with bigger pieces. I found it interesting how versatile these prop makers must be, as many different skills are used.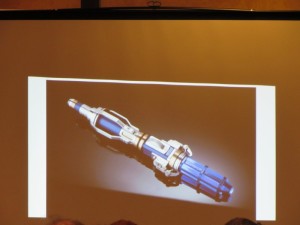 Another big deal of the panel was the "reveal" of Peter Capaldi's sonic screwdriver, and a bit how it worked. He explained the technical aspects of making it to some extent, and how it was a bit difficult to cram all of the electronics into the sonic screwdriver for controlling the lights.
Another interesting tidbit Nick brought up, is that when making props, he has to consider the "reproducibility" of the prop. This makes sense, as he doesn't just make props for shows, but also replicas to sell to the public. I am sure he would much rather come up with a build method that allows him to quickly produce these replicas rather than have to take a long, drawn out method, due to a complicated build process.
Another funny tidbit Nick discussed was how the props were used in TV shows he has made them for. He said that there have been times where he has worked pretty hard on a prop, only to never see it pop up in the actual episode it was for. For me that would be a little unnerving, but based on his answer, he seemed to understand it is a part of the business.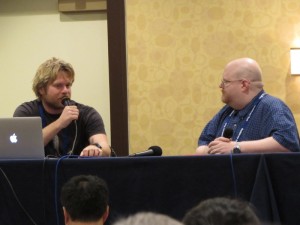 Nick also discussed the conversion from SDTV to HDTV and how that could be a big deal for prop makers, as the finishes on props would have to be done much better. In the end, from the way Nick described it, it didn't seem to have a major impact, as most props are moved around too much to be seen clearly anyway.
One topic came up a bit with audience questions, and that was regarding 3D printing. Nick didn't seem too keen on 3D printing for professional prop making, describing it as a good hobbyist tool. He described the finished product as generally having too many lines due to the layering process of 3D printing. Nick was also asked if 3D printing has affected his business at all, and he said that at the moment, it has not really had an impact.
Overall I found the panel really informative. He provided a very detailed slideshow of various props he made, and included some videos of certain aspects, like using a lathe, and various other tools. It is another field I always thinking about dabbling in, but do not feel I quite have the skills to do quite yet.
Creature Feature
The second panel I attended was the "Creature Feature" panel, which had two panelists, Matthew Doman and Jami Reid-Quarrell. This panel was in the main room, Program A, and was only a 30 minute panel. We were a bit early, so when we walked in, we caught the end of the previous panel, Star Trek Continues: The White Iris, and got our first glimpse of Colin Baker.
The Creature Feature panel began with Matthew Doman and Jami Reid-Quarrell discussing their education for acting, and both seemed to have taken a few classes, but didn't go to formal schooling for it. They discuss them playing their roles, which involves prosthetics quite a bit. Jami Reid-Quarrell discusses that when he was cast, the casting people were looking for a physical person who could act, and he fit the bill for that.
They also talk about difficulties, such as Jami Reid-Quarrell shooting his first scene, and he had to move through a sliding door on a hover board as Colony Sarff. He talks about having to duck to get through the door, and doing all this was challenging.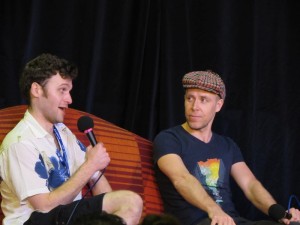 Both then talk about how long it took to get in their costumes. It used to take an hour for the Cybermen costumes, but it got better, down to about 15 minutes. But playing the "Whispermen" took about 4 hours because of the makeup. It was pretty funny because Matthew Doman talks about how he had to put a sock on his head after all the makeup was on, which hid the makeup job. He sadly was not able to eat anything for lunch because it would mess up the makeup.
The host then asks about what they do when they're getting ready for 4 hours, and the two talk about cracking jokes for a while, then being hungry for a while, then end up nearly falling asleep.
Matthew Doman then talks about a scene he was filming, and he was about to fall asleep. He tried to keep himself awake, but eventually was caught sleeping standing up in his Cyberman costume when he was asked about his scene he was supposed to be in.
Jami Reid-Quarrell then talks about how he acts how his part, because his head is not seen, so he says that the acting is done mainly through his hands. He talks about rehearsing, and how it helped get ready for the actual filming. The host then asks if he has to do more or less when wearing a costume and Jami Reid-Quarrell says that he doesn't have to do much, saying less is more. Matthew Doman agrees with this sentiment, saying the costumes are sort of the character.
The host then asks if the two want to do acting without costumes, and Matthew Doman seems to want to and had done a little. Jami Reid-Quarrell says he works a lot in theater and certainly enjoys the new "point of view" of TV, but he also enjoys playing "fantastical" characters. Jami Reid-Quarrell also talks about his circus training background, which helped him get roles as a child.
The panel moves to audience questions, and one question that comes up is what the actors got to take from the set. Matthew Doman got an emotional inhibitor used by the Cybermen. The other guy didn't get as lucky though, and was not able to take the hover board he had worked on. They also get asked next what character they would like to play on the show. Jami Reid-Quarrell wants to play a companion to the Doctor, while Matthew Doman says he would like to play the Master.
This panel ends, and the next one up is the "Round Table" which featured several actors who made appearances on Doctor Who.
Part of the Doctor Who World: A Round Table
After the "Creature Feature" Panel was the "Part of the Doctor Who World" Round Table panel, also in Program A. This panel had a number of guests–Sean Carlsen, Andrew Hayden-Smith, Neve McIntosh, Naoko Mori and Will Thorp. For those unfamiliar with who they played, here is a quick list: Sean Carlsen played Mr. Grainger in Torchwood (and had a part as a cop in Doctor Who), Andrew Hayden-Smith played Jake Simmonds in a couple episodes of Doctor Who, Neve McIntosh plays Madame Vastra in Doctor Who, Naoko Mori played Toshiko Sato in Torchwood, and Will Thorp played Toby Zed in Doctor Who back in 2006.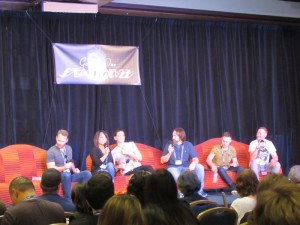 The host of the panel asks if there are any connections between any of the actors, and Naoko and Neve worked together on a show as a child. Capaldi happened to be in that show too. But that is about it.
The host begins with asking about Will, and his casting in the show. He talks about how he was on the way to his agent because he felt he wasn't getting any work. But right at that moment, his agent got off the phone with a part for him. This seemed to get him happy, as he thought the part was a great part, and the first time he played a bad guy. He adds that he has only played bad guys since. He also talks about the fun switch his character had, going from an ordinary guy into a major baddie, being possessed by the devil.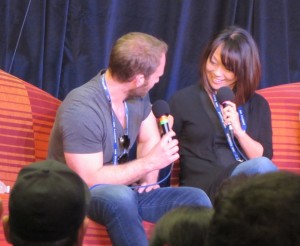 Moving over to Naoko, and she is obsessed with Will Thorp's massive arms. She gets enamored with it, at first having to face away from him, but eventually winds up laying up against him. Apparently she is easily distracted or is really brought in by this guy. The host gets back on track, and asks about her involvement in Torchwood. He asks her about the show returning. Naoko thanks the fans who still love the show. She also talks about her introduction into the show, which is one of the first scenes of the revitalized series. She admits though, she had no idea what this show was when she was cast on it. She tells a pretty funny about learning a new word in the script–"TARDIS". She had no idea what it was. I guess it makes sense since she had no idea what the show would be. She doesn't really answer the question of the show coming back, but she probably has no idea anyway.
She also tells another story of working with Christopher Eccleston on a TV series. She was concerned who she would be acting against, and she demanded to know if she was going to take the part, and she manages to get the answer of Eccleston out of the casting director. She seems to have a fondness for working with Eccleston. Interestingly, this show was about John Lennon, and she played Yoko Ono, opposite Eccleston as Lennon.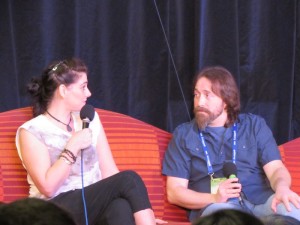 Moving to Neve, the host asks her about playing her part in her makeup as Vastra and she says she has to "ham it up". She does say that the mask she wears is pretty soft, so she can get some acting shown through it. She talks about using a mirror to try to figure out how to get the emotions to come through, and describes it as not being "subtle" in her facial movements. Moving on further, the host asks her about the importance of her character to viewers, and she says that Vastra having a wife has been helpful to a lot of women, and she has talked about it quite a bit.
Sean Carlsen and Andrew Hayden Smith talk about the past episodes they were in. The moderator asks them about their time going to conventions and how it is. They talk about how much fun they had with their parts, and that the fans are great. Sean Carlsen talks about his viewing of the show when Tom Baker was the Doctor. He says that he really wanted to be the Doctor, but Gary Russell broke his heart, and told him he would never be the Doctor, which sort of broke him. But he was happy to be in the show at all.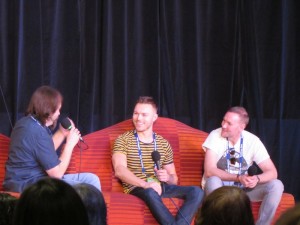 The panel moves towards audience questions. A couple of the highlights were:
First, Naoko is asked if she could be a companion, and Naoko responds that she is the next companion, but in all seriousness she says she would like to go to a "different century", but doesn't really get too detailed, saying she has to think about it.
The next question has the panel answer what character they would like to play. Will says the Master, Naoko says a Dalek, then she changes to the Adipose, Neve says Davross, Andrew says he would like to play an "alternate Rose" and Sean Carlsen would like to play Davross.
The panel answers a few more questions, such as favorite episodes, and scariest characters. It was a pretty short panel though, about 45 minutes. The next panel we went to was the Mars 2020 panel, which ironically was my favorite panel of the convention, given that this is a Doctor Who Convention. I think I need to find the NASA Convention to attend is there is such a thing…
Mars 2020 Mission Update
So my favorite panel at Gallifrey One really had little to do with Doctor Who at all. This panel was the Mars 2020 mission update panel, which took place in Program C. At first, before walking into the panel, I thought this was about the manned mission to Mars, but I realized before the panel started that this must be another rover mission, as there have been no concrete plans made for a manned mission that I was aware of.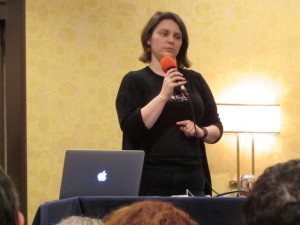 So when the panel started, I learned quite a bit about both Mars and what the next mission would entail, which was both exciting, and a little disappointing. This mission was for another Rover, similar to Curiosity, the current Rover that is exploring Mars' surface, but it is equipped with additional technology. So the panelist, Sarah Milkovich, proceeded to explain what this Rover was being built to do.
The main mission of this Rover would be to identify microbial fossils found on the Martian surface. Sarah explained that about 3.5 to 4 billion years ago is when microbial life began on Earth, and in that time period scientists think that Mars might have had a similar climate to Earth. She also explained that there is very good evidence that water existed on the surface of Mars, and provided examples of erosion that typically happens from water currents on Mars. She also provided an example of a large, ancient crater, which could have been a lake at one time.
She also explained the reason why Mars's surface no longer has water, which I already kind of knew from past articles I have read online. The atmosphere is too thin to really keep water on the surface (being about 1% of what Earth's is).
But, this fossil life could have existed some billions of years ago, and that is what this new Rover is looking for. So it is equipped with the necessary tools to do so. It has several cameras—one for "mid-range" viewing, one for "long range" viewing. Sarah also explained some much more technical cameras, one that can zoom in quite a lot, like a microscope, but at a very larger distance.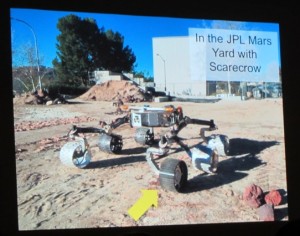 Sarah also explained that the wheels would be improved on the new rover, as one issue with Curiosity is that the tires are wearing out quicker than anticipated, which has caused mission delays. We saw photos of the current wheels, as well as some videos of prototyped wheels for the next mission.
We also learned about how fossils might be preserved (much of which I remember from school/article reading), where it could be ice—but if the ice is gone, so is the fossil. The more likely way a fossil will be found is within rocks, as the remains of microbes can be "fossilized" in sediment.
Also explained was how the mission would take place—this new Rover would be launched very similarly to the last Rover. If anyone watched the Mars Curiosity Landing, they will remember the "7 Minutes of Terror" Landing which will be happening again. The Rover will then scope out rocks, to determine if they are work exploring. Once some candidates are determined, the Rover will take some samples.
Unfortunately, at this point in the mission details, I get a little disappointed—Sarah explains that there are no current plans to bring these samples back to Earth, and the only way to do the tests required is to get them here. So the Rover will be gathering samples, but there is no way of testing them at this point, as there are no further planned missions to Mars. This mind of boggled my mind—at the beginning at least. Why spend millions of dollars to send a Rover on a mission in which we may not be able to recover said samples? Of course, I am not nearly as educated as NASA so I have to assume they have a good reason for doing this.
Oddly enough, I wasn't the only one a bit confused by this aspect of the mission. Another person asked a question about this. Sarah described the mission as "baby steps" towards a larger goal, and that it would be impossible to get funding for such a large mission all in one shot. She mentioned fuel costs alone make it difficult to get a return mission up and running.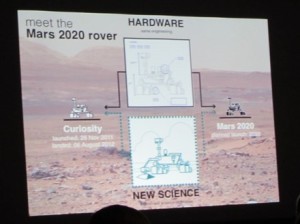 So I thought about this a little more—and I can see why this is the best option, at least in NASA's opinion. One, as Sarah said, they probably can't get funding to bring these items back. What I have a feeling is going on is that this new Rover has to find some sort of evidence to prove it is worthwhile to bring these samples back. If this new Rover is able to at least find evidence that there could be fossilized life, that could be a big boon for wanting to get more funding for missions.
Sarah mentioned that a manned mission would be required to get these samples back. I wondered if getting people there was not feasible in the short term, could sending another machine there, with a ship with enough fuel to get back off the surface be a possibility? Does it have to be a manned mission to get the samples? I guess I could have asked that question, but I am generally not that vocal at panels. I also am not the most educated person in these subjects, and I would have to think NASA has ran through every scenario when deciding these missions.
But there were a few other things I learned at the panel, such as how NASA works, when planning a mission—which I took as scientists basically say what they want to do, and engineers have to figure out how to do it, and the two basically work together until they come up with the best solution from both perspectives. That sounds like a tough thing to work out.
I really enjoy these NASA panels though. Last year, we went to the Cassini panel, which was very interesting, and this time we changed it up, with the Mars mission, which was just as fascinating. In a past life I think I should have studied Astro-physics or something.
It looks like in 4 years we have another Rover to look forward to. I hope we get some breakthrough discoveries with this one! I really hope to see man on a different planet before I leave this universe, as that would be as exciting as the moon landing was for that generation.
Check out our photo gallery below for more pictures!
Click here for Part 2 of our Saturday Report, which includes The Two Doctors: Peter Davison and Colin Baker, Friends and Foes: Michelle Gomez and Ingrid Oliver, Making Series Nine: Behind the Scenes, and Gallifrey One Match Game: The After Hours Edition!