This weekend, Entertainment Weekly puts on the first ever Entertainment Weekly PopFest (or EW PopFest for short), which takes place at the The Reef in downtown Los Angeles, Saturday, October 29 and Sunday, October 30! Read on for more details.
Where:
The Reef
1933 South Broadway
Los Angeles, CA 90007
When:
Saturday, October 29 – Sunday, October 30
Doors open at 11:30am for VIPs, 12:00pm for General Admission
Price:
Single Day General Admission $49
Single Day VIP $99
Two Day General Admission $96
Two Day VIP $199
Click here to buy tickets! Use promo code FLASH20 for 20% off!
Important Information
Note that due to the Rock 'N' Roll Half Marathon taking place in downtown Los Angeles on Sunday, October 30, there will be many road closures that morning, lasting from 6:00am to 11:30am. Click here for road closure information.
If possible, you may want to take the train in, as there is a train stop just 2 blocks away from The Reef.  Check out the websites of Metro, Metrolink, and Amtrak for train schedules.
Be sure to read the FAQ section to find out what items are and are not allowed at the festival.
Below is the Floor Plan for EW PopFest. The Main Stage area is outdoors, while the other sections are indoors. The festival will be held rain or shine.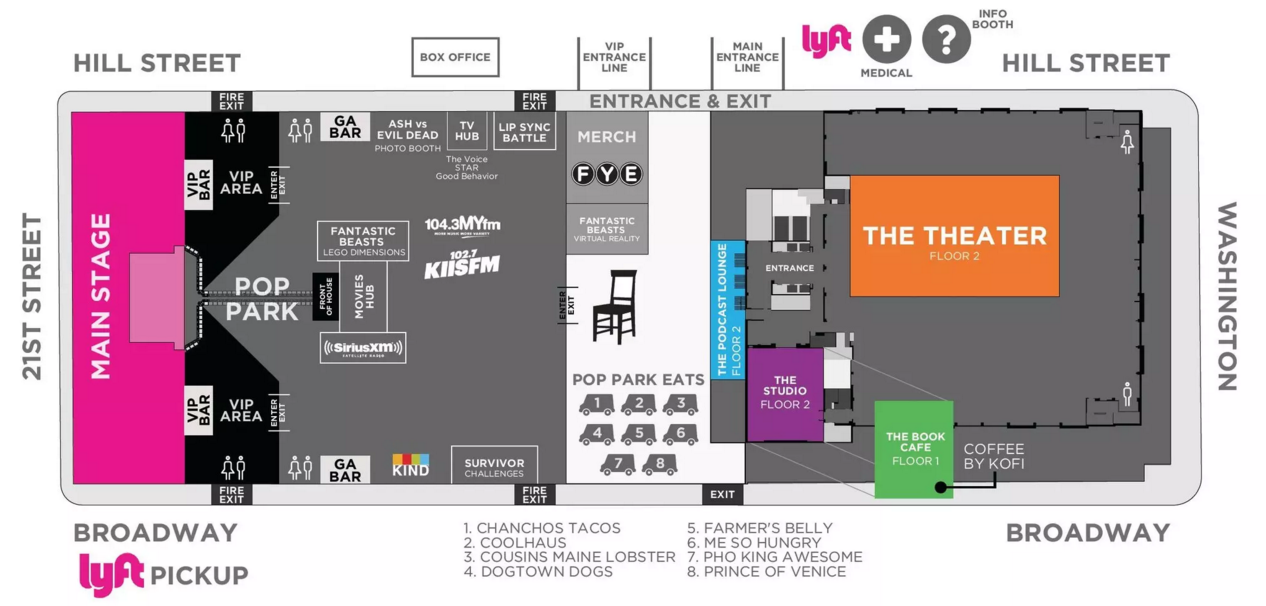 Seating at the Theater, Studio, Podcast Lounge, and Book Cafe is limited and available on a first come, first serve basis.  Note that the Main Stage lawn (more like asphalt, as it is in a parking lot area) does not have seats. Depending on attendance, you may find that it's standing room only, but you might want to bring a blanket, in case there is room to sit on it.
EW PopFest has a very eclectic lineup featuring actors, writers, and directors from popular and upcoming movies and TV shows, plus well known authors, as well as musicians who will performing at the show!
Saturday, October 29
Here are just a few highlights from Saturday:
If you're a fan of the CW show, Supernatural, you can catch Sam and Dean themselves, Jared Padalecki and Jensen Ackles, on the Main Stage at 12:30pm
At 1:15pm on the Main Stage is the CW Superheroes panel, featuring Stephen Amell (Oliver Queen from Arrow), Grant Gustin (Barry Allen from The Flash), Melissa Beniost (Kara Danvers from Supergirl), Caity Lotz (Sara Lance from Legends of Tomorrow), and producer Greg Berlanti.
Gilmore Girls fans can head over to the Theater at 3:45pm for a conversation with show creator Amy Sherman-Palladino and executive producer Dan Palladino, plus an extended sneak peek at exclusive footage from the show's upcoming return!
Check out the Studio at 4:00pm for a screening of Fox's new shows The Mick and Making History, followed by a "happy hour" with both series' casts and creators
Anne Rice will be signing at the Book Cafe at 4:30pm
Hailiee Steinfeld brings a sneak peek of her new film, Edge of Seventeen, and will also be performing songs from her debut EP on the Main Stage at 5:15pm
Nick Jonas will be performing on the Main Stage at 8:15pm
Sunday, October 30
Here are just a few highlights from Sunday:
Calling all Potterheads! Eddie Redmayne and Katherine Waterston present Fantastic Beasts and Where to Find Them sneak peek on the Main Stage at 12:30pm
Are you an Outlander fan? Author Diana Gabldon will be speaking in the Theater at 1:15pm, then will be signing in the Book Cafe at 2:00pm
Catch a live recording of Kevin Smith and Marc Bernardin's Fat Man on Batman at 1:15pm in the Podcast Lounge
The cast of Teen Wolf will be on the Main Stage at 1:20pm, including Tyler Posey, Shelley Hennig, Cody Chritian, Dylan Sprayberry, and Khylin Rambo
American Horror Story and Scream Queens co-creator Ryan Murphy will be joined by Lea Michele, Emma Roberts, Evan Peters, Kathy Bates, Cuba Gooding Jr., and Jamie Lee Curtis at 2:15pm in the Theater
At 4:15pm in the Theater, you can watch a live performance from the voice cast of Bob's Burgers
Jennifer Aniston, Olivia Munn, Courtney B. Vance, and T.J. Miller will be in the Studio at 5:15pm with a sneak peak at Office Christmas Party
Capping off the day, starting at 5:30pm on the Main Stage, in honor of the 20th anniversary of Scream, there will be a Wes Craven Tribute with Kevin Williamson, screenwriter of Scream, followed by a screening of the film
What's listed here is just the tip of the iceberg, so make sure to check out the EW PopFest website to see what else is going on!
Will you be attending Entertainment Weekly's PopFest? Let us know in the comments below!