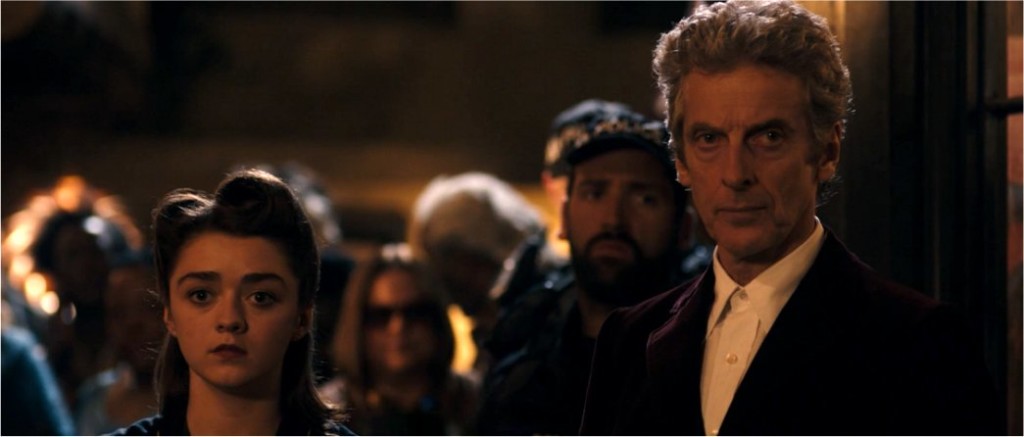 Check out Violet's recap of the Season 9 Episode 10 of Doctor Who, titled Face the Raven, where old friend Rigsy calls asking for the Doctor's help, and they come across Ashildr along the way! Following the recap, both Violet and Josh share their thoughts about the episode.
Don't need the Doctor Who episode recap for Face the Raven? Click here to jump directly to Violet's thoughts on the episode!
To see Josh's thoughts on this week's Doctor Who episode, Face the Raven, click here to get directly there!
Episode Recap of Doctor Who, Season 9 Episode 10: Face the Raven
The Doctor and Clara return to the TARDIS after another exciting adventure, when the phone rings. Clara answers it. It's Rigsy. He says he has a tattoo that's a number — and it's counting down to zero.
The Doctor and Clara take the TARDIS to Rigsy's apartment, and Rigsy shows them the tattoo that's on the back of his neck. He doesn't remember what he did the day before. They all go inside the TARDIS and scan Rigsy and his phone. The Doctor says that in the last 24 hours, Rigsy has had contact with alien lifeforms right then in London, but his memory's been wiped. The Doctor struggles to find a way to tell Rigsy that he's about to die. But Rigsy convinces the Doctor to save him, and the Doctor springs into action, saying he doesn't know who did this to Rigsy, but he knows how to find them.
They go get some maps to look for a trap street, then they fly the TARDIS over London, and Clara hangs out the side of the TARDIS doors taking images of the city using the sonic sunglasses. They hit the streets looking for the trap street. Clara returns to the TARDIS and sees that the data from Rigsy's phone has been recovered. She brings the phone to the others, and reports that someone called him from a blocked number the day before. When Rigsy touches the phone, he has flashbacks of a dead person and the person's attackers. Suddenly, Rigsy realizes the trap street they're looking for is right in front of them.
Upon entering the alley, the three get stuck in the place they're standing, and two men approach them. However, a glitch allows Rigsy to catch a glimpse of their true form, and sees that they are actually alien, not human. One man wonders why they didn't use the proper protocol, while the other tells them this is a refugee camp. Then Ashildr walks up with a few other men. Ashildr greets Clara, telling her that she has read about her in her diaries. The Doctor asks for her help with Rigsy's tattoo. It turns out she's the one who did this to him. Ashildr says that Rigsy committed a crime and she sentenced him. She says she'll show them what warranted this sentence, and guarantees Clara's safety. They are unstuck from their positions, and one of the men calls Rigsy a murderer.
As they walk down the streets with Ashildr, who is still going by "Me," and is the mayor of the street, the people on the streets seem angry at Rigsy and call him a murderer. Clara and Rigsy spot a boy lurking in the shadows. Me explains to the Doctor that the street is cloaked by the telepathic lurk worms that are in the street lamps. She pinches the Doctor's arm, distracting him, which allows him to see that two of the people they are looking at are an Ood and a Cyberman. Me explains that there's strict rules against violence, and that there hadn't been an act of violence in 100 years until Rigsy attacked a resident.
Me brings the others into a building where the dead body is being held. Me says that Rigsy was found over the body. Her name was Anna and she escaped slavery and fled there. We see that this alien species has a face that looks into the future, and a face that looks into the past. Clara thinks that someone framed Rigsy.
Outside there is a commotion. A man begs for his life. He has 2 minutes left. He stole medical rations to save his wife. But Me refuses to remove the quantum shade chronolock. A raven chases the man and kills him when his tattoo reaches 0. Me says the Doctor is free to question the residents and examine the body, but it's not her that he needs to convince, it's the residents.
Clara asks Rump what the man's wife meant when she asked him to give "it" to her. He explains that there's two ways to survive a quantum shade: the master removes the chronolock, or you give it to someone else who takes it willingly. Clara sees the boy from earlier, but he hides again.
Clara asks Rigsy to give her his death sentence, and explains that she's safe because Me guaranteed her protection. Clara says it's a way to buy more time. It takes some convincing, but Rigsy finally agrees. She touches his tattoo and it transfers to her own neck.
The Doctor and Clara question people. The Doctor finds out that when it happened, Rigsy said to call "the Doctor." The Doctor realizes something is wrong. Clara finds the boy and questions him. She has figured out that the boy knows Rigsy is innocent because he can look into his past. Clara figures out that the boy is actually a girl. The girl says she can't see everything, all she knows is that Me thinks she is doing the right thing. The girl says she is having trouble seeing because it involves the Doctor, of whom she can't tell his past from his future. The Doctor realizes this isn't about Rigsy, it's about him. Me wanted to bring the Doctor there, knowing that the can't resist a mystery. Me is afraid of something, but the girl can't see what.
They run back to Anna's body. The Doctor points out that Me said that Anna was being taken home for burial, but that species burns their dead. The Doctor figures out that Anna is still alive. They spot a keyhole that would release Anna, and the Doctor realizes that Me wants the Doctor to use his TARDIS key on it. The Doctor uses his TARDIS key, and Anna is released into the arms of her daughter. But some sort of restraint is placed on the Doctor's arm, and he loses the key. Me enters the room, and explains that the restraint on the Doctor is actually a teleport bracelet. Me says she made a deal to protect the street. They take him, she takes the key so he can't be traced. She also asks for his confession dial, and he hands it over, though he claims he has no idea how it works.
Clara then reveals that she has Rigsy's chronolock. Me says she didn't want anyone to get hurt, and didn't know Clara would do something so stupid. The Doctor is upset, and has Clara repeat back what Rump told her. He said you can pass it on — but you can't cheat death altogether. Rigsy asks for it back, but unfortunately, she can't give it back. Me explains that when Clara took it from Rigsy, she cut Me out of the deal.
The Doctor tells Me to fix it, threatening to bring UNIT and all of his enemies to reign hell on her. However, Clara calls his bluff, knowing that he'll stop his reign of terror at the first crying child. She begs him not to see the last of him like this. The Doctor expresses his regret for not keeping her safe. Clara tells Rigsy not to feel guilty about this. Clara orders the Doctor that wherever Me sends him, to heal himself. She doesn't want him to turn into a monster. They exchange an emotional hug goodbye. The Doctor tells her not to run, and to stay with him. But she says she has to do this alone. He takes her hands in his and kisses them. The Clara walks out into the street and walks toward the raven. She stands there with her arms outstretched, and the raven flies into her, as the Doctor watches. She collapses to the ground.
The Doctor goes back inside. He says he'll try his best to honor Clara's request for him not to seek revenge, but points out that Clara was saving Me by making that request. The Doctor advises Me to keep out of his way. The Doctor is then teleported away, and his bracelet falls to the ground.
Violet's Thoughts on Season 9 Episode 10 of Doctor Who: Face the Raven
Wait, so Clara's not really dead right? The Doctor just has to get through whatever he has to go through in the next episode, and then it'll turn out that he's able to save her somehow, right? Sorry, friends, but it appears that this may indeed be the death of Clara Oswald. The only reason that I say that is because we already knew this would be Jenna Coleman's last season, as she announced it herself. And with only 2 episodes left this season (if you don't count the Christmas episode), there's no reason to think that this wouldn't be her last. But I guess I thought her departure would come closer to the end of the season, either the last official episode or during the Christmas special. Therefore, I never once doubted throughout the episode that she would survive somehow, especially with the whole scene with Rigsy at the beginning, where the characters talk about how this is what the Doctor does, figures out how to save people.
When it was revealed that Ashildr was unable to remove the chronolock from Clara, and Clara and the Doctor exchanged their tearful goodbyes, I was still not convinced she would die, so it didn't really matter to me what they saying to each other, as I figured it would all be moot once she survived. Earlier in the episode, when the man was being chased by the raven, Ashildr's man makes a comment pleading for the man to stay with his wife, and then when he runs, the man wonders why they always run. So when Clara says that she is going to face the raven, and considering that the name of the episode is Face the Raven, I thought that was how she would survive, that those who stand their ground and face the raven, rather than flee from the raven, would be saved.
Even as the raven flew into her, I thought things looked a little different than when it entered the man, and I kept expecting her to be okay. Even as the blackness escaped through her mouth and she collapsed to the ground, I was not sure of her death. Even when the Doctor came back inside, I kept expecting her to walk in and make a surprising entrance behind him.
These are the things you come to expect when you watch Doctor Who. You expect that there's always some sort of loophole, something that will come from nowhere and save the day. But occasionally, that doesn't happen — and this seems to be one of those cases. Of course, I could be wrong, and she may still unexpectedly turn up, because that kind of thing happens too on Doctor Who. I hope not though, because if Clara was going to go out, I'm glad she went out bravely. This is the person she had become, an adventurous person, and I think her death was fitting to her personality. Her departure from the show had to come sooner or later, and I'm not sure that any sort of departure other than her death would have felt genuine.
So now where does the Doctor find himself, both physically and emotionally? Where has the teleport bracelet sent him, and how is he emotionally dealing with the loss of Clara? Who did Ashildr make this deal with? Looks like we are headed to some dark times on Doctor Who. This could be interesting.
Josh's Thoughts: Doctor Who, Season 9 Episode 10: Face the Raven
I was very confused at the start of this episode. What was with this count down? Why couldn't he remember anything? I thought I was missing something for a while, but once we made it to the "street", things really started coming together for me. Ashildr seemed to have moved up in the world, and is pulling some puppet strings now, including the Doctor's.
As for my feeling on the episode, I think it was one of the best this season. No Deux Ex Machinas this time around, there was no magical way of getting out of trouble this time around. Sadly for Clara, her attempt at being "clever" backfired horribly for her, and this seems to have devastated the Doctor. The intrigue in the episode combined with this emotional feeling really made this episode a great one for me. Ashildr's character has been a very intriguing one this season, and I hope we see more of her in the future, and learn who is pulling her puppet strings.
While Clara told the Doctor to not seek revenge, I find the Doctor the most interesting when he is seeking vengeance. Some of the best episodes of Tennant and Smith's Doctor are the episodes when they are all fired up. Peter Capaldi's Doctor has shown a lot of shades of this darker Doctor, but I would like to see the full scale of his wrath coming after whoever is behind this whole plot.
I am excited to see next episode. It seems the Doctor is in some sort of prison, but it is much more than a prison it appears. I am curious to see where it goes. I also wonder if Rigsy might become the next companion, at least for a little while….
Scenes from Doctor Who, Season 9 Episode 11: Heaven Sent
Here are scenes from the next episode of Doctor Who, titled Heaven Sent:

What did you think of Season 9 Episode 10 of Doctor Who, titled Face the Raven? Let us know in the comments below!