D23 Expo 2017 took place at the Anaheim Convention Center July 14-16. On Saturday, July 15, the 2 hour Walt Disney Studios Live Action Films panel started off the day in Hall D23 at 10:30am. Although the huge room holds 6,800, if you weren't already in line in the wee hours of the morning (or have a wristband from the mismanaged line at the Animation panel the day before), you weren't getting into this highly anticipated panel.
The panel began with a sizzle reel showing all of Disney's upcoming films, both animated and live action. Alan Horn, Chairman of Walt Disney Studios, came on stage and talked about the studios that make up Disney — Marvel, Disney Animation, Disney, Pixar, and Lucasfilm — and explained that each studio stands on its own, but together they're one big happy family. He praised Bob Iger for having the vision to bring all of this together. An image was displayed on screen showing the timeline for the release schedule of all of Disney's upcoming films. Alan also pointed out that the 5 top grossing films of 2016 were all from Disney. He then had Sean Bailey, President of Production for live action, come out on stage to talk about what's next for that division.
Disney scheduled. You ready? #D23 pic.twitter.com/ulyQK8V0Q0

— Screen Rant (@screenrant) July 15, 2017
A Wrinkle in Time
First up was A Wrinkle in Time, based on the classic novel by Madeleine L'Engle, which is scheduled to be released on March 9, 2018. Director Ava DuVerney joined him on stage, along with cast members Storm Reid (Meg), Chris Pine (Mr. Murry), Reese Witherspoon (Mrs. Whatsit), Mindy Kaling (Mrs. Who), and Oprah Winfrey (Mrs. Which). Ava talked about how she saw herself in the project, and that Disney is the perfect place for it. She wanted to make a film with a cast that looked like you, that reflected the real world. As for the A-List cast she has assembled, she revealed that everyone she cast was her first choice.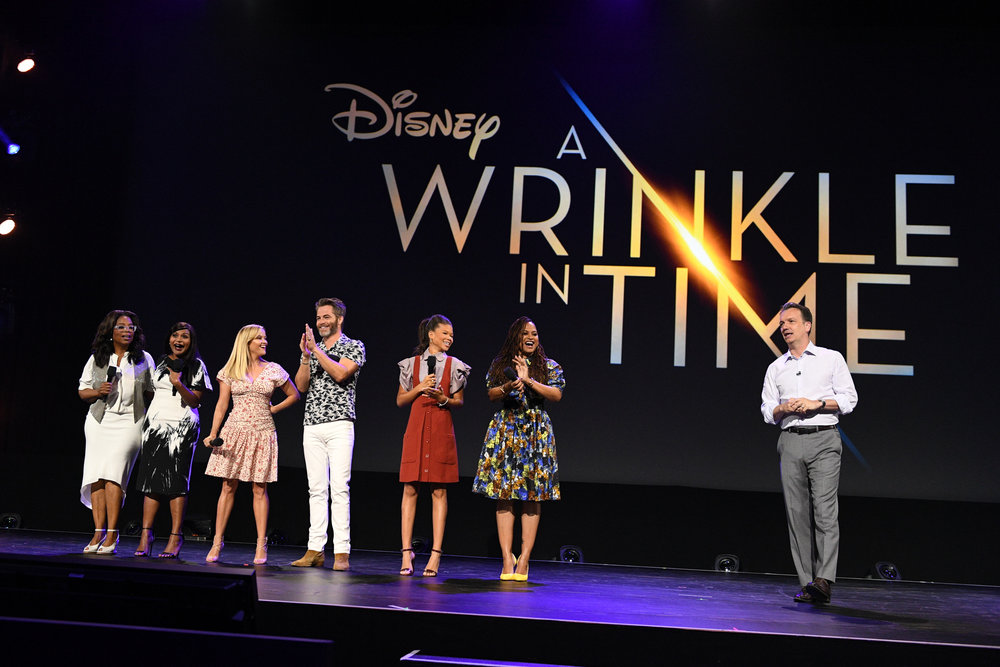 Storm Reid spoke highly of her fellow cast members, mentioning how Reese felt like a Mom to her on set, Mindy brought energy, and Oprah made her feel comfortable. Chris Pine admitted that he hadn't been familiar with A Wrinkle in Time, but after 5 minutes of speaking with Ava, he knew he wanted to do it.
Mindy Kaling talked about how her character, Mrs. Who, only speaks in riddles, and revealed that in the movie, the quotes she uses are updated from the book. For example, she quotes Jay-Z! Reese Witherspoon was a huge fan of the book growing up, and she praised Ava's ability to see the whole world and the beauty of the world. Although Oprah had heard of the book, she had never read it. But once she heard that her character was one of the wisest people in the universe, and would get to wear amazing costumes and makeup, it was easy for her to say yes.
Then a teaser poster for the movie was revealed — and Oprah announced, "Everybody gets a poster!" just like when she would give away free stuff on her show! "You get a poster! And you! And you!" Then the crowd chanted, "Oprah! Oprah! Oprah!" So that was pretty fun. We then watched a teaser clip for the movie, which was released online shortly thereafter.
The Nutcracker and the Four Realms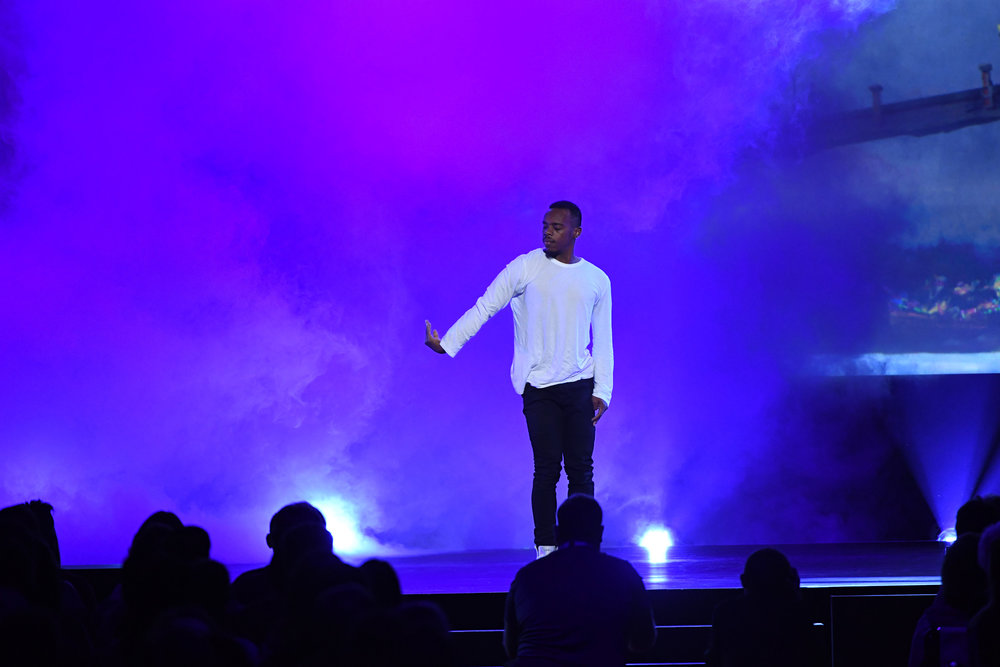 The next movie was one I hadn't heard of before. The Nutcracker and the Four Realms is based on The Nutcracker and the Mouse King by E.T.A. Hoffman, and will be released on November 2, 2018. In the movie, a young girl finds a music box her mother left her with a note saying "Everything you need is inside." However, she doesn't have the key to open it. We were shown images of the four realms to which she will venture, which had these general themes: Flowers, Snowflakes, Sweets, and Eerie. The cast includes Mackenzie Foy as the lead, along with Kierra Knightley, Helen Mirren, and Morgan Freeman. We were also shown a short teaser clip. Additionally, we were told that the Mouse King will have a bit of a different take in this movie, in that he will be made up of thousands of CGI mice. The Mouse King will be played by Charles Riley, also known as "Lil Buck," who then came out on stage and performed in his unique style of dancing, to the tune of the classic music from the Nutcracker ballet.
Mary Poppins Returns
We learned that Mary Poppins Returns is a sequel to the original film, set 25 years later during the Great Depression, with Michael and Jane all grown up. Director Rob Marshall came out on stage to tell us more about the film, which will be released December 25, 2018. He also brought out Emily Blunt, who will be playing Mary Poppins. Emily said that she knew that no one was going to "out-Julie" Julie Andrews, so she had to do her own version of the character, which she described as more acerbic and rude, like she is in the books. Rob said that Emily was "born to play this part." Dick Van Dyke returned to star in the film, and according to Rob, commented that "it feels exactly the same, the feeling of joy," which Rob took as the highest compliment.
Emily compared Mary Poppins Returns to Into the Woods, saying that Mary Poppins Returns is a "big old musical." She said that Rob makes everything feel real and natural — and that he even got her dancing!
Rob showed us a photo from the movie, which featured a table. He pointed out that it was the same table that was used in the first movie. He had seen the table at Club 33, and insisted on having it in the movie, so they flew it over to London! Rob also spoke about creating new music for the movie, which is something he always wanted to do. He also said that it was a long rehearsal process because they were creating a new musical. We learned that they had finished filming just a few weeks ago, and that we would be the first to see a teaser for the movie. On top of that, the curtains to the side of the stage pulled back, revealing a full orchestra, which played the music while we watched the clip!
Other Disney Live Action Films
The live action Mulan was confirmed, though with no other details. The live action Jungle Cruise movie was also confirmed, which will star The Rock.
Casting for the live action Aladdin was announced, with Mena Massoud playing Aladding, Naomi Scott playing Jasmine, and Will Smith playing the Genie.
Tim Burton was unable to attend to talk about the live action Dumbo, which is scheduled for release on March 29, 2019. However, he sent us a video message from the set of the film, which is just about to start shooting in London. He was on the set of the Casey Jr. Train. The film will star Colin Farrell, Michael Keaton, and Danny DeVito. A very cute life size model of Dumbo was then wheeled out on stage for us to see.
Then the lights went out and a clip started playing on screen: the opening scene of the Lion King live action film! It felt so much like the animated film, with the same song, and the animals gathering to see the presentation of Simba. Except this time around, the animals are CGI, though look very lifelike. Rafiki breaks open a plant to get to the dust that he will anoint on Simba's forehead, and when he does, the dust make Simba sneeze! So cute! Director Jon Favreau came out on stage to say a few words. He talked about how hard they've been working on the film, but his main concern was "When's D23?!" because he wanted to make sure he had something good to show us, just like last time for The Jungle Book live action movie. 
Lucasfilm
Kathleen Kennedy, President of Lucasfilm, was in London with Ron Howard working on the production of the Han Solo film, so she was unable to attend D23 Expo. The only info we got about the Han Solo movie was a slide featuring the cast, and that it would be out next summer.
As for The Last Jedi, which is coming out December 15, Writer/Director Rian Johnson came out on stage to talk about the film. He revealed that he used to work at the Disney Channel in the On Air Promotions department where he produced the "Coming Up Next" spots. Rian told us that The Last Jedi is currently in post-production, and that they are mixing right now. "I had the time of my life making this movie," he gushed.
Returning cast members Daisy Ridley (Rey), John Boyega (Finn), Gwendoline Christie (Captain Phasma), and new cast members Kelly Marie Tran (Rose), Laura Dern (Vice Admiral Amilyn Holdo), and Benicio Del Toro (DJ) also came out on stage.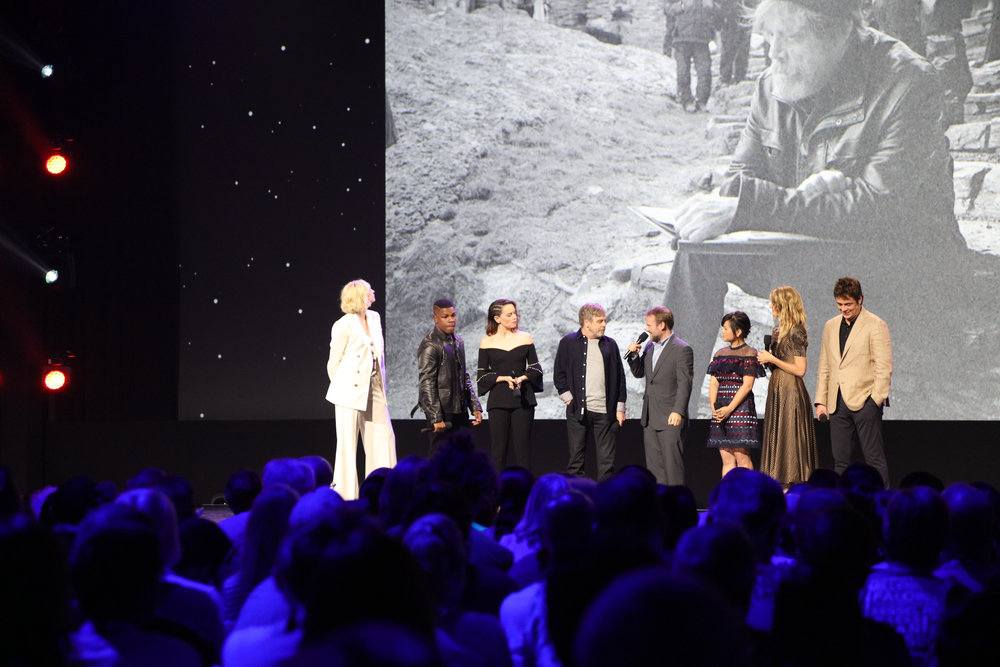 Daisy talked about how she and Rian "jigged" in Ireland, where the film was shot. John referenced having a fight with a formidable opponent. He and Gwendoline Christie looked like they were about to face off, but then she puckered her lips and kissed the air at him! Gwen joked how her Captain Phasma was so warm, you could cook a casserole in it! Kelly, who is new to the film industry, was constantly popping into everywhere on set, asking people what they do. She said she wanted to do everything she could without getting in trouble — and she was surprised that she never did get into trouble! John interjected that he gave her the advice to ask herself, "What would John Boyega do?" Rian jumped in saying, "And then do the opposite!" Laura recalled that when she was a child and would play Star Wars, she would always use the "pew" sound when firing a weapon. Well, when she got on set, she kind of forgot that she didn't need to make the "pew" sound! As for Benicio Del Toro, he saw the 1977 Star Wars film when he was 10, and as soon as he heard the title alone, he was in.
One face that seemed to be missing from this stellar line up was Mark Hamill, who had been at the Disney Legends Awards Ceremony the day before. Sure enough, he was finally called out on stage to join the others. He thanked Rian for not making him stand next to Gwen, because he's too short for a Stormtrooper. Rian made the comment that he's often heard the phrase "Never meet your heroes," but said that this experience had been magical for him. Mark talked about how when he read the script for The Last Jedi, there were so many unexpected elements, and felt like it was "a real game changer."
We then watched a behind the scenes clip from the making of The Last Jedi, which was released online for all to watch. In the clip, Carrie Fisher says, "It's about family, and that's what so powerful about it."
Marvel Studios
Rounding out the panel was none other than Marvel Studios. Kevin Feige, President of Marvel came out on stage and introduced Marvel's 10th Anniversary logo: Marvel: The First 10 Years, as Marvel will be celebrating this milestone next year. Kevin recalled when he had bought tickets to D23 Expo in 2009. Then Disney bought Marvel, and he suddenly had much better seats at D23!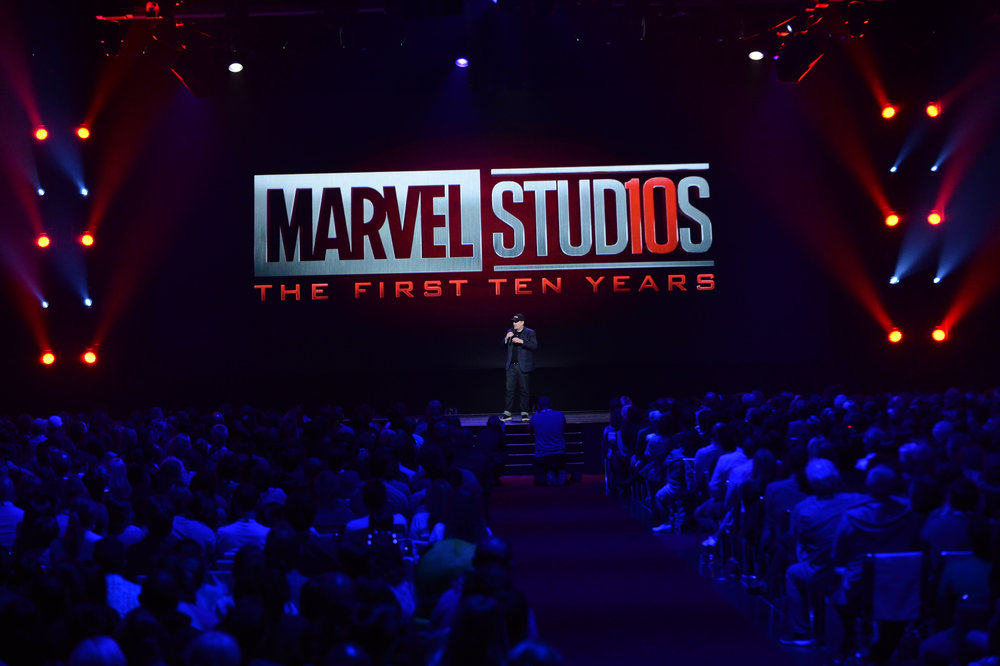 Kevin launched right into talking about Avengers: Infinity War, due out on May 4, 2018. First to come out on stage was Josh Brolin, who plays Thanos. Now that he has shot a lot as Thanos, instead of the much smaller, very short amount of screen time we've seen him in previously, he said that he feels powerful. Kevin revealed that yesterday they wrapped the halfway mark on the film, and he got as many people as he could to get on a plane from Atlanta to come here.
A slew cast members then came out on stage, including Paul Bettany (Vision), Elizabeth Olsen (Scarlet Witch), Pom Klementieff (Mantis), Karen Gillan (Nebula), and Dave Bautista (Drax). Kevin then asked Josh Brolin how powerful he was feeling now with all this competition on stage, to which Josh replied, "Drax ain't sh*t!" So Kevin added a few more opponents, including Don Cheadle (War Machine), Sebastian Stan (Winter Soldier), Anthony Mackie (Falcon), and Benedict Cumberbatch (Doctor Strange)! At this point Kevin commented, "Even I'm geeking out!"
But that wasn't all. Tom Holland (Spider-Man), Chadwick Boseman (Black Panther), Mark Ruffalo (Hulk), Chris Hemsworth (Thor), and Robert Downey Jr. (Iron Man) also joined their fellow cast members on stage! RDJ and Josh Brolin kind of squared off, play fighting, but then RDJ leaned in and gave Josh a kiss on the cheek. RDJ joked that this was what he and Kevin had come up with at Randy's Donuts after Iron Man 2. RDJ demanded, "Is that all you got??" There was in fact still one more face to grace the stage, which was Joe Russo, one of the directors of the film. His brother, Anthony, had to stay behind in Atlanta.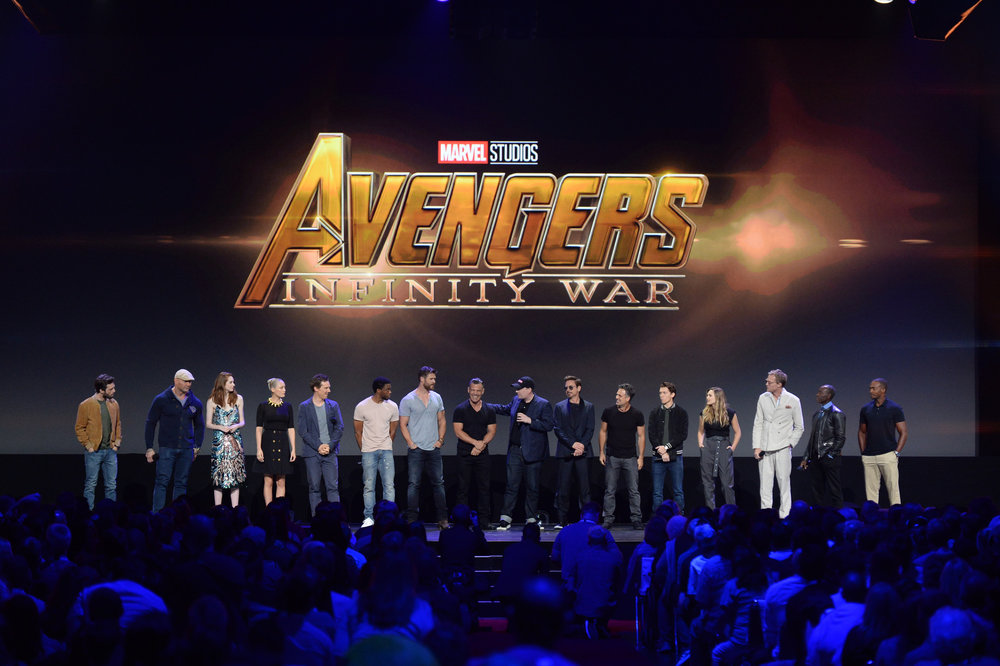 Joe then introduced a clip that he said was a look back at Marvel over the past 10 years. And it was, at first. But then suddenly, without warning, it transitioned into some footage for Infinity War! This footage has not been released, and there's been speculation that the same footage will be shown at San Diego Comic-Con. Marvel typically doesn't release the footage that they show at D23 Expo or Comic-Con, and if they do, it's several months after the fact. So I'll give you a quick run down of what happened in the clip.
The Guardians of the Galaxy are flying along in outer space, through some debris, when suddenly something hits their windshield. It's Thor! They bring him in and take care of him, and soon realize "Something isn't right." The rest was a montage of scenes, including Peter Parker's sitting on a school bus and suddenly having his arm hairs standing straight up (Spidey-Sense!), and later Peter Parker laying on the ground in his Spider-Man suit, but without the hood on, with Tony Stark leaning over him, as Peter tells him, "I'm so sorry, Tony." We also see Scarlet Witch, a blond Black Widow, a bearded Steve Rogers, and Loki holding the Tesseract. We see Thanos, this time without a helmet, and he has the Infinity Gaunlet, which is still missing a couple Infinity Stones. He uses his power to destroy a moon we see in the background behind him, and causes the debris to rain down below, attacking the Avengers. I cannot do this footage justice with merely words. It was amazing and I cannot wait to see this movie!
This wrapped up the Live Action panel, and after picking up our A Wrinkle in Time poster, we headed straight to get in line for the Parks and Resorts panel. Click here to see our coverage of that!