Every two years, Disney has a fan expo, which they call D23 Expo. This year's D23 Expo took place at the Anaheim Convention Center July 14-16, 2017.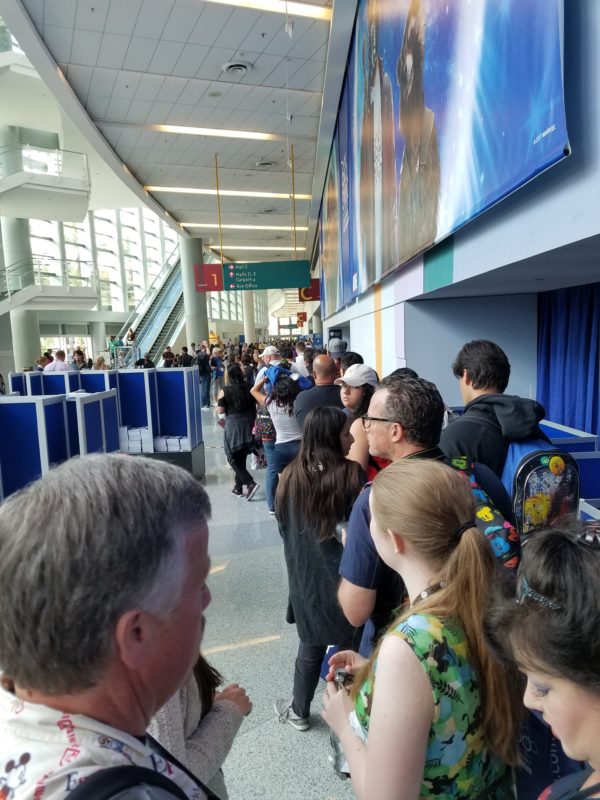 Following the Live Action panel on Saturday, July 15, after which we picked up our free A Wrinkle in Time poster on our way out (which seemed to clog up the exit, with everyone trying to collect their prize), we immediately went and got in line for the Parks and Resorts panel. By the time we go through the crowds and found our way to the end of the line, the line was all the way down past Hall B. It seemed that many other people had also come straight from the Live Action panel, as was evident by the poster they were holding. Note that the Live Action panel ended at 12:30pm, and the Parks and Resorts panel was scheduled to begin at 3pm.
By the time we made it down to Hall E, Gold member seating had closed. It seemed that the line was being controlled much more carefully than it was for the Animation panel the day before. There were only far fewer columns filled in the standby area of people waiting to go to the other side of the barriers. One at a time, columns were taken forward and given a wristband.  When there was just one column left to go before our column, they made an announcement that wristbands were running low. But then a few minutes later we too were directed to go forward to receive a wristband, guaranteeing our seating in the Parks and Resorts panel, and instructed to go to Section A. At some point, I saw on Twitter that the panel was full. I didn't hear any sort of announcement, but I did notice that it seemed like they weren't allowing anyone else to come into the room. Around 2:30pm is when I noticed areas of the line being loaded into Hall D23, and about 2:45pm is when our part of the line was taken to be seated.
Unlike the Live Action panel, we were able to keep our electronic devices out for the Parks and Resorts panel. The panel began with several cast members singing and dancing to a medley of Go the Distance (from Hercules) and Seize the Day (from Newsies). 
Bob Chapek, Chairman of Walt Disney Parks and Resorts, started off the panel. He spoke about how they often receive letters from guests which compliment specific cast members for something they did that made their experience special. We then watched a video about a little girl who was deaf who met Minnie Mouse — and was amazed when Minnie began speaking back to her in sign language! The parents talked about how grateful they were for this.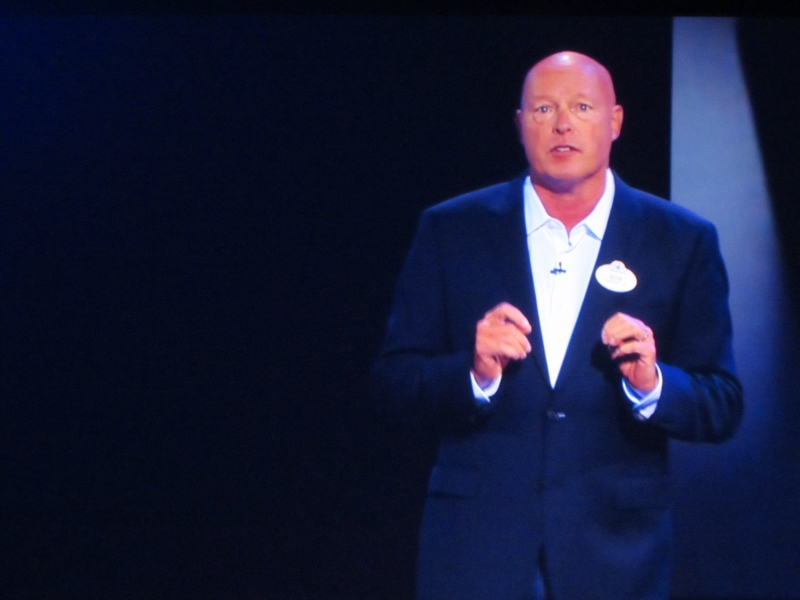 Next we watched a video that was a look back at what Disney has done with the parks recently, and Bob pointed out that all this was only since January. He then announced that as a special gift, everyone at the Parks and Resorts panel would be receiving pins unique to each Disney park upon leaving the panel.
The first big topic of conversation was Star Wars Land, which was announced at the last D23 Expo in 2015. Bob briefly went over the two rides that would be in Star Wars Land, one of which you would get to fly the Millennium Falcon, and work as a team. We were also shown a video of the model for Star Wars Land. Bob then revealed the official name for Star Wars Land, which is Star Wars: Galaxy's Edge. Imagineer Scott Trowbridge came out on stage to tell us a little more about Star Wars: Galaxy Edge. He told us that it would feature both new and old characters, such as Hondo, Chewy, BB-8, and Kylo Ren. Scott explained that it would be a "living place" where your choices matter. For example, your performance on the Millennium Falcon ride might end up earning you extra galactic credits, or land you on a bounty list! He talked about the Cantina and said that there would be unique drink concoctions there. Additionally, Rex, the pilot on Star Tours before the recent update, will be a DJ at the Cantina! After Scott finished up, Bob came back onstage and revealed that the Star Wars Lands in Anaheim and Orlando would be opening at slightly different times, but that the first one will open right here at Disneyland.
Next, Imagineer Kevin Rafferty came on stage to tell us about the very first ride that will be themed around Mickey Mouse himself. It will be called Mickey and Minnie's Runaway Railway, and will be coming to Hollywood Studios at Walt Disney World. He explained that Mickey and Minnie would be getting ready to go on a picnic, when they find themselves driving alongside Goofy, who is driving a train. You can probably figure out what happens next with Goofy driving! Kevin said that guests would step into the movie screen and onto Goofy's train with a new technology that he called "2 1/2 D" rather than 3D, since glasses aren't required. He also boasted that Mickey and Minnie's Runaway Railway would have more hidden Mickeys than any other attraction anywhere.
We then had some entertainment of people singing and dancing to a medley of songs, including Wishes, the Golden Horseshoe song, Great Big Beautiful Tomorrow (while images of the ride showed on screen), and Mad T Party.
Bob Chapek talked about Walt Disney World's 50th anniversary coming up in 2021 and the planning that's going into it. He said that no area of the park would be left untouched, and that they're thinking big when it comes to Epcot. They want to stay true to the original vision, but make it more timely and more Disney. Imagineer Tom Fitzgerald came out on stage to talk about their plans for Epcot. He announced that a Ratatouille ride will be coming to Epcot, which will be near the Eiffel Tower. Additionally, they'll be bringing the first seamless Circle-Vision show to China Pavilion. On top of that, in time for the 50th anniversary, they will be adding a Guardians of the Galaxy ride, though a much different one than the one at Disney California Adventure. The backstory will revolve around Peter Quill having gone to Epcot as a child. It was also announced that Mission Space would be returning to Epcot this summer, and that there will be a new table service restaurant.
Moving on to Magic Kingdom at Walt Disney World, Bob Chapek announced that there will be a Tron ride by the 50th anniversary. There's also a new theater coming to the Magic Kingdom, right off of Main Street. It will be based on the Willis Wood Theater in 1920s Kansas City.
As for Disneyland Paris, they'll be getting an Art of Marvel themed hotel.
Then came an announcement about a new sort of experience that is coming to Walt Disney World, which is a combination of a luxury resort plus Star Wars immersion experience, and will be a multi-day adventure. Every window will have a view into space.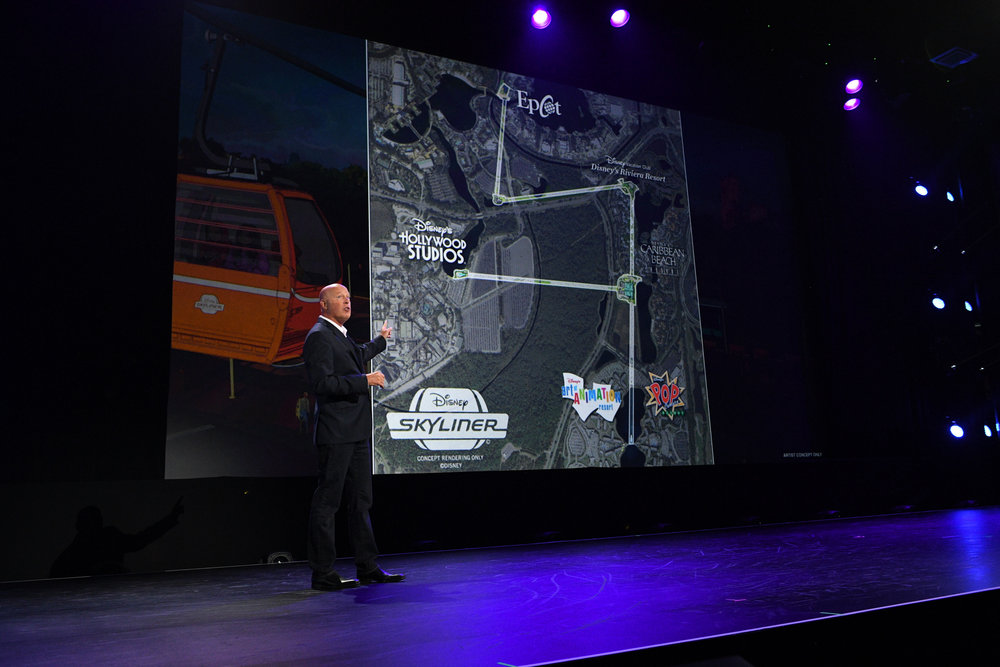 The Disney Vacation Club is getting a new addition called the Disney Riviera Resort at Walt Disney World.
Also at Walt Disney World, they will be adding a new point to point transportation service that they're calling the "Minnie Van" service, which seems like it will rival Uber and Lyft. The vans are "dressed" like Minnie — red with white polka dots.
Another big announcement for Walt Disney World: they'll be getting a Skyliner service, which will transport guests in gondolas through the air to the various parks that make up WDW.
Disney Cruise Lines had a few announcements as well. A Beauty and the Beast show will be coming to the Disney Dream this November. Wendy Anderson, the show's creative director, came out on stage and told us a little about it. They will be using puppetry for the objects. There was then a performance on stage of a medley of Be Our Guest and other songs, while a video from rehearsals for the show played on screen. Additionally, it was announced that Disney Cruise Lines will be expanding its fleet by not only adding two new ships, but yet a third, by 2023, each with its own unique experience.
Another land that was announced at the previous D23 Expo was Toy Story Land, which is being built in both Shaghai and Orlando. We watched a "top secret video" of the Toy Story characters "spying" on Imagineers on site as the lands are being built and talking amongst themselves.
Pixar Fest was then announced for 2018. Disneyland will have a Pixar themed fireworks show, and the Pixar Parade will be moving over to Disneyland, which will allow for the return of Paint the Night to Disney California Adventure. Bob Chapek then called John Lasseter, Chief Creative Officer of Pixar, out on stage to talk a little more about it. Apparently it was hard to get him there, as he loves Imagineering so much that you can't get him out of Imagineering. He then announced that Paradise Pier at Disney California Adventure would be becoming Pixar Pier, with Pixar theming and characters roaming the area. He also announced that Cars Land will be getting a Halloween overlay this Fall.
Bob Chapek went on to talk about the new Guardians of the Galaxy: Mission Breakout ride, which he said is the highest rated Disney attraction out of all of their parks. He then had a conversation on screen with Baby Groot, teasing a big announcement. Of course, all Groot kept saying was "I am Groot," so Bob took it upon himself to tell us the big reveal. He said that there will be adding an immersive superhero experience to this area of the park, which will include Spider-Man and the Avengers. He didn't have anything more specific than that at this time, though. Many are interpreting this announcement as a "Marvel Land" announcement.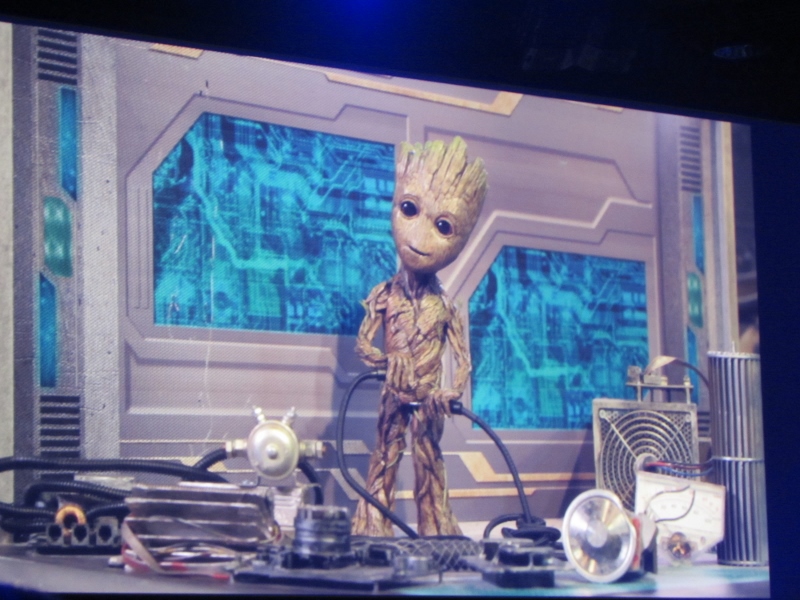 Finally, Bob mentioned that Fantasmic was returning on Monday for Disneyland's 62nd anniversary. However, he had a surprise for us. Fantasmic was actually returning that night — and all of us had reserved seating! Of course, this was provided you already had a valid Disneyland ticket. Luckily, we are Signature Annual Passholders, only blocked out the last two weeks of December, so we would be able to attend. There were four shows we would be able to choose from: 9pm and 10:30pm that night, or 9pm and 10:30pm the following night. We would be given a voucher upon exiting, and would have until 7pm that evening to go over to the StagePass area to select which show we wanted to attend.
The panel ended with a letter from a guest who had an autistic child who wanted a specific balloon — the clear balloon with a Mickey head inside, and it had to be green. She looked all over, but was devastated to find out that they weren't selling anymore balloons. However, a cast member took it upon their own initiative to get the requested balloon for her. It was a touching story, especially with the music playing in the background. Cast Members came out which bunches of the aforementioned green balloons and sang When You Wish Upon a Star. When the panel ended, the balloons were given out to audience members.
It was tough getting out of the panel, though. First of all, everyone was being given the promised Disney pin, as well as Fantasmic voucher. Then we spent the next hour and 45 minutes making our way over to StagePass on the opposite side of the convention center, along with a huge crowd, and standing in line to get our Fantasmic wristband. We were worried that they would run out of Saturday night wristbands, as we would not be able to attend on Sunday night, but we finally got up to the front and were able to get wristbands for the first show, the 9pm show. It was about 6:15pm by that time.
We decided to drive over to the Mickey and Friends parking structure and go to Disneyland to eat dinner. I always hear about how good the fried chicken at Plaza Inn is, so we ate there for the first time ever, and it was pretty good! After eating, we headed over to get in our spots for Fantasmic. Did I mention it was our first time ever seeing Fantasmic?! Afterwards, we stayed there for the fireworks show, which was cool because they projected the images they normally project on the castle onto the water. Then we got a good spot on Main Street for our first time ever seeing the Main Street Electrical Parade! So, it was pretty late when we got home. We were exhausted, but it was a good day. A Day of Firsts.
Stay tuned for our coverage of the final day at D23 Expo 2017!