This year's D23 Expo, which occurs every two years, took place at the Anaheim Convention Center on Friday, July 14 through Sunday, July 16.
Usually, we only get Saturday tickets for D23 Expo, as we did in 2013 and 2015. We were going to do the same this year, but Saturday tickets sold out before we got around to buying them. That meant that the only way we were getting in on Saturday would be to buy 3-day badges. Which we did.
So this was my first experience going to D23 Expo when I didn't line up at 4am. Also for the first time, I attended the event on Friday. I wasn't quite sure what my plans were. Ideally, I would have liked to go to the Legends panel and the Animation panel, both in the largest room, Hall D23, which holds about 6,800 people (down from 7,500 in 2015). But I wasn't sure how early you have to line up for either of those panels, not ever having attended them before.
Getting Into D23 Expo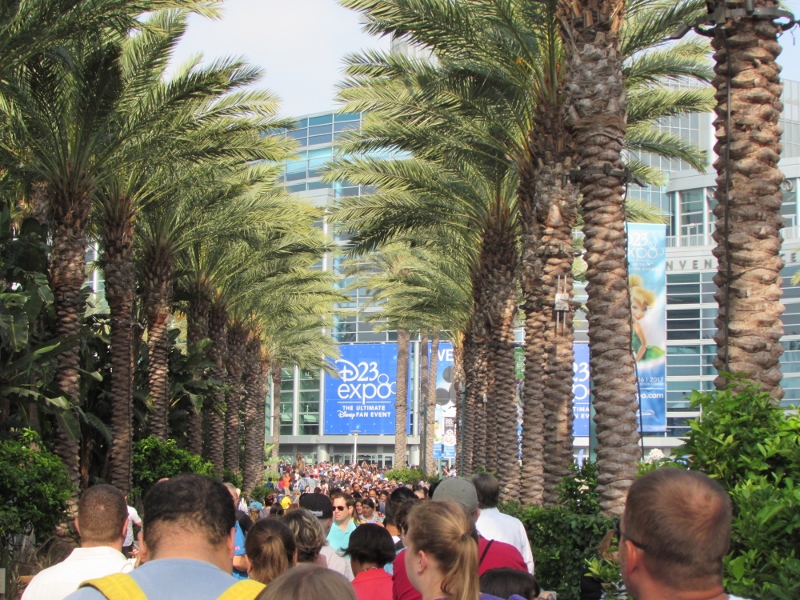 I got to the Anaheim Convention Center at about 8:35am. There were crowds, crowds everywhere. There was only one line to get in, rather than a separate line for the show floor and Hall D23. And the line was moving slowly. I eventually gave up hope that I would actually be able to make it in for the Legends panel, based on how slowly things were moving. There was a massive crowd in the middle of the courtyard, which were apparently the people who had gotten in line at 4am. I watched as they were gradually let into the show when it opened at 9am.
Eventually, I made it through security, where they checked our bags and where we walked through metal detectors, then picked up tote bags, lanyards, and programs. It was about 9:55am at this point, but I still investigated the status of the Legends panel. I made my way over to Hall D23, where people were walking right on into Hall D23! There was still a large section of seats available, which never actually completely filled up. It was right at 10am at this point. I had made it just in time! At 10:05am there was an announcement that the presentation would begin in 5 minutes.
Disney Legends 30th Anniversary Awards Ceremony
The Disney Legends 30th Anniversary Awards Ceremony started promptly at 10:10am, opening up with a sizzle reel of clips from various Disney properties, then Disney's CEO, Bob Iger, came out on stage and made some introductory remarks. He went over the things that have happened since the last D23 Expo in 2015, such as the release of Star Wars: The Force Awakens and Rogue One, as well as the opening of Shanghai Disneyland (which he mentioned has had over 12 million guests already), and the debut of Pandora — The World of Avatar at Walt Disney World. He also talked about Oswald the Lucky Rabbit, and how they have been trying to figure out a way to integrate him back into Disney. He even showed us a few photos of the ideas they have had so far, which were pretty funny, but he said they'd keep working on it.
We were then treated to Anika Noni Rose, the voice of Tiana in Disney's The Princess and the Frog, coming out on stage and singing Go the Distance from Disney's Hercules!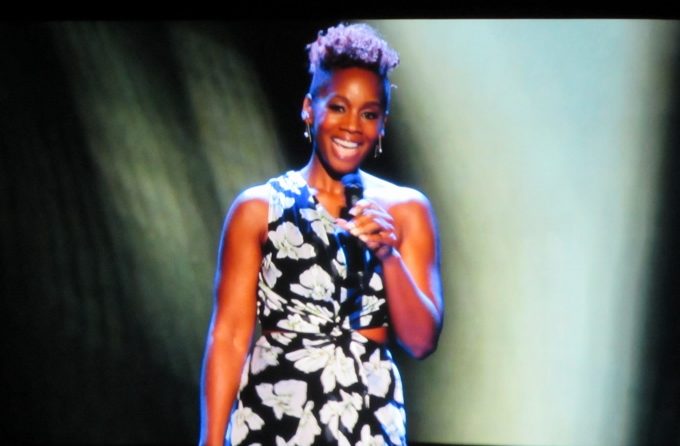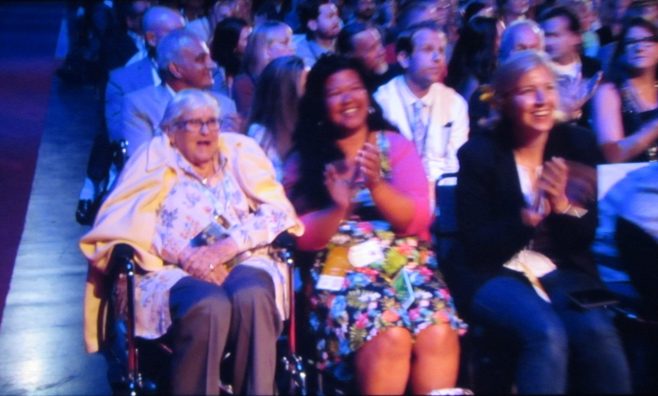 Before starting the awards ceremony, Bob Iger had all the current Disney Legends in the audience stand up to be recognized. One Disney Legend in attendance could not stand, because she was in a wheelchair. This Disney Legend was Ruthie Tompson, who was celebrating her 107th birthday!
Bob Iger then called Disney Ambassadors Alexa Garcia and Mikey Trujillo up to help him with the awards.
For each of the 11 Disney Legend award recipients, a short clip was played highlighting their work before each Legend's respective award was given.
The Disney Legends Awards Ceremony kicked off with Oprah Winfrey, who shared a story about having eaten at Steakhouse 55 the night before, where she encountered an employee who had worked there for 42 years! When she asked him why he stayed there that long, he said that he found it to be the best place to "let me be me." Oprah commented that she feels the same way about her work with Disney. She went on to say that being a Legend is about the "common experience" and that on her show, she was able to share the "common story." Bob Iger also mentioned that Oprah would be in the upcoming Disney film A Wrinkle in Time and that she would be back on stage the next day to talk about it during the Live Action panel.
Next up was Garry Marshall, who had a long illustrious career as a writer, director, and producer before passing away last year. His children, Scott and Kathleen, accepted the award on his behalf, and talked about how they liked to go to Disneyland with their father, who liked to sit on benches there. Scott recalled his father saying, "Walt understood a bench!" Garry loved benches so much that he was eventually given one at the intersection of Minnie Mouse Boulevard and Goofy Drive.
After this, dancers from Dancing with the Stars came out on stage and danced with comic book images on the screens in the background. One of the songs they danced to was Mr. Blue Sky, which Marvel fans would recognize as the song in opening fight scene of Guardians of the Galaxy Vol. 2!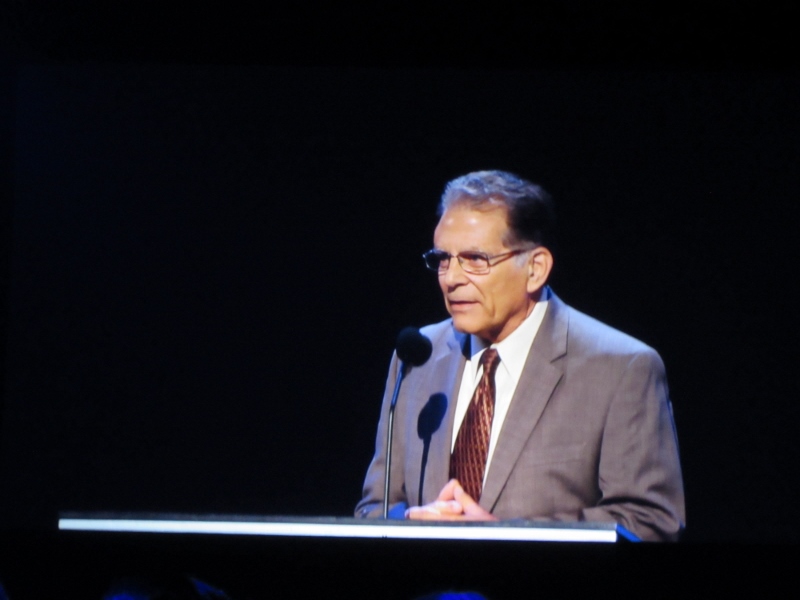 There was good reason for this comic book interlude, as the next Disney Legend to be honored was comic book artist, writer, and editor Jack Kirby. As Jack had already passed away over 20 years ago, his son Neal Kirby accepted the award on his behalf. He started off by offering condolences to Stan Lee for the recent loss of his wife, Joan Lee. Neal spoke of his father as being a very humble man, and said that his father did not make super heroes, he made "super people."
Of course, as a great follow up, the next Legend to be honored was Stan Lee, who was choked up by the testimonial to Jack Kirby, with whom he had worked on Fantastic Four and other projects. Stan told us a story about a little boy who loved to read everything he could get his hands on. One day he saw an expensive "coffee table" book called The Art of Walt Disney, but couldn't afford it. The little boy finally was able to save up enough money to buy it. That little boy was him. He loved Walt Disney. To him, Walt Disney was "more than a man, he was an inspiration. He was something to reach for, to be like him." Stan made sure to sign off with his signature catch phrase, "Excelsior!"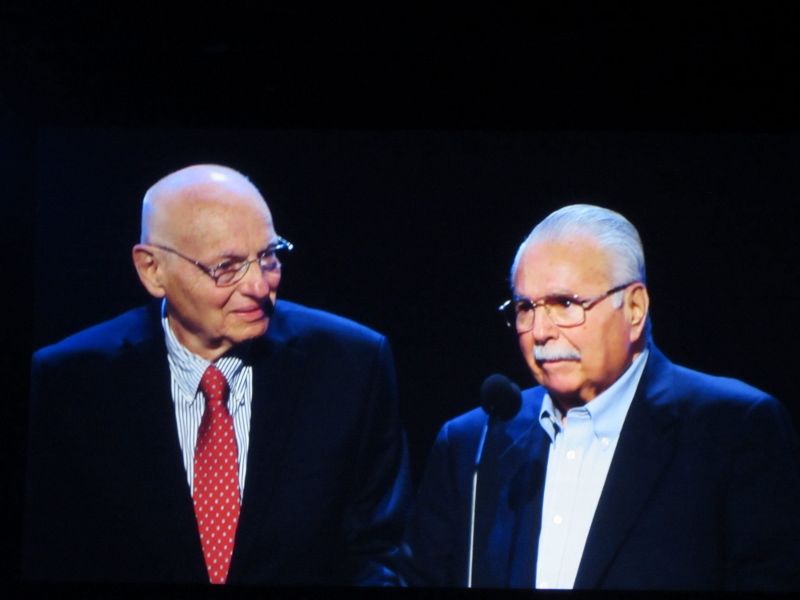 Clyde Geronomi was the next Disney Legend to be honored, who is known for his work on many of the classic Disney animated features such as 101 Dalmations, Cinderella, Sleeping Beauty, and Lady and the Tramp. He also worked on animated Marvel superhero series in the 1960s. Having passed away many years ago, his children Gary and Lyn accepted the award on their father's behalf, and they spoke of how Clyde loved working for Walt Disney, and also how he loved working with animals. Their father always talked about how happy and proud to work with the best directors, animators, and just the best people in the business, and that Disney provided the best atmosphere to work in.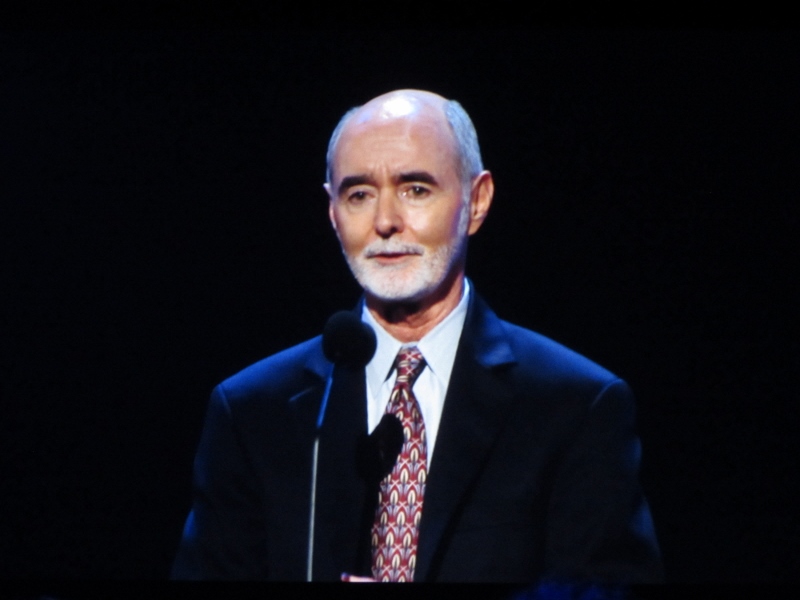 Then Manuel Gonzales was honored, with his son, Dan, accepting on his behalf. Manuel is best known for his work on Snow White, as well as the Mickey comic strip that appeared in the Sunday paper. Dan told a funny story about his father and Walt Disney. His father finally saved up enough money to buy a car, which was a 1939 red Packard Convertible. Little did he know that Walt Disney drove a 1938 red Packard convertible. So Manuel drove to work one day and the security guard waved him in to a parking spot in front, more paying attention to the car than the driver. A little while later, someone comes in telling Manuel that he needs to move his car because he parked in Walt's spot! Walt wasn't angry, and joked that he thought maybe he was paying his artists too much!
The Cadaver Dans then came on stage and serenaded us with Grim Grinnin' Ghosts, and then the Dancing with the Stars dancers came out and danced to a remix of the song.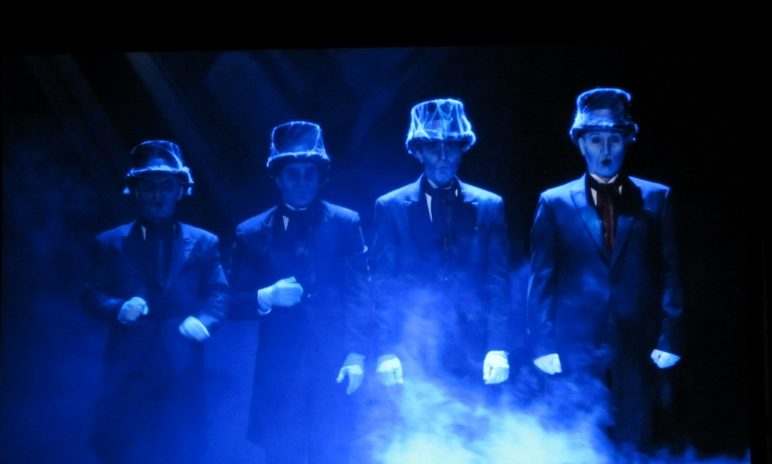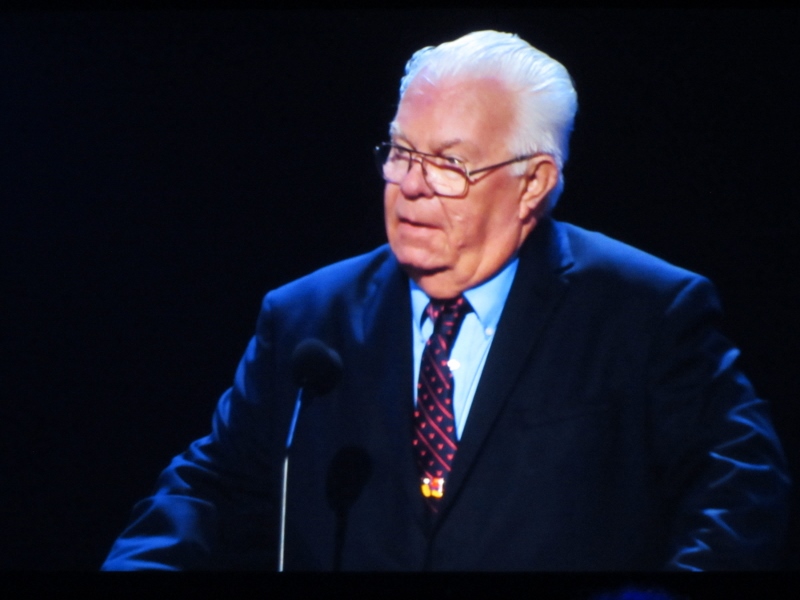 Getting back to the awards ceremony, Wayne Jackson, an Imagineer, was the next to be honored. He is best known for his work on the Pirates of the Caribbean ride, and also had a big part in working on Tokyo Disney, with his last Disney project being Disney Sea before retiring. He talked about the talented people he had worked with in his 37 years of being an Imagineer, and thanked all the Imagineers for all of their contributions to the various attractions at the Disney theme parks.
Carrie Fisher of Star Wars fame was next up. Having sadly passed away at the end of last year, her daughter, Billie Lourd, wrote a letter accepting on her mother's behalf, as Billie was unable to attend the ceremony due to working on American Horror Story. Bob Iger read the letter aloud, wherein Billie talked about how she enjoyed going to Disneyland with her mother, and that she thought Carrie may have loved Disneyland even more than she did. Billie said that her mother would have loved to be not only a Disney Princess but a Disney Legend as well.
Naturally, following Carrie Fisher, was none other than Luke Skywalker himself, Mark Hamill. He spoke of how he is a Disney collector, so being a Legend was a great addition to his Disney collection. He also referenced Lou Gehrig's quote, "I consider myself the luckiest man on the face of the Earth," saying that it summed up how he feels. He praised Disney for giving him a "tutorial" on how he could make his dreams come true, and "lifted the curtain" for him. He went on to say that his son Nathan's middle name is Elias, and "that's no accident." Mark also spoke fondly of Carrie Fisher, saying that he loved her and that they were really like siblings, both the good and bad aspects, and how they used to get into fights with each other, but that they had a comfort level with each other as well, and that he has a "deep respect" for her. He joked that if she were at this awards ceremony, she would have already flipped him the bird twice! Before Mark left the stage, Bob Iger told the audience that although he's not able to reveal anything about The Last Jedi, he could confirm that this was Mark Hamill's best performance as Luke Skywalker yet (since he has already seen the movie).
Then Bob Iger revealed that we were getting a "surprise." The surprise was that Whoopi Goldberg would also be honored as a Disney Legend. She had not been previously announced as a reward recipient, though her name did appear on the program cards that were set out on the chairs in the room. She mentioned that she had wanted Minnie Mouse's shoes, but was told that it wasn't possible, so she got her own version of Minnie Mouse shoes, which she then took off of her foot and showed to the audience! She also recalled when she was a child, she would always watch The Wonderful World of Disney on Sunday nights, and her mother always said that one day she was going to save up enough money to bring her to Disneyland. However, when Whoopi grew up, she was able to take her mother to Disneyland. Whoopi also spoke fondly of Carrie Fisher, who had worked as a script doctor on the Sister Act movies.
The eleventh and final Disney Legend honored this year was Julie Taymor, known for her work on the Lion King musical. She had two stories to share about the healing power of art. One was when they brought the show to South Africa and were trying to cast for the roles of Timon and Pumbaa. They ended up casting people of different races, from different sides of the country, who had never experienced Apartheid. She felt that this casting had a healing effect. Another story was about a family who was given tickets to the show, but one of the children died before they were able to go to the show, so they didn't really want to go, but ended up going anyway. It got to the part about Mufasa telling Simba to look at the stars, and that the great legends were up there, looking down on them, and the other child said to the parents, "Sarah's with us, isn't she?" Julie's conclusion was that, "What art does, what it can do, is unify."
To close out the show, we got a surprise: the cast of The Lion King musical performing for us!
Pixar and Walt Disney Animation Studios: The Upcoming Films
As soon as the Legends panel let out at 12:00pm, I immediately went back down to Hall E to get in line for the Animation panel. I was pretty excited, because I've never attended D23 Expo on Friday, which is always when they have the Animation panel.
It seemed like everyone else in the Legends panel had the same idea, as a huge crowd converged on the escalators going downstairs to Hall E straight from the panel. There seemed to be no crowd control at this location, and people were overflowing from the escalators to the floor down below. At first, we wrapped around in the small area there, forming a line, but this area soon ran out of room as droves of people came down the elevator and directly rushed toward the open doors, rather than following the makeshift line that attendees had started.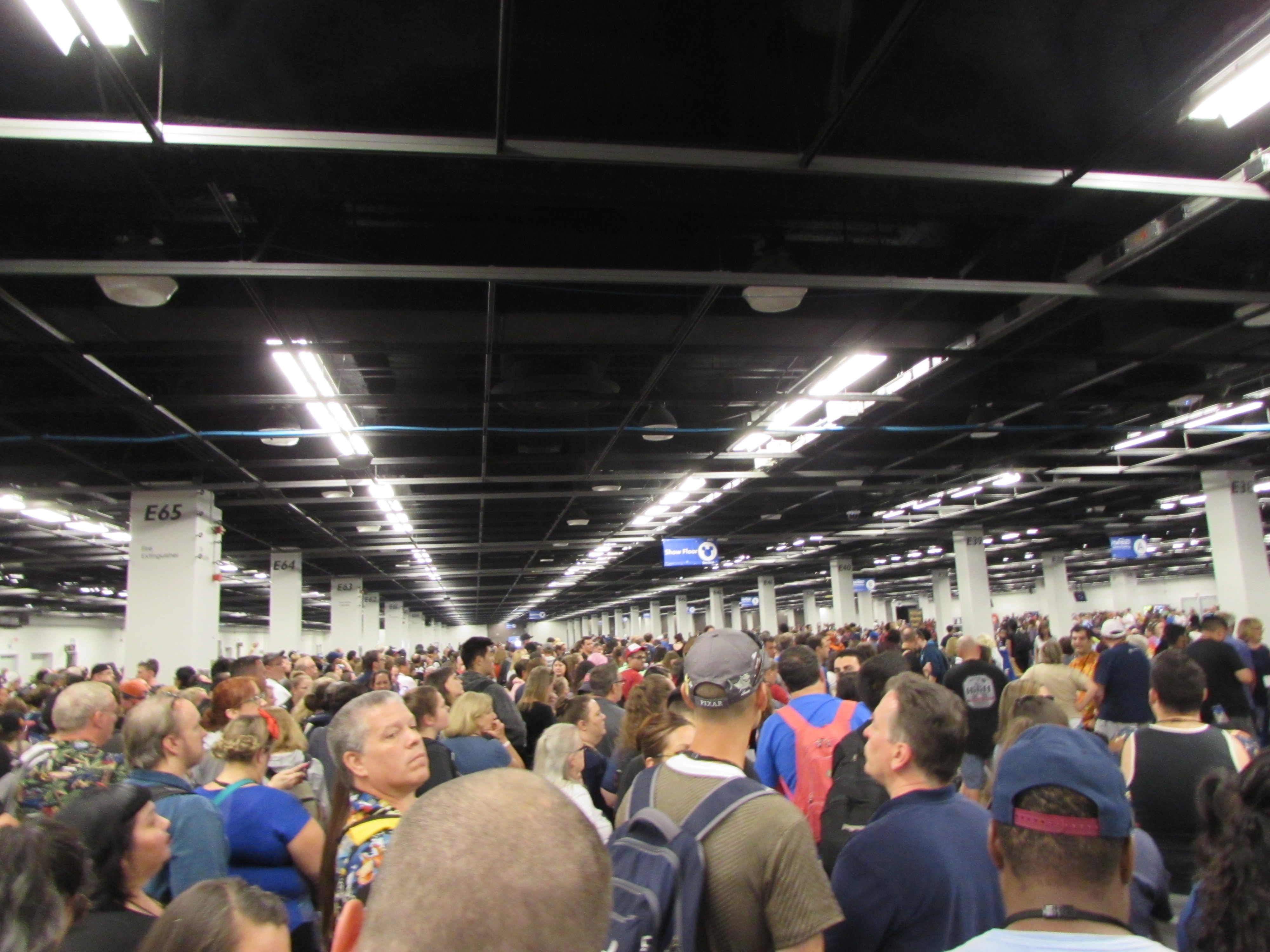 Once we got inside Hall E, when we asked about Gold member seating, we were told that they were forming just one line, and that would be sorted later. Um, ok? To the right was the area of taped off columns for people already behind the barriers in line for the Animation panel. To the left were more taped off columns, where they had everyone coming in line up. This started off as organized, but then there were a few empty columns on the far left side that the crowd just all of a sudden ran up and filled into, rather than filling it one column at a time. Around 12:20pm, someone came out and made some sort of announcement, which I couldn't hear, nor could anyone around me. But checking on Twitter, I figured out that the announcement was that there was no more Gold member seating available. Okay, fine.
Meanwhile, I'm in the middle of this huge crowd that's not moving anywhere. However, I keep seeing people streaming in to my right, alongside the roped off holding area for the A (right), B (center), and C (left) sections. Not sure where they were all going. I'm short. At one point, the far left few columns of the mob I was in rushed forward for some reason. Then the whole crowd started making a mad dash forward as well! People were knocking over the poles to get into the Section seating. It was madness. A staff member or two made half-hearted attempts to try to stop the crowd from breaking down the barriers, but the crowd just ended up streaming into the taped off columns of the Section seating.
But once everyone chose a taped off column to seat in, things seemed to calm down. It even appeared that there was more room available for people to come in, as there were several empty columns in all of the sections. Based on my past experience at D23 Expo, if there were open columns, that meant there was more seating. It was about 1pm by this point.
A staff member soon made an announcement (this time using a microphone, so we were all able to hear) that they were going to start loading us in around 1:30pm for the 2:30pm panel, and that we would have to seal away our electronic devices in an envelope. Security came around and passed out envelopes to everyone.
Well, 1:30pm comes and goes with no movement. 2pm, nothing. At least from what I can see in my vicinity, because people are standing at this point, considering that it's getting close to show time. 2:30pm, the scheduled start time, comes and goes. People around me are wondering, "They wouldn't start without us, would they?" because there are still tons of us waiting to get in. About 2:45pm, they announce that they are trying to take a count to see how many seats are available. They also announced that anyone waiting on the other side of the barriers would for sure not be getting in. I can see on Twitter that the panel has indeed begun, and I give updates to my neighbors, who have already sealed away their phones.
By 3pm, they made the announcement that they were at capacity. There were still several hundred people waiting — which then turned into several hundred angry people. How could they be at capacity when there were still so many of us left in the taped off columns? Did they not clear the room like they were supposed to? What happened? Another announcement was quickly made that they had put in a call to their guest services manager to see if they could "do something" for us. What exactly was that something? Their idea was to give us reserved seating at the next day's Hall D23 panels.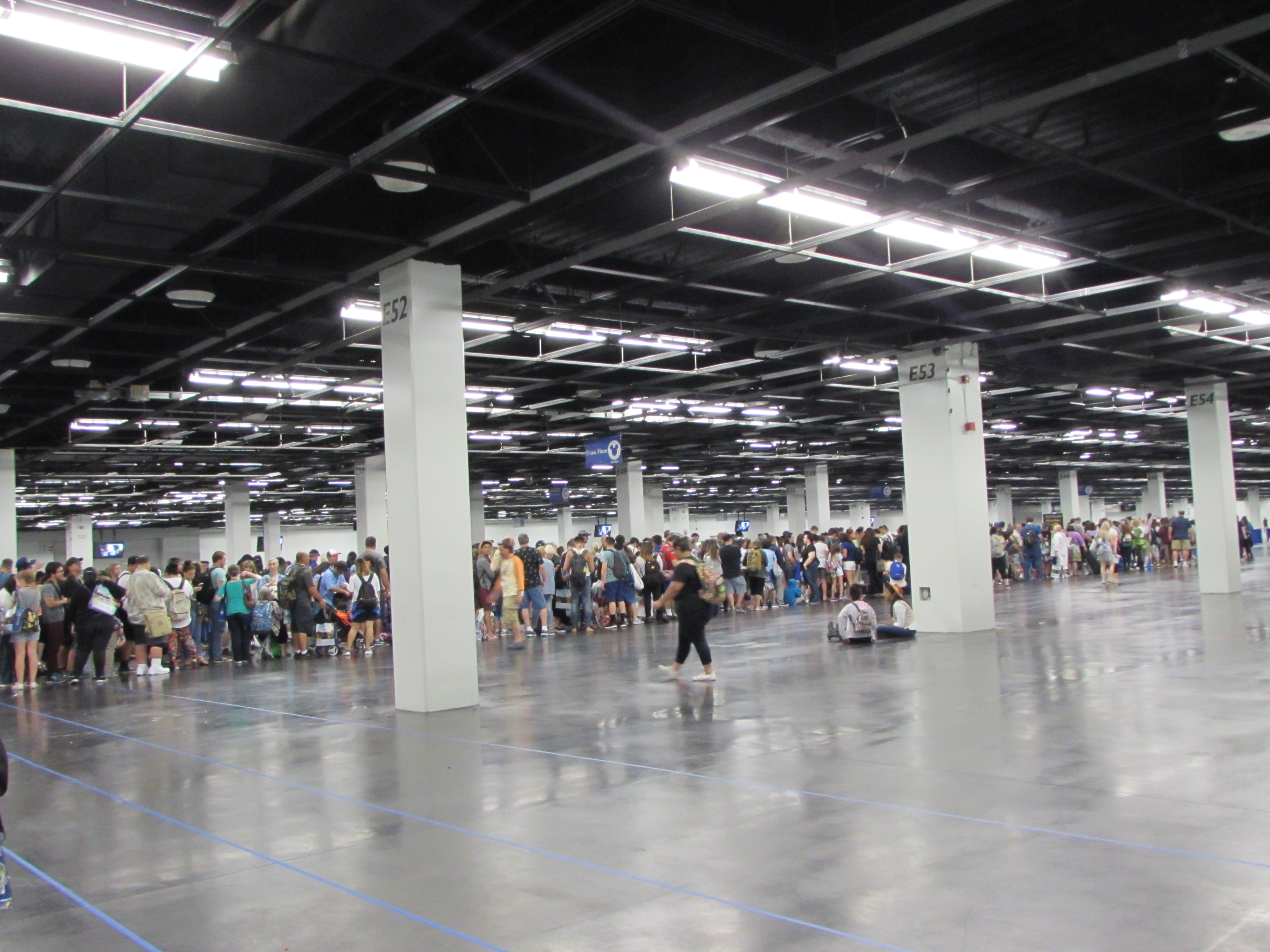 About half an hour later, we heard that they did in fact get approval for reserved seating. We could either choose between the Live Action panel or the Parks and Resorts panel. They directed us to different corners of the room to receive a wristband, based on which panel we wanted reserved seating for. I'd say 90% chose Live Action. We would have to be back at least an hour prior to the panel's start time.
For those who had only a Friday ticket, their options were to either get a refund, in which case they would be asked to leave immediately, or to get a free Sunday ticket.
The next day, Live Action wristband holders were directed to a portion of Section C, reserved specifically for those with wristbands from the mishandling of the Animation panel. Then after the Live Action panel, they were instructed to stay in their seats afterward for a special gift. This gift turned out to be a free Disneyland ticket.
I'm not sure what caused the Animation panel debacle, but at least Disney made an effort to make it right.
Check out more photos from D23 Expo 2017 below! And stay tuned for more coverage!