Re-thinking the desert scene in Batman V Superman over and over, Josh has come up with a theory that explains this scene being much more than a way to introduce Darkseid. Check out Josh's theory!
A quick warning before I get started–Spoilers for Batman v Superman will be discussed below! I am very excited for people to read this, but make sure you have seen the movie before you do!
So remember that desert scene in Batman v Superman, where Superman takes down Batman amidst the para-demons? I have been thinking about this scene quite a bit, and while I have not done a lot of research myself on this, I have come up with a theory to explain this scene, and how it fits in the movie. Bear in mind I have only seen the movie one time so far, so I may get exact quotes incorrect, and I appreciate any corrections made to my theory in the comments below!
What Lex Thinks About the Women in Superman's Life
So, let's start in the "real world" of Batman v Superman for context, specifically when the fight is set up between these two heroes. When Superman heads to save Lois from Lex Luthor, he easily does so, and heads back to the top of Lex's tower to confront Lex. In this scene, Lex references that a woman in Superman's life is in peril. It takes place just after this scene with Lois on Lex's helipad: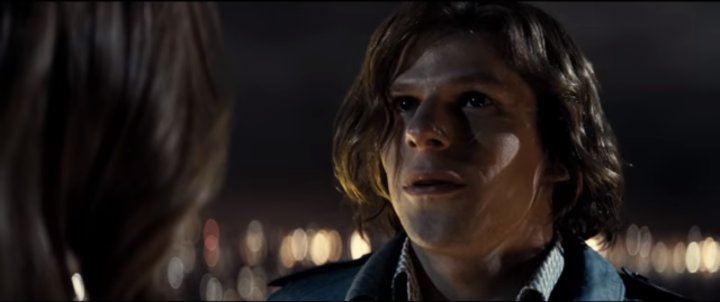 Cocky Superman says Lois is already safe on the ground, but Lex is not referring to Lois, he says he has captured the most special woman in Superman's life–his mother.  Lex is basically calling Superman a "mama's boy".
What Superman Asks of Batman As He Lay Dying
So, as we know, having seen the movie, the fight begins with Superman trying to talk Batman down from a fight, and rather help him save his mother, but Batman is too hardheaded to listen, and forces Superman into a fight. Eventually Superman is overcome in the fight, and in his potential last breath, he pleads for Batman to save Martha–to save his mother. For some reason, Batman wigs out when he hears this. One reason definitely is because the name is shared between his mother and Superman's mother, as the coincidence is highly unlikely. I do not think that is enough though–this is not enough for Batman to pause. So what else could it be that causes him to hold back?
What the Desert Also Means
I contend it is this desert scene. Sure this scene is setting up Darkseid, but I also think this is showing us what a potential future could have been. This might seem obvious, but I think this was the timeline that would have happened if Martha had died, and Batman attempted to kill Superman.
After we see grumpy Superman confront Batman, Superman is clearly unhappy about something. Then we hear him say something about referring to a woman dying that is important to him. This has to be Lois right? If you remember, it's when frowny-face Superman unmasks Batman here: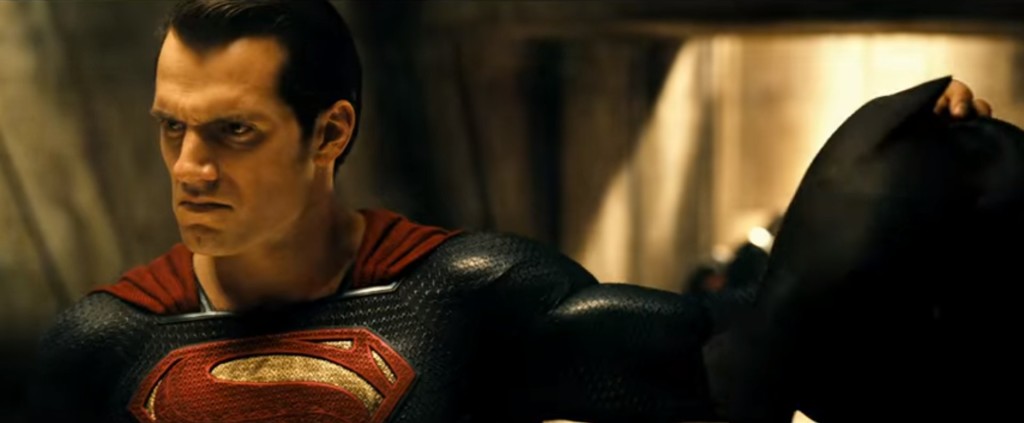 I think this is wrong. I think this woman that has died is Martha Kent, which has enraged Superman. Of course, if Superman specifically mentioned Lois by name in the desert scene, then my theory is shot, and you can stop reading/troll me now.
But if she is not mentioned by name, and you think about it, it really makes sense in the movie. Let's return to the point where Batman has Superman under the heel of his boot. At this point, Batman has this weird vision bouncing around in his head (the desert scene, among others). He knows Superman is upset about a woman being killed in that desert vision. Then Superman name drops a woman, who is danger, that Batman can save. This makes the coincidence of not only the fact that both mothers (of Batman and Superman) being named Martha, but coincidentally, Batman just had a vision about Superman being upset with him because he let a woman die, and now that very scene could play out in mere moments. I think this, combined with the "shared-names-of-their-mothers" factor is what wigs Batman out, giving him pause in his attempt to destroy Superman. Then when you combine all of this with Lex's theory that Martha means more to Superman than Lois does, I think it all fits into place.
Man of Steel Provides Further Evidence
Another piece of evidence to this actually comes from Man of Steel. When Superman has just saved Lois from Zod's henchmen, he hears his mother being threatened by Zod. This causes him to drop everything, and leave Lois without saying a word, tackling Zod, and warning him to never threaten his mother again, as he pounds his face in, and barreling through several buildings as he does so.
But What if Batman Did Just Kill Superman?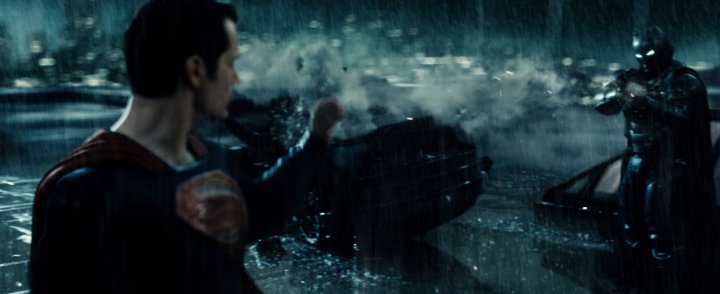 The one last thing I want to discuss is how this would play out if Batman did kill Superman. Let's say that Batman shanks Superman with the Kryptonite spear. Then, perhaps Batman decides to ignore Superman's request for help to save Martha, or maybe he doesn't get there in time and Martha dies. Is that the end of this story? I would contend that if we look at the original timeline, Superman is seen coming back to life at the end of the movie after having defeated Doomsday. He had been impaled, and been exposed to severe doses of Kryptonite, but still, not dead yet. This would be a similar situation for how he would have died at Batman's hand–again impaled, and exposed to severe doses of Kryptonite. I could see that Superman might come back to life in this alternate timeline, and then enact the revenge we see in the desert scene of Batman's vision, thus leading to the events of that vision, as he was too late to save Martha, who has been executed at the hands of Lex Luthor.
Final Thoughts
Maybe this was something that most people had already figured out and I am behind, or perhaps my theory is crazy, and I am completely way off base. I really am curious to see what others think, so go ahead and post your thoughts on this desert scene, and what you think it fully means in the comments below!