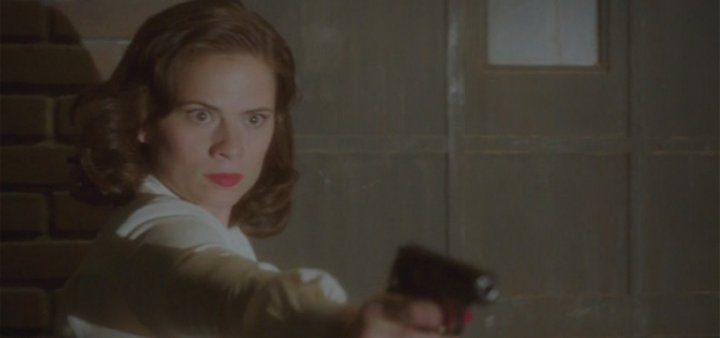 Violet recaps the two-hour series premiere of Marvel's new show, Agent Carter! Following the recap, both Violet and Josh share their thoughts about the premiere.
Don't need the Agent Carter episode recap for Now is Not the End and Bridge and Tunnel? Click here to jump directly to Violet's thoughts on the episode!
To see Josh's thoughts on this week's Agent Carter episode, Now is Not the End and Bridge and Tunnel, click here to get directly there!
Episode Recap of Agent Carter, Season 1 Episodes 1 & 2: Now is Not the End and Bridge and Tunnel
The series premiere begins with the scene near the end of the Captain America movie where Peggy Carter is talking to Steve Rogers as his ship is about to crash. Then we flash ahead to New York City, 1946, as Peggy is reading the newspaper, and we learn by the headline that Howard Stark is in trouble for weapons sales. We also see a montage of scenes from Captain America alternating with Peggy's current life.
Peggy talks with her roommate, who is under the weather, before she heads off to work at the "phone company." When she arrives at the phone company, she goes through a secret entrance for the Strategic Scientific Reserve. Upon her arrival, the team immediately uses a projector to watch a news bulletin about Howard Stark, who is being questioned about selling military grade weapons to enemies of the U.S. The director tells the team that Stark's weapons have shown up on the black market, and that Stark did not show up to the hearing the day before, and is nowhere to be found. Therefore, he is not only in contempt, but a fugitive. He puts Thompson as the lead on the case to find Stark. Peggy tries to protest, saying that they shouldn't be after Stark, but she is quickly shot down. One of the other agents makes a crack at Carter, and Sousa sticks up for her. But she tells him she doesn't need his help, and can handle herself.
Later at the diner, Peggy laments to the waitress, Angie, about how during the war she had a sense of purpose, but now she just connects calls and doesn't get to make them. She gets up from the table and comes back to find a note written on a napkin saying to meet in the alley in 5 minutes. She goes out there and a man tells her she's coming with him, right as car headlights turn on and a car starts driving toward them. She promptly knocks the guy out, and tries to go back into the diner, but the door is locked. However, when the car pulls up, she sees that the driver is Howard Stark, and she gets in with him.
Howard explains that while he was away, someone cut a hole into his vault and stole weapons, which have been showing up on the black market. Peggy asks why he doesn't tell the Senate the truth, but he says that they might think he cut the hole himself and is trying to make money. He asks Peggy to help him clear his name.
They arrive at the docks, and he goes down to a boat, saying that he's going to go overseas to track down his weapons that have made their way over there, and putting Peggy in charge of the ones that are in the U.S. The first is about to hit the market in the next couple of days: his formula for molecular nitramene, which, if manufactured, just a very small amount could level a city block. Stark says his butler, Edwin Jarvis, will help her with anything she needs. They say goodbye, and Howard speeds off in the boat.
At work the next day, Peggy sees Sousa looking at pictures of Stark on a boat with a girl, and tries to throw him off Stark's trail by telling him that Stark must have really liked that girl, because hates water, and can't even swim. Sousa tells Peggy that Thompson got word of a fence named Spider Raymond trying to sell one of Stark's inventions – but the details are on a "need to know" basis. Peggy eavesdrops on Thompson's meeting by bringing in some coffee. She finds out what she needs to know, and requests to take the rest of the day off as a sick day.
We see a deal take place at la Martinique club where Spider Raymond pays a guy for one of Stark's inventions. As the seller leaves, Peggy arrives at the dance club fancily dressed and wearing a blond wig. She gets a bouncer to let her go to Raymond's office. She sits on Raymond's lap and tells him that she has some friends interested in buying the chemical formula she knows he's in possession of. He grabs her and kisses her, but passes out due to the special lipstick she's wearing. She goes over to the vault, and uses a gadget to get the right combination to open it. Inside, she finds a glowing spherical object.
Peggy calls Jarvis and reports that the formula has been weaponized. Jarvis consults a checklist that Stark left behind, and gives her instructions on how to render it inert, and how to handle it without causing it to explode. Meanwhile, Thomspon and 2 SSR agents show up at the club to take a look around. As Peggy is about to exit the room with the device, a man enters, who she promptly knocks out with a stapler, and then makes her escape. Another man, who Raymond had a deal with, enters the room a few minutes later, just after Raymond has woken up. He sees that the object is missing from the safe, and shoots Raymond in the head. Peggy gets away in a cab, but the guy who killed Raymond sees her doing so. The SSR agents enter Raymond's office and find his dead body.
Peggy returns home, gathers household objects as the ingredients Jarvis had instructed her that she needed, then goes into the bathroom and successfully renders the nitramene inert. She hears a noise, and comes out to find that her roommate has been shot in the head. The man who murdered Raymond sneaks out of the closet and points a gun at Peggy, but she has seen his reflection in the mirror and attacks him before he can shoot her. As they fight, she sees a red marking on his neck. She is able to push the man out the window, but when she looks down, he is gone.
Jarvis and Peggy meet at the diner and sit back to back to discuss what happened. Jarvis and Peggy go to Stark Industries to have the container analyzed. The scientist narrows down its source to Roxxon Oil. He also mentions Vita Rays, which prompts Peggy to go look at the Project Rebirth/Steve Rogers file at work. She finds a VitaRay detector in the box.
We then see Raymond's murderer using a typewriter to communicate with someone, and tells them that recovery has been compromised. He asks for permission to terminate Agent Carter, and the reply is to complete the mission at all costs.
Jarvis drives Peggy to Roxxon Oil, and she sneaks in while he waits in the car. While eavesdropping on two guys in white lab coats, Jarvis radios to her about another truck arriving, and the men hear the transmission. One guy pulls out a gun and goes looking for her, but she uses a gadget with a bright light to temporarily blind him. Then she chases the other guy to a truck – which she is surprised to see is full of the glowing nitramene objects. We see that the man has the same markings on his neck as the guy who attacked Peggy at her apartment, and he has to hold a device to his neck in order for her to hear him speak with a robotic sounding voice. She points her gun at him and tries to get information out of him about the other guy, but he says that man is not his friend, and no longer has a name. He tells Peggy that "Leviathan is coming," then throws a nitramene sphere on the ground and tells her that she has 30 seconds. Then he drives away in the Daisy Clover truck.
Peggy radios to Jarvis to pull the car around. As he does so, he is shot at with machine guns. Peggy jumps onto the top of the car as Jarvis drives by, then climbs in through the window. She urges him to drive faster, because they only have 10 seconds. Just then, the plant explodes, and Jarvis tries to outrace the explosion. They barely make it, losing only the bumper of the car, and get out of the car and turn around to see the explosion implode upon itself.
Meanwhile, at the SSR, Thompson has brought a camera to the Chief, saying that the club photographer thinks he may have gotten a picture of the blond woman that the bouncer saw in Raymond's office – the one Peggy knocked out with the stapler. Just then, they get a call that Roxxon refinery just blew up – except that they can't find the building. They go investigate.
Peggy and Jarvis debrief at the diner, sitting back to back as usual. Jarvis says he'll check Stark's files about Leviathan. After Jarvis leaves, the man who was giving the waitress, Angie, a hard time earlier in the episode, does so again, and even smacks her on the butt. Peggy decides to subtly shove a fork into his side, and threatens him, telling him to find a new place to eat.
As Peggy leaves the diner, Jarvis is sitting in the car talking to Stark on the phone. Jarvis tells him that he thinks Agent Carter is an excellent choice, and that he doesn't think she'll have any suspicions.
—
The next episode begins with the recording and live broadcast of a Captain America radio show. Meanwhile, Peggy is at the diner and asks Angie to change the radio station. Angie notices that Peggy is looking for an apartment, and suggests a room in her own apartment complex.
That night, Jarvis shows Peggy one of Stark's houses and offers for her to stay there. Peggy says that it's too risky, but gives in to staying for one night. Jarvis tells her that he found no mention of "Leviathan" in Stark's files. Peggy says she's going over to the Daisy Clover factory to try to find the dairy truck with the nitramene spheres. Jarvis insists on accompanying her, but she declines.
Meanwhile, Raymond's assassin communicates with his boss via typewriter. He goes over to a man's house and "questions" him by showing him a card with "Leet Brannis" written on it. However, the man doesn't know anything about that. Then he shows him a card with "nitramene" written on it, and the man recognizes that word, saying that he told Spider that he didn't want anything to do with it, and that Gino DeLucia in Bensonhurst would buy it. The assassin flips through an address book and finds Gino in it, then kills the man he's questioning, per the typewriter instructions to eliminate all opposition.
The next morning, Peggy goes to the Daisy Clover Dairy Farm posing as a representative from the City of New York Health Department, and inspects all the trucks with the VitaRay detector. However, she finds nothing. But she does find that there's a truck missing. The boss tells her the name of a guy out sick the past 2 days – Sheldon McFee, but he doesn't know his address. Peggy says to leave it to her.
Meanwhile, SSR sees what's left of the Roxxon refinery – just a a giant ball of everything squished together, that fits on the back of a large truck. They think Stark had something to do with this, and go to investigate at Roxxon, leaving one guy behind to pull everything apart and look for evidence.
At work, Peggy gets Sheldon's address. She asks Sousa to cover for her while she has to go out for personal matters. Just then, Sousa gets the photographs from the camera at the nightclub, and Peggy volunteers to help him look through them for the mysterious blond. However, he gets called away just then to help out with the Roxxon ball, and locks the pictures away in his desk drawer. Peggy makes an untraceable call to Jarvis and tell him to get rid of Howard's car right away.
Thompson and the Chief question the Roxxon owner at his office. The owner thinks this may have been retaliatory on Stark's part, who had recently tried to buy Roxxon. He also has sources working at Stark Industries, who have told him that Stark is working on molecular nitramene, and tells them about that.
Meanwhile, back at the SSR office, Peggy sneaks over to Sousa's desk to use a special key to open his desk drawer. Her phone rings, but goes unanswered. Then his phone rings, and he comes back to his desk while she's hiding under it, and answers the phone. Peggy sneaks back to her desk. It turns out the call is from Chief Dooley asking her to find the Vita radiation device.
She brings the VitaRay device to Thompson at the Roxxon office. They've decided to scan all of the employees, and need Peggy to scan all the females. Peggy goes into the bathroom with the device and scans herself. She determines that her watch has Vita radiation, so she ditches it in the trash can. Then she and Thomspson alternate scanning the males and females. Peggy recognizes the man who she had temporarily blinded, his name tag reading "Van Ert," but he gets cleared. She stops him, then finds out from Mr. Jones that the employees change at work into company-issued uniforms. When she suggests that they scan the clothes the men came in wearing this morning, Van Ert suddenly runs off. Dooley and Thompson give chase, but Peggy goes around and cuts him off by swinging a briefcase at him, causing him to trip, and they are able to catch him.
Dooley and Thomspon play good cop/bad cop with Van Ert, trying to get the name of his employer out of him. He doesn't respond to Dooley's good cop act, so Thompson uses a more physical tactic, repeatedly punching him.
At the diner, Angie pushes Peggy to apply at her apartment complex, but Peggy says she wouldn't make a good neighbor. Jarvis picks her up from there. On the drive to Sheldon McFee's house, they listen to the Captain America radio show, but Peggy shuts it off. Jarvis says he left Stark's car in Hoboken with the keys in the ignition.
It seems that Thompson was able to get "Leet Brannis" out of Van Ert. They get the name and address of the milk truck driver, Sheldon McFee, and head over. Meanwhile, the assassin has gotten the name of the nitramene buyer and is heading over.
When Peggy and Jarvis arrive at McFee's house, she tells him to wait in the car. She opens the milk truck parked in the driveway, and sees that it's still full of the nitramene. She sneaks up on McFee, who is listening to the Captain America radio show, and briefly fights him, easily knocking him out. She handcuffs him to a chair. While she does that, she hears a door, and goes outside to find the truck driver she had encountered at Roxxon, trying to drive away. However, the truck won't start, and Peggy drags him out, holding him at gunpoint. It turns out that Jarvis had sabotaged the motor. She finds out that his employer was Leviathan, who sent him to rob Stark's vault, but he double-crossed them. She sends Jarvis in to fetch McFee, but it appears he is gone.
They all get in the truck, and Peggy holds a gun to the man's head while he drives back to New York. However, while they're driving, the other Leviathan employee, the guy who's been going around killing people, manager to jump on top of the truck. Peggy and Jarvis try to shoot at him, while he shoots back. Peggy gets on top of the truck and fights the assassin. A stray bullet hits the driver, and he swerves, causing a nitramene container to fall on the floor.
Meanwhile, as the SSR drive to McFee's house, they see McFee running down the road, still handcuffed to the chair. The SSR agents pick up McFee and question him about Leet Brannis, but he says they wouldn't believe him if he told them.
Peggy uses a knife to pin the assassin's hand to the top of the truck, as she and Jarvis jump out of the truck, Jarvis holding onto the former Leviathan employee, Mr. Brannis.  The truck flies off the cliff and into the water below, and explodes underwater. Peggy asks Brannis where he hid the rest of the weapons he stole from Stark. However, she finds that his speaking device was damaged. As he lays dying, he draws a symbol in the dirt next to him that looks like a heart with a line through it. Then he dies. They hear sirens coming, so she erases the symbol, and she and Jarvis retreat.
SSR investigates the scene, and find a woman's footprints surrounding Brannis's body. Sousa finds a hotel room key that had fallen from the assassin's pocket while he and Peggy were fighting – Room 424 at Hotel Cosmopolitan.
Back at Stark's residence, Jarvis stitches up Peggy's wound on her leg. Jarvis tries to convince her that everyone needs the support of others, reminding her that even Steve Rogers relied on her.
The next day, it seems that Angie has convinced Peggy to apply at her all-female apartment complex. She first has to go to an interview, which she appears to pass. She learns that she has a curfew, and no men are allowed above the first floor.
At work, Peggy finds out that there were no clear shots of the blond's face.
In the final scene, the SSR finds something interesting in the Roxxon ball: a license plate. It's the license plate of Howard Stark's car that came off as Jarvis was driving away during the explosion.
Violet's Thoughts on Season 1 Episodes 1 & 2 of Agent Carter: Now is Not the End and Bridge and Tunnel
I went into Agent Carter not being as excited about it as I probably should have been. Sure, I knew it was supposed to be about a female being awesome and kicking butt, which we obviously need more of, but do I have to be obligated to like it and be excited about it just because of the fact that I am a woman? I guess my hesitation (well, actually there never really was a hesitation, because of course I was going to watch it no matter what, so that I can follow along with the MCU – that's Marvel Cinematic Universe, for those who don't know, but you probably do if you're reading this. But anyway, I suppose it would be better characterized as a lukewarmness, rather than hesitation) stemmed from the fact that the trailers didn't make me particularly excited, and well, the last time that a Marvel TV show started (that would be Agents of SHIELD of course), it took until about Episode 16 or so before it really got good, and knowing that Agent Carter was only going to have half that number of episodes (8, if you need help with math), I didn't want to get my hopes up.
Maybe going in with low expectations was what allowed me to like it so much! Hayley Atwell does a fantastic job not only at playing Peggy Carter, but also at easily slipping into other character roles, such as the blond at the dance club, and the health inspector. It was really interesting to see the dynamics of the workplace in the 1940s, and just the 1940s world in general, in their treatment of women. You'd think that maybe Agent Carter would have earned some respect considering her role in the war and her ties to Captain America, but she is treated like a secretary and given menial tasks by the men just because she is a woman! Even 70 years later in today's society, women still have not completely overcome this type of treatment, but it was just so much more blatant back then. I loved how in spite of gender discrimination being employed against her, Agent Carter was able to turn it around and make it work in her favor, such as serving the men coffee in order to eavesdrop on a secret meeting, and claiming women troubles in order to get the day off to secretly do her own investigating. It was just really awesome how she was repeatedly able to take her disadvantage of being a woman and turn it into an advantage.
I also was afraid that I wouldn't like the film noir aspect, as the time period kind of defaults the show into being at least a little film noir, and I'm not really a big fan of film noir in general. However, I feel like only a hint of that aspect comes through, and doesn't overpower the show, so I have no problem with it. I do like the music that they use, because I like 1940s big band music, so I enjoyed that part of it. I also liked how it seems that each episode ties in with the next, and that's it's more of an ongoing show that you have to watch from week to week in order to find out what happens next, rather than each episode essentially being standalone. I guess that's the advantage of the show being a predetermined 8 episodes, so it's more like one big long movie. Speaking of which, I felt like the show was definitely movie quality, as the effects looked great!
I did find it odd that Howard Stark popped in for just a few minutes and then popped back out. Will we be seeing more of him in future episodes, or is he going to remain absent until a random appearance near the end? I'm also questioning exactly what he and Jarvis have in store for Peggy. At the end of the first episode, Jarvis is on the phone with Stark, and says that he doesn't think Agent Carter will have any suspicions. Suspicions? Suspicions about what? Hmmm… At this point, I have no idea what that means or what to expect regarding that statement. It sounds like there's something nefarious going on, but Peggy and Howard seem like such good friends, and now Peggy and Jarvis are starting to get along well, so maybe they're just trying to make it sound that way, when that's not really the case?
We already have a lot to look forward to in the next episode, what with the SSR finding the license plate from Stark's car, and Sousa finding the hotel room key. I also imagine that the curfew at Agent Carter's new apartment complex may come into play soon, as well as the rule about no men above the first floor! So, yes, definitely excited about the next episode, as I have found that I am very much enjoying the show so far! I'm already thinking about Agent Carter cosplay possibilities for WonderCon or SDCC – and I've never actually cosplayed before!
Josh's Thoughts: Agent Carter, Season 1 Episodes 1 & 2: Now is Not the End and Bridge and Tunnel
I was hesitant about Agent Carter, not sure what to expect. I thought her story was basically over at the end of the first Captain America. So far I am pleasantly surprised. I don't find the show enthralling, but it is a good bit of fun.
I would say the biggest refreshing thing about this show is Hayley Atwell.  She so far has really impressed me as a leading lady.  Not only is she pretty, but she has a commanding presence in the episode.  She comes off as a tough female lead without seeming silly.  I believe that she is a tough girl, and the story isn't trying to force it down my throat.
As for the story, so far I am finding it a little weak.  Stark did all this work for the US Government, and now they believe that he is selling it to the highest bidders?  Without having any evidence to the contrary?   I guess during the era this movie takes place in, we had a lot of finger pointing with the Red Scare and McCarthyism, so it isn't completely unbelievable, but still it is hard to believe such a great ally would be believed to have turned turncoat so quickly.
I was really hoping that Howard Stark would be more prominent in the episodes, so I found it odd that when he shows up, he leaves 5 minutes  after on a boat out of the country.  I guess it makes sense to avoid arrest, but it would have been nice to see more working with Stark.
The one kind of weird thing that is going on with the show, is the gender role reversal for the male figure in the show.  Edwin Jarvis (ha ha) seems to be a wimp compared to Agent Carter.  Another thing I found funny about the era is how "sanitized" the show is, as being set in the 40s, you'd think that the offices would filled with smoke.
Overall, I am excited to see where the show goes from here.  I was surprisingly very interested in Peggy Carter and how she would handle her predicament of essentially being a spy within her own agency.  It certainly leaves me wanting more.  I think the decision to make this a mini-series was a good one though, as if the story goes well, it will definitely end on a high note.
Scenes from Agent Carter, Season 1 Episode 3: Time and Tide
Here are scenes from the next episode of Agent Carter, titled Time and Tide:

What did you think of the series premiere of Agent Carter? Let us know in the comments below!