Now that TV shows are starting to return after the holiday hiatus, there will also be a few NEW shows premiering this Winter/Spring that geeks might be interested in! Read on to find out what those shows are, when they premiere, and to watch trailers for them.
1. Galavant, Sunday, January 4 on ABC at 8/7c
This fairy-tale comedy that's also a musical will air for 4 weeks, and includes guest stars such as Ricky Gervais and Weird Al Yankovic.
2. Agent Carter, Tuesday, January 6 on ABC at 8/7c (Note: The premiere is a special two-hour event, but starting January 13, the show will move to its regular time slot of 9/8c)
While Agents of SHIELD is on break, Agent Carter will fill its time slot.  The show, which takes places in the 1940s, is also a part of the Marvel Cinematic Universe, starring Hayley Atwell as Peggy Carter, a character who was in both Captain America films, and who also appeared in several Agents of SHIELD episodes this season.
3. 12 Monkeys, Friday, January 16 on Syfy at 9/8c
This TV show is based on the 1995 movie of the same name, where a man travels back in time to prevent the spread of a deadly virus that wiped out most of humanity.
4. Better Call Saul, Sunday, February 8 on AMC at 10/9c (Note: Special two-hour premiere event that continues on Monday, February 9 at 10/9c. The show will then continue to air on Mondays at this time slot.) 
In this Breaking Bad spin-off, which is actually a prequel to the events of Breaking Bad, Bob Odenkirk reprises his role as lawyer Saul Goodman.
5. Last Man on Earth, Sunday, March 1 on Fox at 9/8c (Note: The premiere is a special one-hour event, but starting March 8, the show will move to its regular 9:30/8:30c time slot)
Will Forte stars as, well, the last man on Earth in this half hour comedy.
6. Wayward Pines, Thursday, May 14 on Fox at 9/8c
Matt Dillon stars as a U.S. Secret Service agent who goes looking for two missing agents in the small town of Wayward Pines, Idaho. The 10-episode psychological thriller is produced by M. Night Shyamalan, who also directed the pilot, and also stars Melissa Leo, Terrence Howard, and Juliette Lewis. Some people have speculated that this is the new Twin Peaks.
7. iZombie, date unknown, on CW
Loosely based on the comic book series of the same name, a girl who has become part zombie works in a coroner's office so she can eat brains, which allow her to survive. She also has the ability to gain memories from the brains she eats, so she helps solve homicides. Although iZombie had a big showing at San Diego Comic-Con 2014, the CW has not yet announced the premiere date for the show, but it is expected to air sometime this season. You can view a low-resolution trailer by clicking here.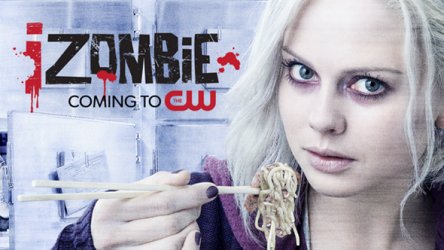 8. The Messengers, date unknown, on CW
The CW also has not yet announced a premiere date for The Messengers, but it is also expected to air sometime this season. In this show, five strangers die and come back to life after a mysterious object crashes to Earth, and soon discover that they now have special powers.
Which of these new TV shows are you most excited about? Let us know in the comments below!
Wondering when your favorite already-established TV shows are returning? Click here for our Geek's Guide to Returning Shows in Winter/Spring 2015!